Space collection is out of this world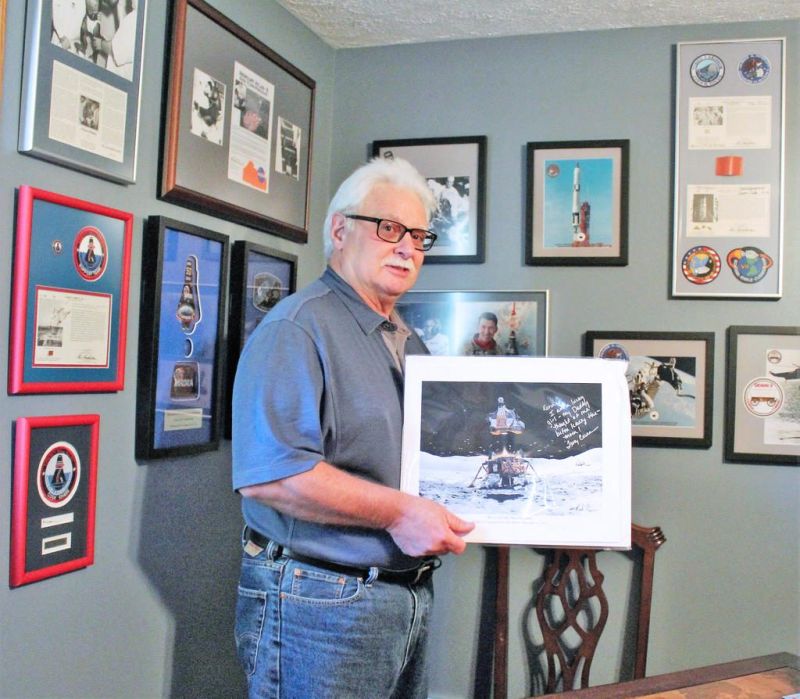 Kevin Petitte's interest in the space program began with a broken leg when he was struck by a car at the age of 6. The accident gave Petitte plenty of time to follow NASA's Mercury program astronauts. As a surprise, his mother wrote to the Mercury astronauts, who sent her son autographed photos.
"The space program was just getting started, and that was in 1961, so I would stay home from school and watch the launches. Sooner or later the nuns caught on to me, and they would ask 'who went up yesterday or who's going up next,' and I would tell them," he said. "I mowed my grandpa's lawn to earn money to buy souvenir patches."
Later in life, Petitte of New Philadelphia began working as a freelance writer and photographer. "My career has taken me so many places," he said.
Petitte began covering space flights and events for specialty magazines and newspapers following the Challenger disaster. He has met more than 100 astronauts and many other interesting people like Guenter Wendt, pad leader for the Mercury, Gemini and Apollo missions; Dr. Robert Ballard, who found the Titanic; Caroline Kennedy; Charles Lindbergh's wife; and relatives of the Wright Brothers.
Petitte still has an original Snoopy Astronaut stuffed figure from his childhood. Snoopy was a mascot of the Apollo 10 mission, and he wanted to show it to a couple of the Apollo 10 astronauts at an event he was covering.
"I pulled Snoopy out of my backpack and was holding it when Gene Cernan spotted it. He ran over to me, grabbed it out of my hand and autographed it," Petitte said.
Cernan then took the toy to Tom Stafford and had him autograph it.
Petitte first met his favorite astronaut, John Glenn, and his wife, Annie, at a National Aviation Hall of Fame ceremony in Dayton. The next morning they had breakfast together. Throughout his career he met up with the Glenns countless times. The last time he saw them was at a Cleveland Indians game in which the Glenns threw out the first pitch to pay tribute to the late Neil Armstrong, the first man to walk on the moon.
There are many interesting pieces in his collection, but his favorite is a fragment of the heat shield from Friendship 7, a mission flown by John Glenn on Feb. 20, 1962. His collection of John Glenn memorabilia also includes a bow tie that once belonged to John Glenn. "It took me a really long time to get one of them," Petitte said.
Another favorite piece is a John Glenn banner that once hung at the Johnson Spacecraft Center in Houston, Texas. Petitte received it from a friend who worked at the center, and Glenn later autographed it. He also has small pieces of launch pads including one that was used for the John Glenn mission.
A 45-rpm record of John Glenn's entire Flight 45 hangs on the wall. It is autographed and framed. All Petitte's memorabilia is framed using special materials to prevent fading. His favorite book is a signed copy of John Glenn's memoir. "I also have it on audio because he narrated it," he said. "To hear his voice means so much."
Petitte also has parachute fabric pieces in his collection from the Apollo 13 mission, which was supposed to land on the moon but was aborted after a rupture of the service module oxygen tank. Fortunately, the crew was able to return safely to Earth.
"I love parachute pieces because parachute pieces are part of the end of the mission. The parachutes brought them home safely," Petitte said.
Some of the other favorite astronauts he's covered include Scott Carpenter, who flew on Mercury 7; Scott Parazynski, who flew on John Glenn's Space Shuttle mission; Kalpana Chawla, who was killed in the Columbia disaster; and Cady Coleman, who worked on the International Space Station.
Don't think covering space missions is glamorous work. "We all sleep in our cars the night before a launch because there's no reason to drive back and forth to your hotel," Petitte said.
Petitte was in his car one night but decided to go out for a walk around Kennedy Space Center, and he ran into former State of Ohio Gov. George Voinovich.
Voinovich was happy to see a fellow Ohioan and gave Petitte one of the all-Ohio crew patches from the STS-70 mission. Although one crew member was not from Ohio, they made him an honorary Ohioan for the flight.
Art is another item of interest to space memorabilia collectors. Petitte has a framed and autographed print of a moon landing by astronaut Al Bean, the fourth person to walk on the moon. He also has a framed paint brush that was used by Bean.
Another lunar lift-off print shows the initials of Gene Cernan's daughter that the astronaut carved into the surface of the moon in the background and is signed by his daughter, Tracy.
Petitte was supposed to be at the launch of the SpaceX rocket earlier this year but was unable to attend due to COVID-19. He watched the mission on television, and the landing of the spacecraft in the ocean reminded him of earlier missions.
"It was absolutely incredible because what we got to see. Not only the splashdown, we got to see the camera follow them through the atmosphere and actually see the drogue parachutes open up to slow the spacecraft down," Petitte said.
Petitte also has photographed the Cleveland National Air Show for more than 40 years, and he has been involved in bringing astronauts to speak at Kent State University at Tuscarawas.
Several of pieces of Petitte's memorabilia are now on display at the Tuscarawas County Convention and Visitors Bureau at 124 E. High Ave. in New Philadelphia. Included are pieces of the space craft flown by Russian cosmonaut Yuri Gagarin and part of the heat shield from Friendship 7 flown by Ohio-born astronaut John Glenn in 1962.
The CVB is open Monday through Friday from 9 a.m. to 5 p.m.