Sportsman's Club supports Wigs for Kids and more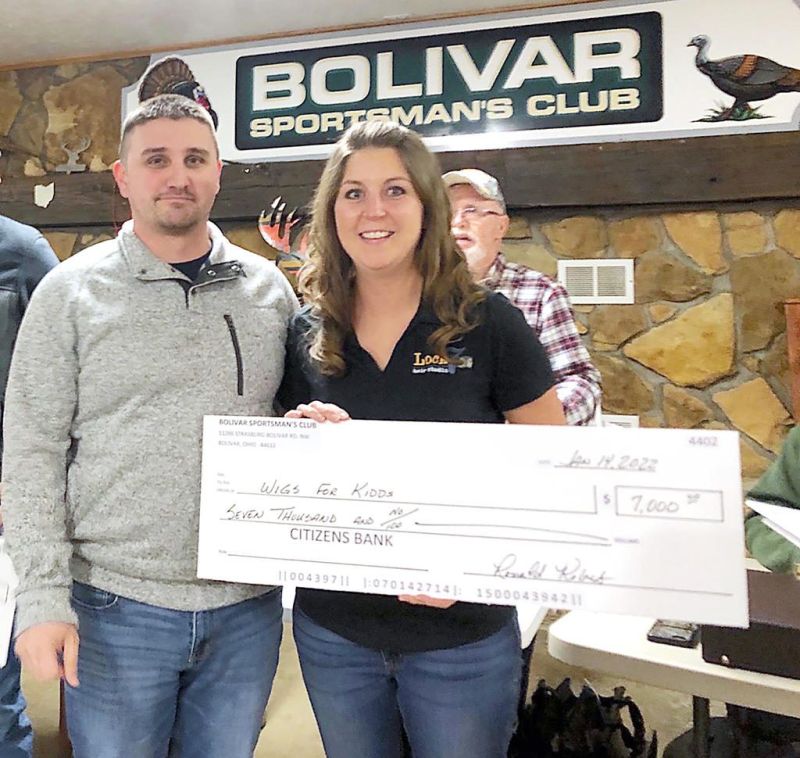 For the most part, the Bolivar Sportsman's Club quietly goes about giving money to local organizations that help a number of people throughout the year.
On Friday, Jan. 14, the club donated a total of $20,000 to local organizations. That's on top of the $15,000 they gave out early in December as part of a year-end tradition to make sure they've given away 50% of all the money they made throughout the year. These donations came from funds raised in 2021.
Mike Gross, who is retiring as president, said the Wigs for Kids donation was very important to him personally, having lost a nephew to cancer about 20 years ago.
"I'll admit I kind of fought for that one a little bit," Gross said.
Gross recalled visiting his nephew, who spent the majority of his five years on earth at St. Jude Children's Research Hospital. "When you see a whole hospital of kids like that, it really hits home," he said. "These kids just got dealt a really bad hand in life, and it isn't fair."
Heather Jones is the owner of Lock 7 Hair Studio, and last September she held the salon's third year of giving to Wigs for Kids, an organization that makes human hair wigs for children battling cancer.
"Heather made a post on Facebook that the salon was raising money for Wigs for Kids last year," Gross said. "I was on my home from work one day and just stopped by. She told me more about it, and I said I might be able to help. Just give me a little time."
Jones said she was shocked at the size of the donation. "When he said they were going to help, I had no idea it would be that much," she said.
The salon's goal each year is to raise $1,800, which covers the cost of one wig. "They'll be able to make three, almost four wigs from this," Jones said.
Jones said she chose giving to WFK because they help local children. "The first year we did this, we signed on as an Ambassador Salon. We hold the fundraiser every year the week of Labor Day, when we donate 25% of the money from all haircuts to WFK. Those who want to donate their hair receive a discount on the cut, so it's only $7."
The salon takes hair donations all year and also keeps a collection jar out front at all times.
"We're really grateful they found us and helped us in such a big way," Jones said. "And I can't believe how much money they donate every year."
Others receiving
donations
Other organizations benefiting from the club's end-of-year generosity were the Fairless Township Fire Department, $3,000; Friends of Tusc Parks, $5,000; and the Tusky Valley Crush Trap Shooting Club, $5,000.
"This was our biggest year ever," Gross said. "It's the most amount of money we've ever given out."
Gross said they gave out some of the year-end money early because it was needed at the time. "When Toys for Tots warehouse caught fire, we gave them $10,000, and we also gave the Fraternal Order of Police in the Navarre area $5,000 for their program that delivers toys."
Paul Dunlap, coach of the Trojan Crush, said the trap-shooting team has been in existence for only a few years. He said the BSC is their biggest sponsor, along with the Rocky Mountain Elk Foundation.
"Their donations provide us with our shooting vests, shirts and entry fees throughout the year," Dunlap said.
It's a long season for the club too. "We practice every Thursday starting in September and go through July," Dunlap said.
The club also gives the team a discount on clay pigeons and a place to practice. "We're very thankful to have that partnership because without the club we wouldn't have anywhere to shoot," Dunlap said.
Part of the community
As the recipients of the donations stood to be photographed, Gross said to the crowd, "All of the people standing up here are an important part of our community. They deserve everything we can give them. In fact, they deserve more as far as I'm concerned."