Stars of Zoar Creative Co-Op opens May 11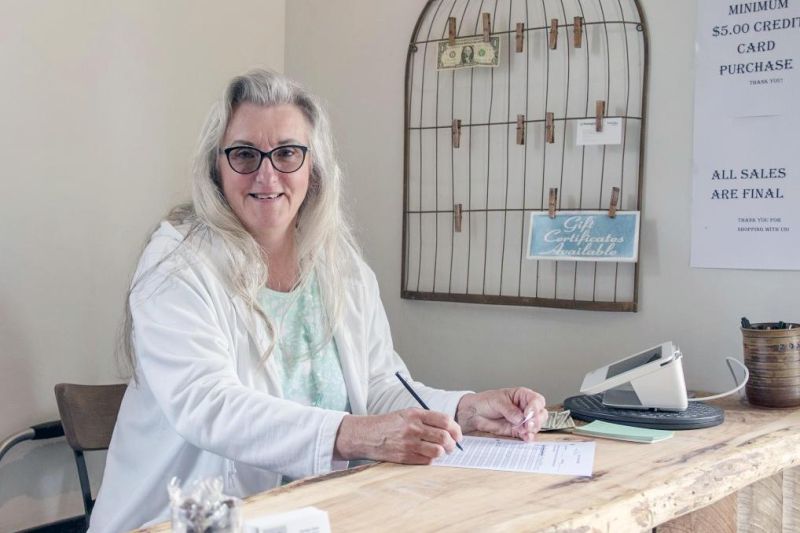 Artisans who reach a high skill level and are prepared to offer their creations for sale are often faced with a dilemma: how to bring their crafted items to market? A new cooperative store in Historic Zoar Village, set to open May 11, may be the solution for a group of local craftspeople working in various media.
Stars of Zoar Creative Co-Op began as Susan Eadie and her husband met with other residents of the village who had an interest in helping Zoar thrive. "While my husband and I were away over the winter, the idea of putting together a co-op store came together," Eadie said. "Neither of us have any real retail experience, so this is a new venture for all of us."
The co-op store has already gathered the talents of about a dozen artisans in a location adjoining the Zoar Store on Main Street.
"All of the crafts are by people from Zoar or nearby towns," Eadie said.
The opening will coincide with the weekend's Maifest in Historic Zoar Village. "It's a celebration of spring with German origins," Eadie said.
The weekend will feature bratwurst, beer and bands, along with a maypole and other activities. "It's the perfect weekend to open," Eadie said.
Inside the Stars of Zoar Creative Co-Op are some crafts not often seen. Batik is a technique of Indonesian origin in which dots of wax are applied to fabric to form a pattern. After a dye is applied, the waxed areas resist the dye and retain the original color. Layers of wax and dyes yield an end result of vibrant colors and patterns. Batik is an ancient art form dating back thousands of years.
Another participant creates penny rugs of felt. Penny rugs date to the time of the American Civil War and are made up of assembled circles of scraps of wool or felt into a pattern that is then blanket stitched together to form a rug. They can be created in many sizes from tabletop runners to floor coverings.
A wood-turning craftsman features handmade wooden bowls and other items turned from wood sourced from his own property.
Descendants of original Zoar separatists will offer breads and baked goods, and another will recreate candy made from recipes in their family collections.
Also offered are handmade cloth purses and hair clips, hand embroidery, photography, homemade dog biscuits, animal figures worked in metal, and acrylic paintings.
"People have been working hard all winter," Eadie said. "And they're still at work producing items for the co-op."
With the arrival of warmer weather, the group hopes to offer something new and interesting for visitors to the village. Eadie said the group of artisans hopes the store will outgrow its beginnings. "We're in a small space now," she said. "We'd love to see it outgrow that and move into a larger space with many more artisans. There is a lot of talent in the area, and people have worked hard to hone their crafts."
Stars of Zoar Creative Co-Op is open Wednesday through Saturday from 10 a.m. to 5 p.m. and Sunday from noon to 5 p.m. Find the new store by searching Facebook for Stars Co-Op of Zoar. Find out more about the weekend events for Maifest and about Historic Zoar Village online at www.historiczoarvillage.com.