Steamy days will make for a great HCSEA event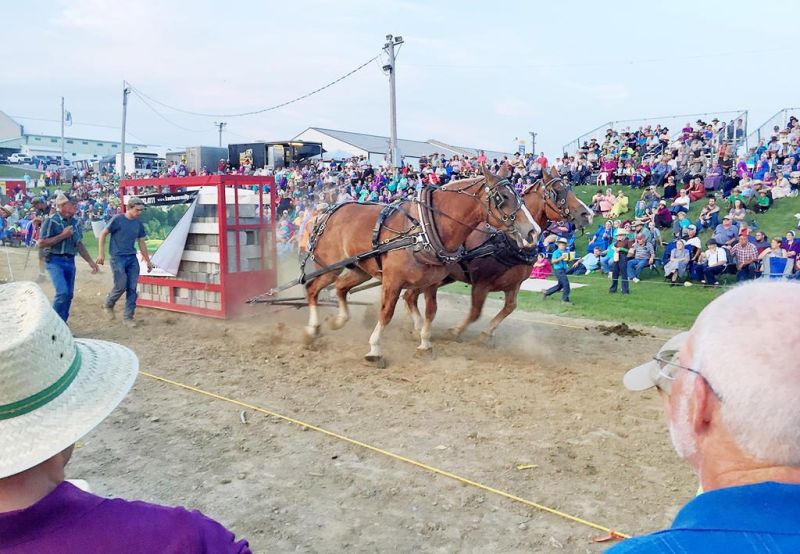 Nobody can say the board members and committee members of the Holmes County Steam Engine Association annual show aren't willing to invest in the present and future of their show, which will steam into the Mt. Hope Event Center Aug. 5-7.
With a monster prize package in their horse pull and dedicating funds to create a new pulling track for the horse and antique tractor pulls, the HCSEA is making the show tantalizing for both visitors and participants.
"We've gone to some great lengths to make sure we put on a quality show that keeps the energy high and action coming at people constantly," said Roy Miller, HCSEA secretary/treasurer. "There's no dull moment."
The big news for the HCSEA is they have invested in creating a new pulling track on the west end of the grounds. With both the horse and antique tractor pull taking place there, it helps tie the events more closely together.
"This is a whole new pulling track that will really benefit both pullers and fans," Miller said. "It's a brand-new dirt pulling track, something a lot of bigger pullers really wanted."
Miller said the former track had gravel mixed in with the dirt, and this move to an all-dirt track will entice more serious pullers to participate.
"We've been thinking about this for five years, and there comes a time you just need to do it," Miller said.
The pulling track will have tons of bleacher seating, a bank for blankets and plenty of room for lawn chairs.
The featured tractor for this year's event is the Case International Harvester/Farmall, and according to Miller, ushering in a new featured tractor each year is another way to draw people to the show.
"People like the idea that they can learn more and see something new each year," Miller said.
The horse pull boasts a $10,000 purse, which has lured pullers from all over the U.S. Miller said they expect upward of 40 teams for the horse pull, and since Kaufman Realty and Auctions stepped in to sponsor the huge purse, the event has soared in popularity for participants and fans.
"Some of the biggest names in horse pulling have shown up, and the one thing horse pullers love is our large crowd because they don't usually pull in front of crowds this size, so that excited them," Miller said.
Anthony Kaufman, president of Kaufman Realty and Auction, said many of the staff at KR grew up with connections to farming and horses, so the move to support the pull by creating the big purse was an easy decision.
"There was some synergy there that really made sense to us," Kaufman said. "It's something that helps bring people to our community, and the show really does a great job of putting on a terrific show. The prize package has made it worthwhile to draw the best pullers from all over."
He added the crowd viewing the horse pull show rivals any large single event in Amish Country.
"I think we can all appreciate the power and beauty these horses present," Kaufman said. "The cadence they create and just their sheer beauty is spectacular."
As for the steam show, Miller said they expect a large number of steam engines that will provide demonstrations in threshing and saw milling, and they will be blowing steam throughout the event.
"There's something nostalgic about steam that still keeps people coming back to see it in action," Miller said.
As for the three-day slate of activities, the HCSEA has packed the hours full with things to experience.
Thursday, Aug. 5 will open at 9 a.m. with steam engines and sawmills firing up. The threshing exhibition will take place from 1-3 p.m., with a kids pedal race at 4 p.m. The music group, Six Strings, will perform at 5 p.m. and will serve as a lead-in to the big show: the open horse pull at 6 p.m. that will feature a $10,000 purse.
"This show has grown into something special," Miller said of the horse pull. "There's not another one like it in the state."
On Friday, Aug. 6, the engines will power up starting at 8 a.m., with the bale and skillet throw event taking place at 11 a.m. Threshing will again be from 1-3 p.m., and the tractor games, which will include fun games like wash drop, chain-in-the-box, barrel rolling, wagon backing, slow race and tractor mad dash, will entertain the masses.
The antique tractor pull that will start at 6:30 p.m. will have weigh-ins from 4-5:45 p.m., with a kids tractor pull set for 3 p.m. and a steam engine block race at 4 p.m. The musical group, High Country, will perform at 5 p.m., and as darkness falls, the popular steam engine spark show will kick off.
The Saturday, Aug. 7 slate of activities includes steam engine power-up at 9 a.m., a garden tractor pull at 10 a.m. and new to this year's event will be a 90-minute tractor drive through Holmes County that will allow participants to line up and catch a glimpse of the meandering countryside for which Holmes County is so well known.
A kids money scramble at 2 p.m. and the raffle drawing for a pedal tractor will help wind down the activities for the weekend.
The cost to attend this event is $8 a day, or for $20 patrons can get a three-day pass that includes a membership to the HCSEA.
"It's great, inexpensive entertainment for three days," Miller said.
For more information and any updates, visit the HCSEA on Facebook or at www.hsea.com.