Stock tips coming right after recess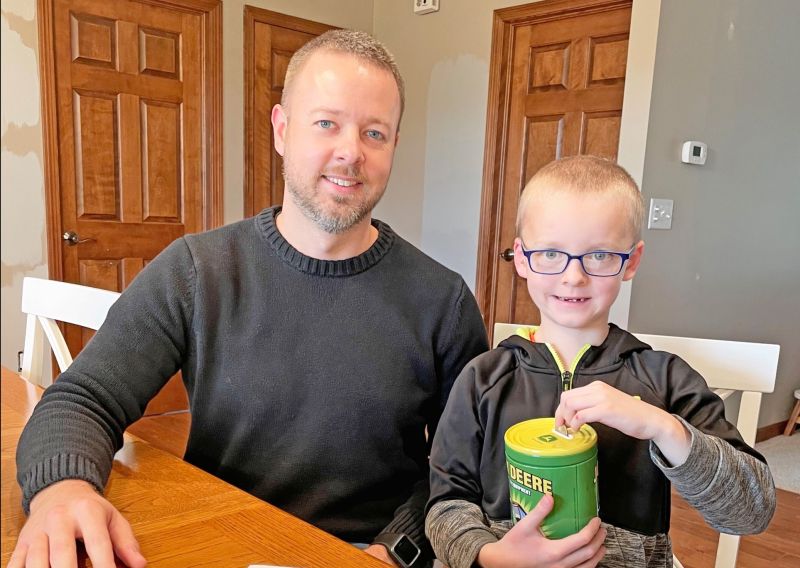 In 10 years of teaching second grade at Wooster Township Elementary School, Jennifer Hostetler had never had a student share this kind of news.
"Mrs. Hostetler, I got my first dividend today," Clay White said with the kind of excitement that might come with receiving a favorite toy on Christmas morning.
In recalling her reaction to the news, Hostetler said, "I believe I asked him to say that again. Then I had him explain it to me because I got the feeling he knew what it was."
Sure enough, she discovered her student was dabbling in the stock market with the help of his father Rowdy White, an indirect procurement manager at the J.M. Smucker Co. in Orrville. Rowdy White owns some of the company's stock as part of a retirement plan. He and his family reside in Wooster.
"My dad told me about stocks," Clay White said, "and I just really wanted to find a way to earn money."
So on Nov. 26, Clay asked his dad if he could buy a share of Smucker stock, which at the time was selling at $130.95 a share. He dug into his piggy bank and found he didn't have enough to cover the price, so he settled for a quarter of a share at a cost of $32.74.
"We have a handshake deal," Rowdy White said. He will get his money back based on how his stock is performing. "If it's gone up, then I'll give him more money back. If his stock has gone down, he's going to get less."
On Dec. 1 Smucker paid out a dividend of 99 cents per share, so Clay got a quarter.
It was enough to claim victory for the 8-year-old who also likes Legos, basketball, baseball and soccer.
"He got this idea of wanting to make money," Rowdy White said, "but I explained to him that just because you buy stock doesn't mean you are going to make money."
To help him better understand, he had his son choose three major companies to follow in the stock market. He picked Microsoft, Nike and Apple.
"We watch the closing price of their stocks each day and chart their progress," Rowdy White said. "Clay loves math, so it fits with his personality."
Rowdy White said he's also been teaching his son market capitalization, which refers to the total dollar market value of a company's outstanding shares of stock. Commonly referred to as "market cap," it is calculated by multiplying the total number of a company's outstanding shares by the current market price of one share.
"I try to give him simple examples," Rowdy White said. "For example, let's pretend a company has four shares at $5 per share. The market cap is $20."
The father and son also have discussed diversification and the "not putting all your eggs in one basket concept" because some stocks go up and some go down.
"I don't know how much he's retaining, but he's starting to talk about some of the things," Rowdy White said. He's unsure what piqued his son's interest in stocks, but it's created some memorable father-son times.
"Sometimes when we're driving in the car, we'll listen to business-related podcasts," Rowdy White said. "So maybe he's picked up some of it from that. It's been a fun experience for him."
For now, Clay White is storing his earnings in a John Deere-themed piggy bank with gifts of money from grandparents and earnings from selling his Perler bead creations to his family such as his mom Tara, brother Braxton and sister Emory.
"He sets up a little store in his room, and we buy them from him," Tara White said, describing the beaded products. "I turn them into ornaments."
Described as a critical thinker by his teacher, Clay White looks for ways to multiply his earnings.
"I've just kind of saved up," Clay White said. "I've always saved up."
And now he's investing those savings.