Stubbs has felt the sting of racism too many times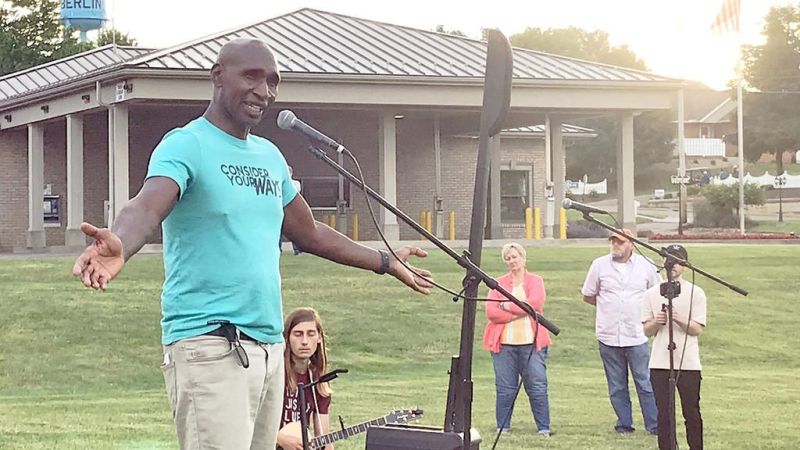 On Friday, June 19 in Berlin during the "Remember: Lest We Forget" vigil of prayer and reflection designed to celebrate sameness and unity along with a recognition that racism exists, even in a faith-based community, Don Stubbs poured out his heart and soul in front of the 200 or so people in attendance.
Listening to Stubbs' story was heart-wrenching for many in attendance as he laid out several stories about how he experienced racism simply because of the color of his skin.
An African-American pastor of a predominantly white church who also heads up Off the Wall Ministries in Tuscarawas County, Stubbs delivered his firsthand experience with racism through plenty of emotion in the grassy area next to Comfort Suites in Berlin, an event that was sponsored by The Neighborhood, a grassroots organization that began in Holmes County.
As a black man of faith, Stubbs spoke about his trials and tribulations and said faith and prayer are critical to healing a nation of racism.
Stubbs first faced racism at the age of 7 when he was invited to swim in a friend's pool. He overheard his friend asking his mother for permission to bring an African-American boy to their home. He said at that age the concept doesn't exactly hit home.
"I went home later and asked my mom why," Stubbs said. "She explained to me what racism is and what it does."
Stubbs said he buried that until 16 years later when he was working as a probation officer. He had taken five young Black men with him to a Cleveland Indians game, and on the way home they stopped at a fast-food restaurant. The group went in to order and were greeted by a white patrol officer.
The officer approached Stubbs and asked him if they were going to get their food to go. Stubbs said no, they wanted to sit and chat about the night's events.
The officer became more aggressive as the conversation went along, and eventually things turned ugly.
"He said, 'Boy, you will get that to go,'" Stubbs said. "I said no. I was thrown to the ground, handcuffed and arrested. I can tell you countless more times I have faced this."
Stubbs discussed his intentions. "I'm not saying this to point a finger. I want you to know what racism does to you in your heart," he said. "What it does to you is different. People wonder why I dread it when I see lights in my rearview mirror on a dark road when I'm by myself. There is a dread that starts to come over you. You don't know if and when you're going to get the one bad one. That is sometimes how we feel. You're not sure if you should stand up for yourself. I'm not saying all people's lives don't matter. I am saying when you've been oppressed and when you've been beaten down, if someone doesn't speak for you, your voice will never be heard. That is what Black Lives Matter is about. Finally, someone is speaking up."
Stubbs eluded to Dr. Martin Luther King, Jr.'s death as a rallying point, much like the recent death of George Floyd. "Oftentimes, it takes someone dying to get someone's attention," he said.
Stubbs then went to scripture to draw it all together, referencing Micah 6:8, where it speaks about what it takes to love unconditionally, to love mercy and justice, and to walk humbly with the Lord.
Even when Stubbs moved to Dover to pastor his church, he faced racism, having been in the area for a very short time.
"This has been my life. My skin color often speaks before anything else," Stubbs said. "I want you to hear what it feels like sometimes to be an African-American. As a little boy I didn't do anything. I'm a probation officer. I get arrested because I said these five young men deserve to sit down and eat."
Stubbs closed by challenging the church to get involved and to speak up for all people, to take a stand alongside all brothers and sisters.
"Who is going to speak if the church doesn't love justice," Stubbs said. "But to do justice is different than loving it. Silence is complicity. You can't be silent when you know there is a problem. We have to listen differently. If you just listen with your head and not your heart, you'll never understand it, what it means to be a Black American. If we listen to our hearts and to what the Lord tells us, this will be a transformative movement, but we have to love mercy and we have to walk humbly with our Lord."