Stull going strong at 80 — Jack of all trades in 60th year as barber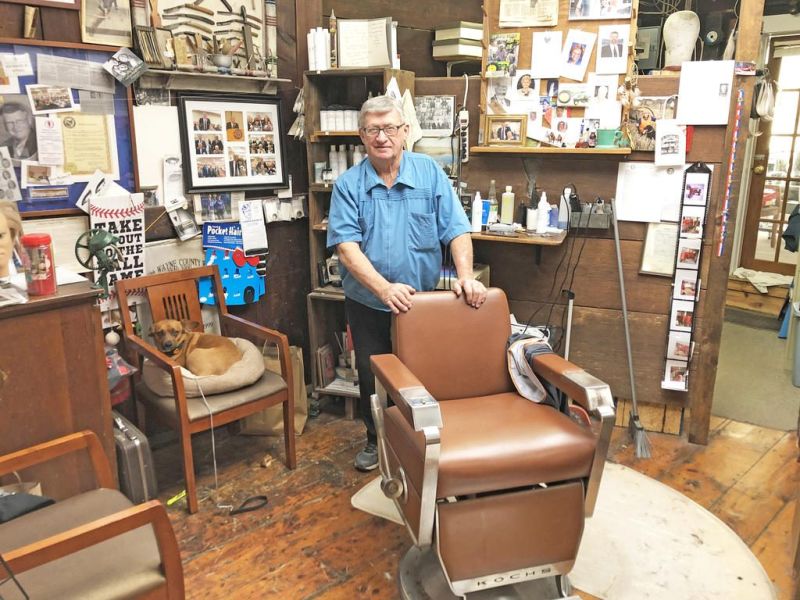 When Dick Stull started his career as a barber, he charged $2 per haircut. The year was 1960.
Believe it or not, Stull supported a family on those wages and tips.
Still going strong at age 80, Stull is in his 60th year as a barber. The going rate for a cut these days is $15, which isn't enough to get by on any more.
"The only way you can make it owning your own shop nowadays is if you also rent out a couple chairs," Stull said.
Inflation is one of few regrets Stull has looking back on a legendary career and life.
"The people keep me going," said the owner of Dick Stull's Barber Shop, 256 S. Columbus Road in Wooster, located in a former railroad depot intersecting with Vanover Street. "I get too much enjoyment coming in here each day to retire."
Also a part of Stull's Barber Shop, building their own long lists of "regulars" are barbers Dave Neer, John Miskimen and Miss Jody (Duhon).
Stull is an old-school barber, through and through. He greets customers with a hearty "hello" and can often be engaged in a friendly debate before the first clippings hit the floor.
"I think it's remarkable that Dick is still cutting hair," said Loren Kirchner, a local doctor who's been getting his hair cut by Stull for 40 years. "He's got such a good rapport with his clientele. We have a good time together."
Kirchner has grown to trust Stull like a father.
"He's been my person that I've always bounced things off of because he can sit here and talk about anything," Kirchner said. "I can just open up, and it's been a good friendship over the years."
Stull has been right about a lot of stuff over the years but will admit when he's wrong.
"I didn't think the smart phone stuff was going to happen," Stull said. "I remember the comic book hero Dick Tracy talking into his watch. I thought it was too fictitious. I wish I knew how to use those phones now, but it's too late for me."
Stull has been much more than a barber. He's sold real estate, been involved in property management and development, and advocated for Lyme disease awareness and research, as well as serving on boards for the Wayne County Fair, Planning Commission and Chamber of Commerce.
"Dick's a throwback type of guy," Kirchner said. "You don't see folks who are engaged in so many different things over the years like he's done. He's a man for all seasons."
The Stull Barber Shop is filled with so much area history it could qualify as a small museum. Pictures and memorabilia ranging from old barber equipment to fair and sports history could keep Stull busy talking all day. He played with and against area sports legend Dean Chance as a boy, claiming to have outscored Chance in a head-to-head varsity basketball matchup.
Stull has a scrapbook filled with autographed pictures of featured musical acts at the fair dating back to the 1970s. Johnny Cash, Roy Clark and Barbara Mandrell are just a sampling of stars he met.
When his daughters Robin and Crystal were age 6 and 13, respectively, he became a single dad. Soon after, Stull organized Wayne County's first fastpitch travel team and the long-running Wayne County All-Star Tournament held in Kidron and the surrounding area. Robin went on to be inducted into the Rio Grande Hall of Fame.
"On Mother's Day I used to get cards from friends because I was raising the girls by myself," Stull said.
Stull developed his work ethic and well-rounded personality growing up on a family farm in Reedsburg. He earned a combined 15 letters as a star athlete at Jeromesville High School, which consolidated with Hayesville to form Hillsdale High School in 1964.
"I averaged 15 yards a carry in six-man football as a junior and 16-plus as a senior," Stull said. He also was a standout in basketball, track and baseball.
Stull was inducted into the Ashland County Sports Hall of Fame in 2012.
Growing up, Stull thought he'd eventually take over his grandfather's farm. However, his father told him to go to college in order to have a backup plan.
"I went to barber college and started cutting hair with Jim Miller in 1960," Stull said.
In 1962 Stull purchased Miller's Barbershop on Liberty Street and remained there until a fire decimated his shop in 1987.
"My daughter, Robin, was playing for Hillsdale in a basketball game at Dalton," Stull said. "Someone called Dalton High School. They came and got me out of the stands and brought me to the phone. I was told, 'Your barber shop's on fire.' They later said it was probably due to an electrical malfunction."
Stull moved his barbershop to a home near the Wooster Chamber of Commerce for the next four years.
During that time Stull had his eyes on opening a barbershop in his current location in the old train depot, located just off U.S. Route 30 and state Route 3.
"After two years of constant phone calls, B&O Railroad sold it to me," Stull said.
Asked how much longer he plans to cut hair, Stull answered without hesitation. "As long as I can stand," he said. "I don't know what else I'd do. I'm in here six days a week. I'm not tied to it as much as I used to be, not working as many hours, but I still love to come in here and shoot the breeze."
Aaron Dorksen can be emailed at aarondorksen24@gmail.com. Follow him on Twitter at @AaronDorksen.