Sugarcreek Arts Council honors Mahlon Troyer at their annual banquet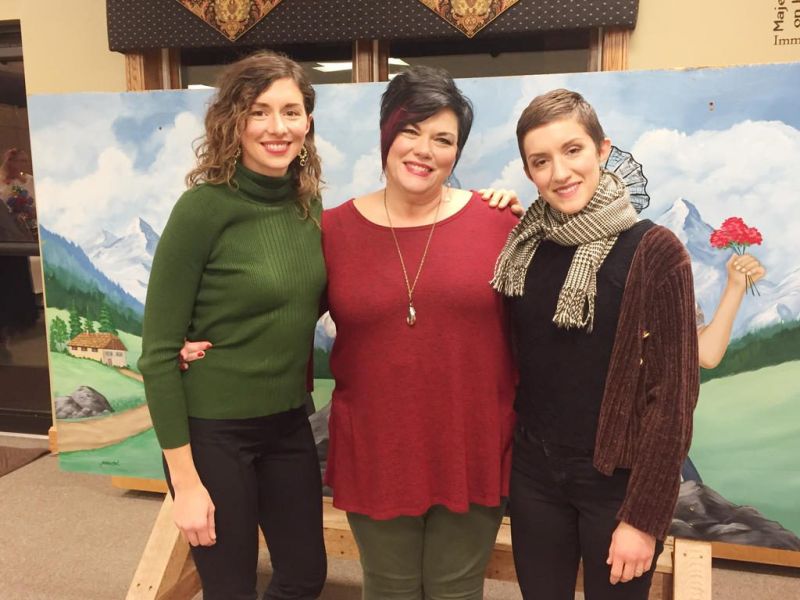 The annual Celebrate the Arts Banquet, sponsored by the Sugarcreek Community Arts Council, posthumously honored one of the area's most beloved and well-known artists during its annual event on Monday, Dec. 3 at Union Hill Methodist Church.
When artist Mahlon Troyer died suddenly on June 8 of this year, the Sugarcreek community lost a friend and a family man who made his mark in the art community.
Troyer was posthumously honored with the Friend of the Arts award, where his wife Patricia and daughters Jani and Tiffany were on hand to accept the award on his behalf.
"Mahlon was a man of quiet strength," presenter David Lorah said. "He didn't demand attention. He was gently loving, constant, a listener, and he saw things that other people often ignored. He was an accomplished, self-taught artist who earned a living doing what he loved."
Troyer began his career as an artist when he fell in love with the creative side of life after attending a race where he was drawn to the many designs on the race cars. He began his life as an artist using airbrush techniques to paint vans, murals and other forms of art. His first wall mural was a painting of The Last Supper on a friend's wall.
While Troyer continued to work as a cabinet finisher and interior home painter, his creative side began consuming more of his life. It was a passion, and he continued to develop his skills while educating himself.
One key moment in Troyer's career was when he met and befriended well-known local muralist Tom Miller.
Troyer created a sign company that led him further into painting murals.
"Mahlon discovered a way to portray nature on canvas or Masonite board in a very realistic nature that was often mistaken for photographs," Lorah said. "He did this by airbrushing the background and then using acrylics to paint the subject and foreground."
Each year the council bestows the Friends of the Arts honor on a local community member who has done his/her part to further the arts, and Troyer did that throughout his many years of painting. In addition to finding great joy in painting scenes of nature, Troyer also was instrumental in the restoration of the figures in the world's largest cuckoo clock that resides in downtown Sugarcreek.
In addition to Troyer, the Arts Council also honored the 2018 winner for the Commissioned Art Work honor that went to 2018 Garaway High School graduate Grace Chapman. Chapman's self-portrait that opened her eyes to the universe was lauded for its creativity and beauty, and she titled it, "The Wonders of the Universe."
Each year the council commissions artwork from a senior student at GHS to hang in the library at the high school. Lorah said it creates a collection that helps promote the arts.
"We have seen some remarkably good work in the past, but I think this year's presentation is especially appealing," Lorah said of Chapman's work. "It is a gorgeous picture."
Another portion of the evening was the ugly sweater contest, where Scott Gerber's ensemble highlighted a cast of formidably hideous entries. Gerber, Chris Travis and Marie Schultz were named as the three winners of the contest.
"I guess we have three winners," council president Ryan Schultz said with a laugh as he presented the winners.
"It's wonderful to see all of this 'modern art' here tonight," Lorah said in reference to some of the sweater designs.
Lorah also gave his annual update on the collection process centered around Lorah's book, "Santa's Pants." Each year Lorah travels to local elementary schools to read his book about how Santa lost his pants. He then has the children fill an enormous pair of Santa pants with gifts for needy children in the area including some toys to Akron Children's Hospital.
"This is the 13th year we have celebrated Santa losing his pants," Lorah said. "It's tremendous to be able to do this with the children. I am getting used to the idea of getting pointed at wherever I go and hearing, 'That's Santa's pants.'" He then added tongue in cheek, "I sometimes wished he had kept them on."
The entertainment portion of the night's festivities was a rousing performance by the young members of the Tuscarawas Philharmonic Children's Choir. The group sang a number of songs.
"I have come to the conclusion that in this area we have some of the finest young people in the world," Lorah said. "Our children are so special, and this group tonight represents the Tuscarawas Philharmonic Children's Choir, and we are so proud of them. There is nothing more joyful than the beautiful voices of children."
The group is directed by Laura Barkett and featured youth from elementary school through high school.