Summerhill Farm Dawn Chorus set for May 28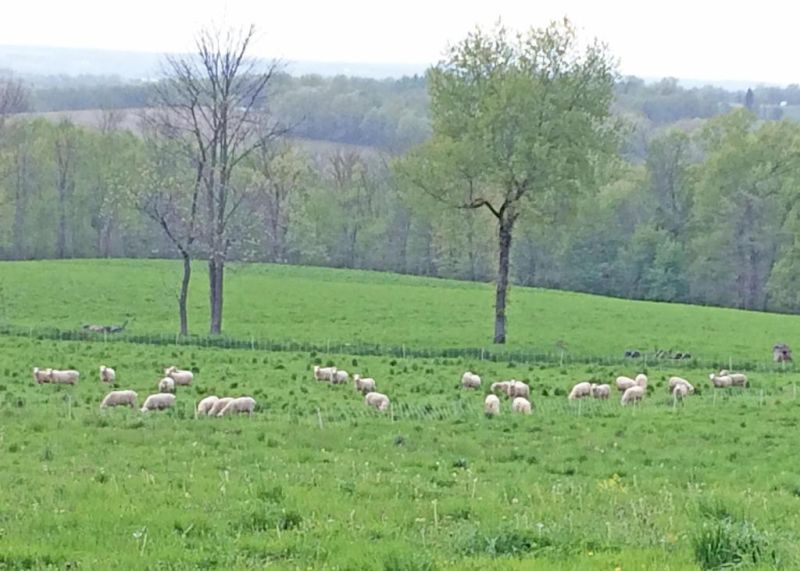 On Saturday, May 28, a Dawn Chorus event will have an expert on bird songs beginning at 5 a.m. at Summerhill Farm, a 160-acre working sheep farm that overlooks the Killbuck Valley near Moreland. The farm address is 10233 Munson Road, Shreve.
Betsy Stebbins-Anderson lives at Summerhill Farm and wanted to do something different to celebrate nature. She had been scouring the internet for Dawn Chorus events that are common in Britain but found nothing like this in the United States. She contacted Lisa Rainsong, a music theory professor at the Cleveland Institute of Music, to see if she might be interested in guiding the first Dawn Chorus at the farm in 2019.
Rainsong was intrigued by the idea and quickly agreed to guide the event. She is an expert on bird songs and identifying amphibians and insects of Northeast Ohio by their calls.
"I had never heard of Dawn Chorus events," Rainsong said. "They take place in May in bird-friendly habitats such as parks. People gather outdoors in the darkness, listening from the very first birdsong of approaching dawn until the full chorus begins after sunrise.
"From what I've been able to find online, the tradition began in England in the 1980s and spread across the rest of the U.K., then expanded to other parts of Europe as well. There is now an annual International Dawn Chorus Day on the first Sunday of May, and it's been celebrated in over 80 countries."
"We love connecting with folks with similar interests — nature, birds, plants, agriculture, gardening and farm-to-table harvests. We find that we learn and are energized by these kind of events," said Anderson, one of 12 founders of Local Roots Market and Cafe in Wooster.
"I had never done anything like the Dawn Chorus Walk led by Lisa," said Peter Boyer of Wooster, one of the participants in 2019. "I'm pretty sure I had never even heard of a Dawn Chorus before then. I wasn't a birder but was amazed. It was an experience bigger than just a morning hike among singing birds.
"Besides her knowledge of different species, Lisa shared an infectious reverence and passion for the natural world at large. It helped me strengthen a personal connection to this special landscape and community right here in Wayne County. Besides all that, doing new activities outsides one's normal routine can be invigorating and enriching in and of itself. Waking up well before the sun to walk quietly through the trees while giving your full attention to the surrounding songs of birds was just that. The walk was a highlight of my whole year.
"So I'd recommend this walk, not just for those who already have an interest in wild birds, but for anyone looking for a little enrichment in life."
According to Rainsong's blog, in 2019 at Summerhill Farm, she documented 32 bird songs between 4:45-6:52 a.m. In addition, there was a great blue heron and a ruby-throated hummingbird after 6 a.m. that were seen but not heard. After breakfast there were 11 more birds that were either seen or heard.
"Dress for hiking and plan to arrive anytime between 5 and 8 a.m.," Anderson said. "If you want to come the night before, we have a cabin and some rooms available to rent, first come, first serve. I'll be serving a farm-to-table breakfast from my licensed home kitchen, Betsy's Bakeshop. It includes rhubarb French toast, fresh berries, ginger honey yogurt, fresh baked granola, coffee and tea. After we eat, there will be a hike through pastures, around the pond and into the woods to hear and see more bird species."
For more information on the second annual Dawn Chorus event at Summerhill Farm and to register online, email betsy.stebbins.anderson@gmail.com.