Sunflowers are in bloom at September festival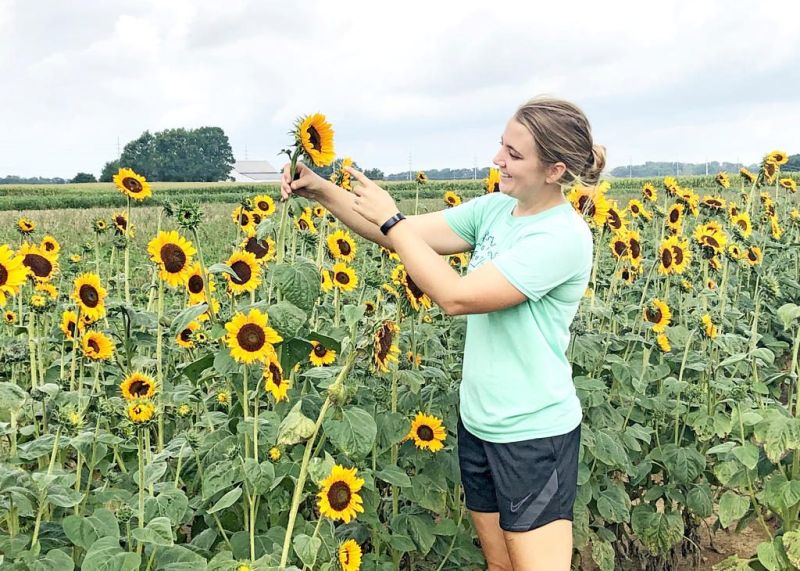 Ramseyer Farms will hold its third annual Sunflower Festival on Sept. 19 and 26 from 11 a.m. to 7 p.m. both days at the farm on 4000 Ramseyer Lane near Smithville.
More than 20 varieties of sunflowers are spread out over 9 acres and range in colors from deep burgundy and burnt orange to the traditional deep or pale yellow.
"A lot of people don't realize how many varieties there are," said Jenna Ramseyer, operations manager for agritourism.
One type of flower is pollen free for those with allergies, Ramseyer said.
Ramseyer said most of the sunflowers will be around 5 or 6 feet tall, and those will be the ones available to buy.
The field, just north of the corn maze, has been increased by 3 acres from last year so people can easily socially distance while enjoying the flowers, according to Ramseyer.
"We also planted some giant ones around the edges of the field," Ramseyer said. "People always enjoy taking their picture with them."
Ramseyer said they increased the event from one day to two because of the interest shown over the last couple years.
Visitors will receive one free sunflower sample to take home, and extra ones will be available for purchase. A mason jar is $10 and a large, galvanized vase is $20 for all you can fit.
On the Sunflower Festival days, local food vendors and live music will be featured, as well as all the other attractions the farm features.
"We'll have fair fries, kettle corn, cider slushies, hamburgers and hot dogs, pulled pork, apple blossoms, and ice cream," Ramseyer said. "There also will be live music."
Ramseyer said the sunflower fields also will be available on weekdays Tuesday through Friday, but there won't be vendors or music on weekdays.
Ramseyer said visitors should watch the farm's website at www.ramseyerfarms.com or their Facebook page to monitor the availability of the sunflower fields and conditions of the fields and flowers. Ramseyer said tickets also are at limited availability due to COVID-19 social distancing, and they are date-specific, so she strongly recommends advanced purchase online.
Kids age 2 and under are free admission, and season passes also can be used. Season passes are good for all weekend and weekday admission for the entire season. Sunflower Festival tickets are $13 for age 3 and up or $10 for those over 65. Golf carts are available to take those with disabilities out to the fields.
"It was a little tricky this year because of the drought, so we need to say that there's always an outside chance the event could be canceled," Ramseyer said.
If there is a cancellation, no cash refunds will be made, but tickets can apply toward any of the other 50 different farm activities during the 2020 season.
The farm's traditional season is Sept. 1 to Oct. 31.
Activities at the farm include two giant corn mazes and one smaller one, hayrides, slides, animals, pedal kart race tracks, and pumpkin picking.
Pumpkins are available for picking directly from the patch, or people may choose from the farm's selection that is already picked. There also is a variety of specialty pumpkins including white pumpkins, pie pumpkins, Cinderella pumpkins, Fairytale pumpkins and more.
Although there are 2 miles of trails and 8 acres of corn, it's hard to get lost in the giant Ohio maze because each road, river and treaty line is labeled. More than 275 signs point out interesting facts about Ohio cities, famous Ohioans, Ohio sports figures, Ohio presidents and more, Ramseyer said.
Each year there is a new theme and a game to play as people travel throughout the maze. Completion takes anywhere from 30-60 minutes.
Ramseyer recommends guests with younger children try the mini maze, as the larger mazes require lots of walking. The mini maze is a smaller maze within the larger mystery maze. Attendees can try out the corn maze and participate in a game in a much shorter time frame. This is perfect for those not wanting to take on the challenge of the more involved mystery maze, especially families with younger children. Allow 10-15 minutes.
Ramseyer Farms is available for groups including school field trips, as well as other groups and parties. It can be called at 330-264-0264.