Take a hike: Area offers a variety of outdoor venues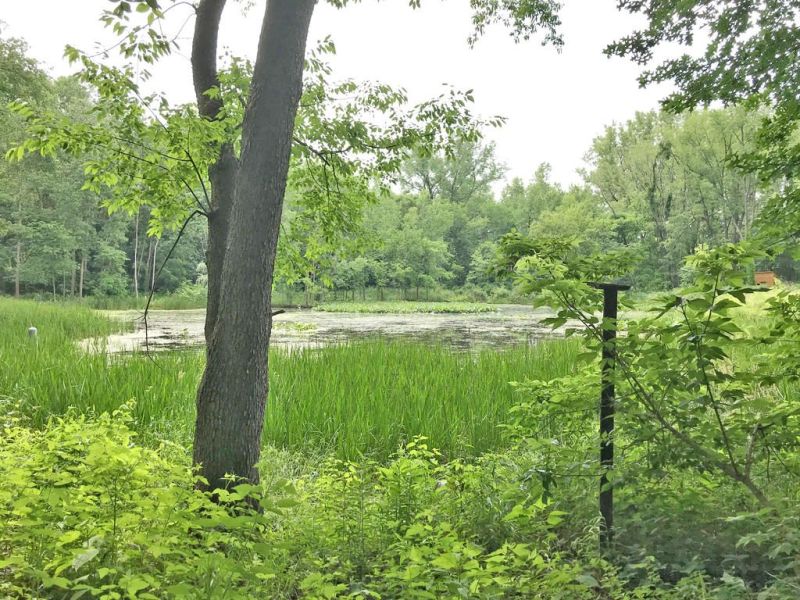 For many, hiking is an ideal summer pastime. Rugged trails, extraordinary wildlife and nature's serene atmosphere reward the body, mind and soul of anyone who loves to be outdoors.
Wayne and nearby counties contain numerous hiking locales that appeal to a wide variety of interests and experience levels. However, several of these spots are not widely known and may be overlooked by local nature enthusiasts.
One such area is Johnson Woods State Nature Preserve, located in Marshallville. This 205-acre tract of woodland is one of the state's best-preserved old-growth forests. Its trees have seen 400 years of American history; some were already 30 years old when the pilgrims landed at Plymouth Rock in 1620.
Today the oldest trees in Johnson Woods reach 5 feet in diameter and tower 120 feet above hikers below. Two such hikers are Arlyn and Barb Zollinger, who said they escape to enjoy the forest several times a year.
"It's such a nice place to get away," Barb Zollinger said. "The trees are so old, so beautiful, so majestic."
Part of the park's beauty also comes from the plants and animals that live below the ancient oaks. The area is home to numerous birds including pileated woodpeckers, Acadian flycatchers and scarlet tanagers. Vernal pools also provide an important habitat to native amphibious species.
The park's flora and fauna can be observed from the comfort of a 1-mile, wheelchair-accessible boardwalk dotted with informative plaques. These additions make Johnson Woods a more accessible spot for families with young children, such as that of Mark and Angie Wynar.
"When I was a kid, [this park] wasn't like this," Angie Wynar said. "These developments make it far easier to take kids to experience the spectacular trees."
Although less suitable for families seeking paved trails, Killbuck Marsh offers a similarly unique landscape to explore. The 5,671-acre area sits in a glacial outwash valley, over half of which is flooded at some point in the year.
Unfortunately these conditions make paved trails an impossibility, according to Dennis Sollon of the Ohio Division of Wildlife. "The water in the valley is getting higher. Many of the trails that were dry 10 years ago no longer are," he said.
Those desiring trail hiking should come in early spring before the trails become overgrown, or as Sollon recommends, they should enjoy the park by walking or driving along the road.
"You can just cruise the roads," Sollon said. "You're not likely to disturb the wildlife, [and] you're likely to see just about anything."
Valley Road, for example, allows visitors to drive or walk mere feet away from the marsh, although high water occasionally makes the road impassable.
Birders may be familiar with the area's spring migration events, but any season promises bird sightings because Killbuck Marsh offers waterfowl a crucial resource: year-round, open water.
"It is critical for waterfowl to have an undisturbed water source," Sollon said.
Killbuck Marsh, particularly its 850-acre refuge, provide "a rest area for waterfowl, an area where there's open water even in the coldest times of the year," Sollon said.
Wildlife also can be seen in abundance at Sippo Lake State Park, a Stark County hiking spot that might be less known to Wayne County residents. While not as isolated as Johnson Woods or Killbuck Marsh, five trails traversing woods, wetlands and lake shores offer plenty of hiking opportunities.
Visitors wishing to further explore Sippo Lake can do so by renting canoes, kayaks, pontoon boats and paddleboards at the park's marina.
Those who want to educate themselves about their scenic surroundings can do so at several facilities on site. Overlooking the lake is the Congressman Ralph Regula Canalway Center and the Perry-Sippo Branch of the Stark County Library, which specializes in environment-related materials.
Another unique learning opportunity lies at the park's Wildlife Conservation Center. Park employee Caitlin McCully explained, "We take in injured and orphaned wildlife and rehabilitate them. The goal is to release them to the wild."
While the public can't interact with injured animals, McCully said there is a viewing window in one examination room. Visitors can take a close look at animals that cannot be released and live in enclosures.
These "ambassador animals" provide an excellent chance to see creatures ranging from a red fox to a great-horned owl. According to wildlife rehabilitator Vanessa Shanower, they also teach an important lesson about human-wildlife interactions.
"Most of the animals we take in are because of human interaction that went wrong," Shanower said. "The ultimate goal is for rehabilitation [centers] to not exist, for people to coexist with animals."
Individuals seeking summer outdoor exploration can learn more about these parks and other hiking locales in the area at www.trekohio.com.