Tate and Burgett are this year's Holmes County Junior Fair royalty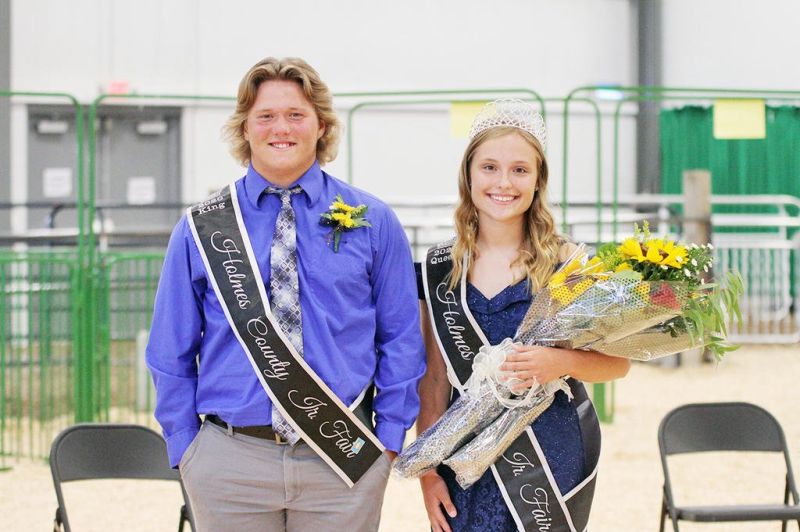 A large and talented group of young people sat nervously and awaited the final outcome of the 2020 Holmes County Junior Fair Queen and King Pageant held at the county fair at Harvest Ridge on Monday, Aug. 10.
While all were talented and capable of representing the county and the fair, there can be just one king and queen, and this year, there was only one attendant to each.
The field of contestants for the 2020 Holmes County Junior Fair Queen and King Pageant included Lauren Jones, Natalie Schlegel, Aubree Houin, Samantha Kendall, Megan Jones and Ashley Tate in the queen pageant. King candidates included AJ Jones and Brant Burgett.
All are active in 4-H and in the Holmes County community, and both Kate Shumaker and Janessa Hill of the Holmes County Ohio State Extension Office, which hosts the pageant, said each of the participants were worthy of representing Holmes County.
When the final results were tallied, it would be Tate, a junior at West Holmes High School, who would procure the queen's tiara. She was joined on her court by first runner-up Natalie Schlegel.
Burgett was tabbed as the new Holmes County Junior Fair king with AJ Jones becoming his first attendant.
This year's coronation included a special guest appearance by Mackenzie Hoog, the Ohio Fair's queen, who served as the emcee during opening ceremonies.
"It's wonderful to see everything Holmes County has to offer, and I haven't even had a tour yet," Hoog said during the pageant. "You have all been so welcoming; 2020 has been something that has been quite incredible, although maybe that isn't how some of you would describe it. We have been able to see a positive in what has been happening, and we have been able to overcome. I am proud that this fair has been able to persevere and to put on such a wonderful operation for their junior exhibitors because celebrating the youth is what it's all about. You have created a real sense of community."
Hoog said the king and queen and their court responsibilities include traveling throughout Ohio to represent their fair and their county, something each of those selected cherish. They have the task of promoting and inviting people outside of this county to attend next year's fair and to enjoy everything Holmes County has to offer.
Tate said this was a new experience for her, and she was nervous all morning as she helped work the dog show at the fair prior to the pageant.
"Everyone told me to chill out and have fun with it, and once I got into that room with the attendants, everything felt at peace because I realized everyone else was in the same boat," Tate said. "This opportunity means so much to me because agriculture and 4-H is such a big part of my life. This fair is something special, and it really incorporates the community and the youth, so I am really excited to be able to represent that."
Tate said because many fairs and events might be canceled due to COVID-19 in the year to come, she is going to be creative in finding ways to promote the fair and her community.
"I will work with my court to try to create some different events here at the fairgrounds or to come up with different events to go to," Tate said.
Unlike Tate and Schlegel, Burgett has been through this process before. In fact, he follows a family tradition of serving as royalty. His older brother Bryce was a king, and his mother and her sister were both queens, as was his grandmother.
"I look forward to taking on the responsibilities," Burgett said of serving as king. "I am proud to do it. This means a lot to me, and this community is like no other. No matter what you do, if you have struggles, someone is always there to help you. You can't ask for a better community than what we have, and I am so proud to represent it."
"Being part of trying out for fair queen is so nerve-racking," Schlegel said. "This is my first year. I am excited to meet new people being a part of this."
Schlegel said her parents both grew up in Holmes County, so it was exciting to be able to represent her home county.
"I feel like I am representing my county and my family," said Schlegel, who is planning on attending Kent State University to study graphic design.
AJ Jones is hoping to attend Ohio State University after completing his final year at West Holmes this year, where he plans on following in his father's footsteps as a civil engineer.
"This is going to feel good," Jones said. "Congrats to BB (Burgett) on winning king. Hopefully, he has fun with it because it is an experience of a lifetime. I look forward to meeting new people, which is always fun."
Both Tate and Burgett will receive $1,000 scholarships after fulfilling the required duties throughout their reign.
In addition to the pageant, the Holmes County commissioners presented their annual Holmes County Commissioners' Awards. The Senior Leadership award went to Schlegel while the Senior Citizenship honor went to Tate. The Junior Leadership honor went to Garrett Houin while the Junior Citizenship award was given to Rebecca Schuch.
The fair pageant was sponsored by Sweet Breeze Farms & Excavating, Millersburg Electric, The Martin Schuch and Sheldon Families, Hummel Group and bFearless.