Teen traffic deaths brought to the forefront at mock trial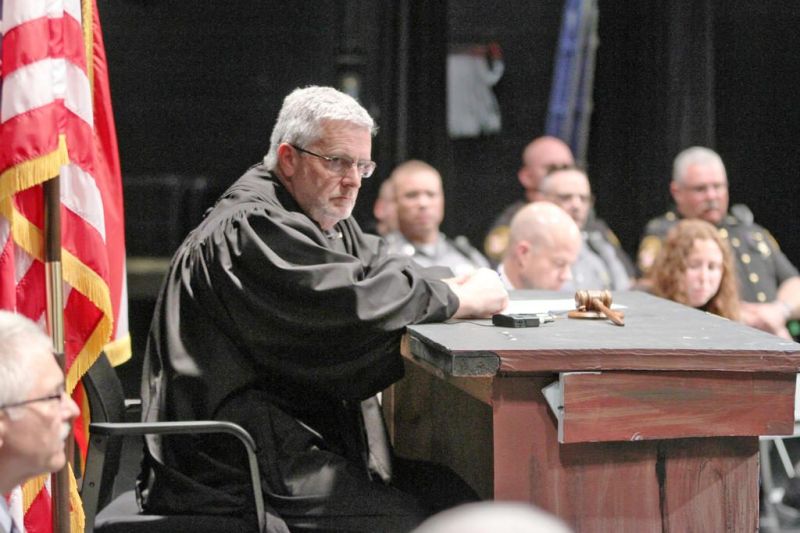 What happens in an automobile accident that claims the life of a human being is unbearable as families try to put their lives back together and make some sense of their tragic loss.
But what happens after the accident in terms of those responsible?
Juniors and seniors at Hiland and West Holmes high schools got to experience that firsthand on Thursday, April 25 at West Holmes High School when a number of law-enforcement agents and members of the judicial community gathered in Excalibur Theater following a mock crash to gain a better sense as to what the legal repercussions look like following a fatal accident.
The mock crash saw driver Selena Latouf go off the road while being distracted, rolling her vehicle and killing a passenger while injuring another and paralyzing a third.
All of the students witnessed the mock crash and then sat in silence as the proceedings of Holmes County Juvenile Court took place under Judge Thomas Lee.
While it was all made up, it seemed all too real as actors played the role of grieving parents and participants, real officers of the court presented the case, and Lee eventually laid down the law. The students were able to gain some realization of just how far-reaching the devastation of distracted driving can be.
While it was fake, Latouf said it was all too real as she sat and listened, cried as she poured out her heart to the victims' families and expressed her regret.
"With the way everyone was acting, it felt so real," Latouf said. "I hope this makes a real impact on each of the students here and they take something away from this and see how this is all very real in how this was portrayed. Being in that car and then sitting here being tried was stressful. It was scary finding out everything that can happen from one simple, little act of carelessness."
Latouf was charged and found guilty of aggravated vehicular homicide. While she was portrayed as a model student who is active in her school, a member of the National Honor Society and everyone spoke highly of her character, those attributes did not play a role in the final judgment.
Lee, who has seen thousands of youth go through his courtroom over the past many years, said it is difficult to see anything like this mock trial take place in the real world.
"I've been doing this for 22 years, and I always say the same thing," Lee said. "These are all good kids, so bright and with so much potential. It is simply a result of them making a horrible decision. The one thing that I hope these kids take away from this experience is that they need to be cognizant of making good decisions in life. It may be cliché, but if something like this can help just a couple of kids, then it is well worth all of the effort that goes into putting this event on."
At one point court bailiff Brad Conn was summoned, and he put ankle, wrist and waist restraints on Latouf and ushered her out of the courtroom. He said even though he has been doing this for more than two decades in Juvenile Court, it is painful every time he has to snap on the cuffs and usher a teenager from their old life into a newer, scarier one.
"I don't like doing it, but the simple fact is that the judge has made the order and there are good reasons for that order," Conn said. "You have to put aside emotions and make sure that everyone is safe."
Teens who are found guilty in Holmes County Juvenile Court and sentenced to serve time in a juvenile facility are transported to Richland County, an hour trip in which they can ponder their fate, their future and what might have been.
While the mock trial showed every step of the process in a courtroom including the Holmes County prosecuting attorney Sean Warner, opportunities for family members and those involved in the accident to speak their mind, and Holmes County probation officer Brody Williams, there also was an opportunity for the students to hear the message of making good decisions.
While portraying the mock accident that claimed the life of one student, Williams said teen traffic accidents are one of the leading causes of teen death in the nation. He noted that while the 42 students killed in school shootings over the past year are horrifying, the fact that six teens die in this nation every day is an overwhelming fact that often goes overlooked.
"Six teens each day, seven days a week equals 42," Williams said, "the same number of school victims in one year. Combine that with using a cell phone while operating a vehicle. You put your life at risk as well as those in your vehicle and others on the road when you choose, choose to use your cell phone while operating your vehicle. But teenage car crashes don't occupy national headlines. Is that what we have grown numb to?"
In a video shown before the courtroom drama began, area law-enforcement officials and some school district officials and teachers shared their stories and their pleas for students to adhere to everything they were taking in.
The messages served both as a warning and a plea for students to pay attention on the road and to think before they act.
"It was a chance for us to share our thoughts with these young people about the importance of thinking before you act, whether that is getting behind the wheel of a car, partying or whatever they are doing that could lead to consequences," Lt. Stephanie Norman of the Ohio State Highway Patrol said.
Throughout the mock trial it was silent in the auditorium as the proceedings progressed. The students sat rapt in the process to the very end, prompting Lee to commend them on their respect and willingness to pay attention and learn.
That alone spoke volumes as to the impact the message had on the teens, a message that hopefully will resonate not just at prom time but for a long time to come.