Wooster Township fire chief earns state honor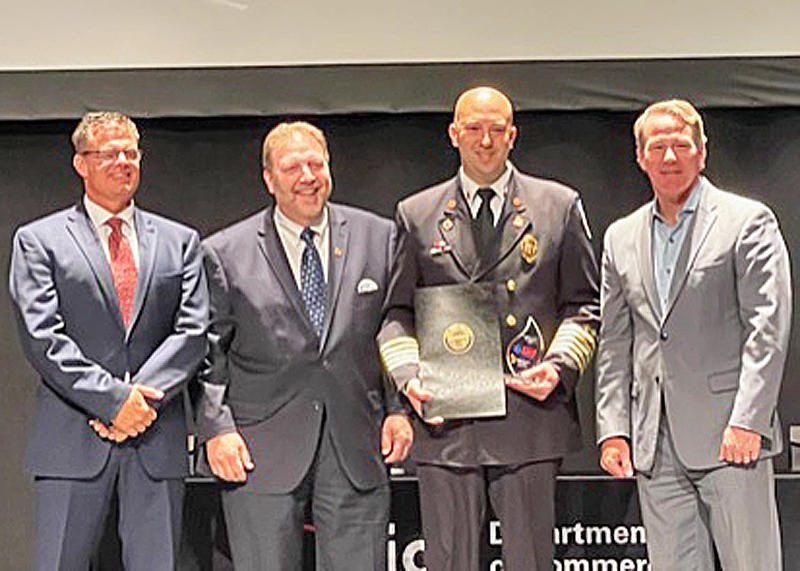 On April 26 members of fire and EMS departments across the state were honored in a statewide ceremony held at COSI in Columbus. Among the honors bestowed, Fire Chief Dallas B. Terrell, OFE, OFC, of the Wooster Township Fire Department, was named the Ohio Fire Service Hall of Fame 2023 Ohio Fire Officer of the Year.
The annual event provides an opportunity for the Ohio Department of Commerce Division of State Fire Marshal and the Ohio Department of Public Safety Division of Emergency Medical Services to honor individuals and departments that serve throughout the state. The Ohio Fire Service Hall of Fame and Ohio Fire Awards program bestows several different honors and recognitions upon individuals and departments for going above and beyond their basic duties and responsibilities. This year marked the 42nd year of the awards ceremony.
Those in fire services killed in the line of duty also are honored.
According to the State Fire Marshal section of the ohio.gov website, at the ceremony the Ohio Fire Council recognizes exemplary accomplishments and acts of heroism by firefighters and other persons at fire-related incidents or similar events occurring in Ohio, and the Division of EMS recognizes individuals and departments that provide exemplary fire education and safety training.
A video was shown for every honoree or department. Watch the presentation about Terrell at www.youtube.com/watch?v=rnKrZptTtrM.
In the video colleagues spoke about Terrell. "He cares deeply about the people here at this organization, the people at the training facility and the community as a whole — the people that we're serving. And you can tell," Assistant Wooster Township Chief Eric Roque said.
"He's always there; he's always that person," South Central Fire Chief Josh Martel said. "He's always available and always someone that people are looking up to."
In the video and in the interview, Terrell deflected the honor and placed it squarely on the shoulders of the people in his department.
"I gladly accept the award on behalf of all of the firefighters at Wooster Township," he said. "It takes all of us to make it work so well, which makes my job easy. I just do my part of the puzzle."