TFC Global Ohio Truck Show to roll into Amish Country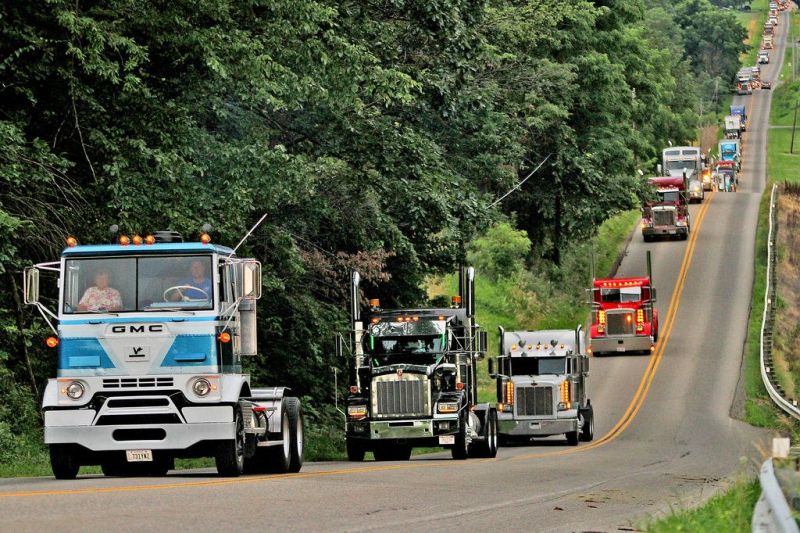 For many long-distance truck drivers, the idea of climbing into a big rig and getting behind the wheel day after day can lead to feelings of isolation and loneliness.
It is the goal of Transport for Christ to help diminish those feelings by letting truck drivers know they are loved, respected and people care about them.
One day soon in Amish Country, truck drivers will definitely feel a bond of unity and community when the annual TFC Global Ohio Truck Show takes Amish Country by storm Sept. 30.
Truck drivers from all over will untie in what is basically a conga line of trucks for the event, uniting for the purpose of creating a show for the people who come to watch the spectacle, but according to Stanley Wertz, event coordinator and chaplain at the TFC Lodi location, it's about creating a bond of unity for the drivers.
The event is also a blast for the thousands of people who line the highways and byways of Amish Country to watch as the trucks pass by single file, a long snake-like appeal that includes glowing lights, honking horns, tossing out candy and plenty of interaction.
The Ohio Truck Show, which for years has been more well known as the Parade of Lights, has become increasingly popular among fans, many of whom have made this event a family affair.
Those who anticipate the traveling truck show have built picnics, family gathering, barbecues and more around this event, setting up chairs or simply standing to watch as hundreds of large vehicles roll by, with horns blaring, drivers and passengers waving and plenty of love and gratitude for those who showed up to support the show.
"It's something that these drivers really look forward to each year," Wertz said. "It's nice to see so many people show up and support our drivers."
The event remains much like it has been the past number of years, although it the conga line's path will take a different shape this year.
It kicks off at Mt. Hope Event Center at 4 p.m. with hot dogs and hamburgers, with a chicken dinner available starting at 5 p.m. The dinners are available to the public and there will be take-out.
The truck drivers will begin to assemble their trucks and get for the parade, which will begin at 6 p.m. The show will slowly ebb out of the event center and hit the road, where the entire parade will head north on state Route 241 out of Mt. Hope, veering off on County Road 77 heading north to and heading north on Township Road 363. It will make its way through Kidron and continue east on County Road 79 and then Township Road 80, arriving at state Route 94 South to Mt. Eaton. The parade will jog on to state Route 241 in Mt. Eaton for a short time before rolling south on County Road 37/186. It will connect with state Route 62 just outside of Winesburg and head through Bunker Hill and Berlin. In Berlin the parade heads west on state Route 39, moving through Berlin and connecting with County Road 201, where the procession heads north to Fryburg. The final leg heads east on state Route 241, arriving back at the event center.
Following the parade there will be a live auction along with live music and food, with it all being open to the public. At 7 p.m. there will be ice cream available, and the John Glick Family Singers will be performing from 7-9 p.m.
This event had been held during the summer for many years, but recently switched to the fall season because summer is so busy for drivers.
While it may be a bit cooler for fans, one big advantage will be that the sun will set far earlier than it did in July, meaning the lights will come on and shine brightly that much sooner, which is what many fans love.
"We get some daylight so people can see the trucks, and we get plenty of nighttime parade where people can see the trucks all lit up in the dark," Wertz said. "It's quite a spectacle and we know many people come to see the lights."
Wertz said over the years the trucking industry has changed, and currently there are many companies seeking drivers because it is not an easy job, with more and more pressure being put on drivers to move product quickly because of the shortage of drivers.
He added that bringing all these drivers together for a fun and entertaining evening where they can show off their rigs and enjoy one another's company.
"Some of these guys will bring their wife and children to this event and have them drive in the truck. This event can be uplifting because these guys all share the same responsibilities and demands while on the road, so it's nice to just slow down and enjoy driving with no stress," Wertz said.
The purpose of TFC Global remains entrenched in its commitment to connecting with drivers on the road and giving them a sense of peace and sharing of faith when they stop at one of the many TFC Global stops all over the nation.
If someone wants to donate to the TFC Global mission, they can do so by visiting its Facebook page or online at: www.tfcglobal.org, where there are links that give people a chance to denote exactly where they would like their donation to go. For the most current information on TFC, visit it on Facebook.