There's plenty to cheer for in 4-H Life Skills Awards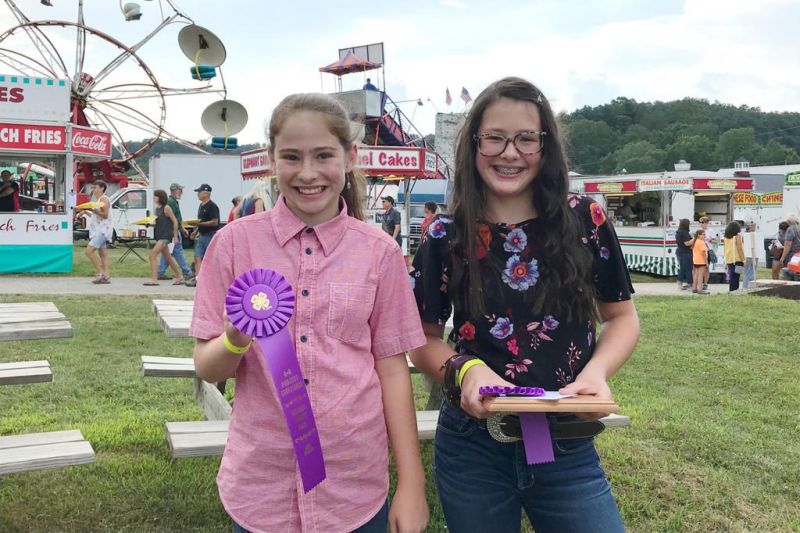 Dozens of Holmes County 4-Hers walked across the stage on the green at the Harvest Ridge Holmes County Fairgrounds on Monday, Aug. 5, where the fair board and the Holmes County Ohio State Extension Office honored the 4-H members who were celebrating their efforts in the Holmes County 4-H Life Skills Project.
The 4-H members being lauded included those who were among the elite at the county level and those who went on to qualify for the Ohio State Fair 4-H Life Skills contest.
Each year the 4-H members must choose one or more projects and record their effort to complete the project before explaining their project to a panel of Holmes County judges. There, they are graded, and those who qualify move on to the state level.
"It's a great group of young people who represent our county very well in their efforts and performances in the Life Skills," said Janessa Hill, Holmes County OSU Extension Office educator and director. "These projects are designed to build the kids' life skills and help them learn how to take responsibility for their projects, and we saw some really great ones this year."
Jewel Brown of Kuntry Kids 4-H club took on a Safe Use of Guns project. Her father is an avid sportsman and also teaches a gun-safety class, so she has shot on the range many times. She said she learned a great deal about gun safety through her work. She said she was quite nervous during the county judging, but her next step at state was truly nerve-racking.
"I had no idea what I was going up against," Brown said of her trip to the Ohio State Fair. "I really had no idea what they were going to ask me to talk about, so I tried to study the best I could to prepare."
Once she was at the state competition, she settled in and did well in explaining her project and answering questions.
"These 4-H projects are nice because there are so many that we can always find something that interests us and work hard at them," Brown said.
Twin sisters Zora and Lexi Starner combined their effort, and each took on the Laundry project for their Life Skills effort. They said it was all about learning the proper techniques involved with doing laundry the right way, learning about care labels.
"There is a lot more involved in it than just separating your clothes and throwing them in the laundry," Lexi Starner said. "Every piece of clothing has a label that tells you how to best take care of them, but a lot of people don't pay any attention to them. We learned the proper way to get stains out and a lot more. It was pretty educational."
While the girls did it together, they interviewed at the county level individually, and Zora Starner qualified for the Ohio State Fair but didn't go.
"I think we learned a lot," said Zora Starner, who last year did Woodworking and Why Trees Matter, which included building a pony barn. "Over the years I have learned to do a lot of things I wouldn't have known anything about if it wasn't for the Life Skills projects."
Mark Lonsinger added a voice of gratitude to the unsung heroes of the state qualifiers and county award winners: the parents, who oftentimes spend countless hours helping and encouraging their children.
"We want to take a moment to thank all of the parents and all of the volunteers who assist in mentoring the youth and assist with completing their projects," said Lonsinger, Harvest Ridge public relations director and emcee for the 4-H Life Skills Award program. "They can't learn unless they are taught, and they can't be taught unless you are willing to teach."