Plenty to do in Ohio this summer, starting with obvious attractions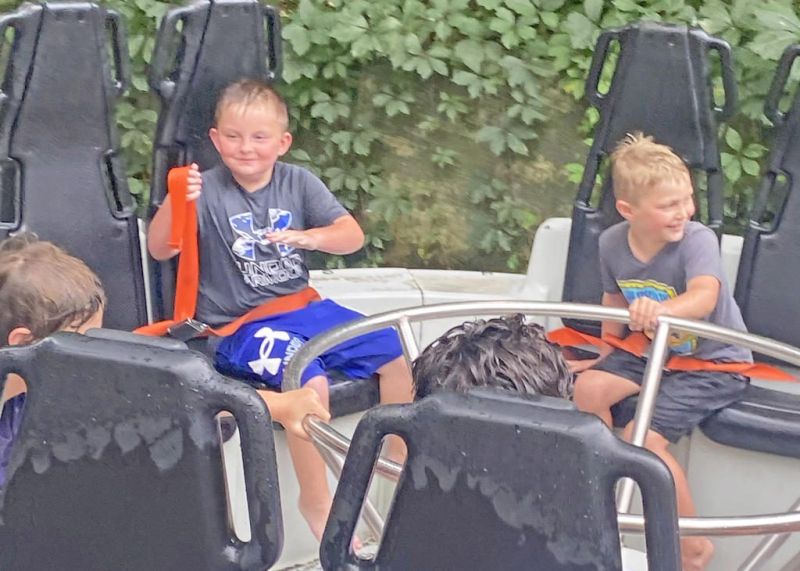 Warmer weather is finally here. Summer is just around the corner, which means it's time for road trips. The country is full of destinations, but for those pressed for time or on a budget, there's no better place to be than Ohio. The Buckeye State is loaded with top-shelf tourist attractions, and there's a little something for everyone.
The following is a look at some of the state's marquee places to take a day trip to. From this area, none is further than three hours away — if that — because in Ohio, just about no matter where you are, nothing is much further than three hours away.
And starting from this neck of the woods, some of the stuff is not only a one-tank trip, but also barely a one-gallon trip.
• Pro Football Hall of Fame
Located just down the road in Canton, the museum celebrating the 100-year history of Americans' favorite spectator sport offers something for everyone, from the most ardent football fan to the very casual follower, according to Rachel Gutting, senior director of communication and key initiatives.
"It's an attraction for the whole family," she said. "We do have a lot in the museum that is not just for the die-hards. There is obviously a lot of history here. The bronze bust gallery is something all the fans enjoy."
Something new in more recent times is the Hall of Fame Village. Billed as a venue for all occasions, the village spans more than 100 acres and includes food, shopping and entertainment. Visitors can stop in at the New Concept Don Shula's Restaurant, get a themed craft beer a the Brew Kettle, eat an ice cream sandwich from Hall of Famer Isaac Bruce's Smoosh Cookies or create a stuffed animal at the sports-centric Build-A-Bear.
Seniors and kids rates are available. For more information visit www.profootballhof.com.
• Cedar Point
Don't have the time or money for a Disney vacation? Who needs it anyway. We've got everything you need in Northern Ohio and at a fraction of the cost. Cedar Point is arguably the nation's best amusement park and inarguably the best for roller-coaster fanatics, and it's all less than a two-hour drive away.
People have been heading to the Sandusky resort for more than 150 years. With more than 70 rides, seemingly half of them roller coasters, there's some kind of ride for everybody. Nostalgia zealots will always enjoy rides on the Gemini, the Blue Streak, the Mine Ride and the Corkscrew, all coasters dating back to the 1980s, if not much earlier.
Other thrill seekers may look to the more modern rides, like the GateKeeper, Valravn, Rougarou and Steel Vengeance, all new over the last decades.
New this year will be The Boardwalk, a tribute to the old-time Cedar Point experience, just with modern twists. Those include the new Wild Mouse, the park's 18th roller-coaster, a spinning version of the long-gone Wild Cat roller coaster, along with the Grand Pavilion, a multi-story eatery and bar where visitors can enjoy panoramic Lake Erie views while taking a break from the outdoors.
For more information visit www.cedarpoint.com.
• King's Island
Been to Cedar Point enough and you want to try something similar but different? Head toward Cincinnati, where Cedar Point Lite sits just 25 miles or so north of the Ohio River. Now open for more than 50 years, the spawn of old Coney Island on the Cincinnati river front, King's Island boasts 14 roller coasters among 47 rides spread out over 364 acres in Southwestern Ohio.
King's Island's most celebrated ride is The Beast, a record-breaking 7,361-foot behemoth that thrills riders with huge hills, tunnels and plenty of twists and turns. Now more than 40 years old, The Beast joins the Racer, there since day one, as the oldest King's Island coaster.
At the other end of the spectrum, Banshee, Mystic Timbers and Orion, the latter of which looks scary in pictures and can probably go punch for punch with anything offered at Cedar Point, show the KI roller coaster designers still have their fastball.
On hot summer days, guests can visit Soak City, which features 36 water slides and more than a dozen other water activities. Soak City is included with the King's Island admission.
King's Island may not have as many rides as its big sister to the north, but Cedar Point doesn't have an Eiffel Tower in the middle and never hosted an episode of "The Brady Bunch." For more information visit www.visitkingsisland.com.
• Wright-Patterson Air Force Museum
Ohio is loaded with top-flight museums. Nearly every city has a quality art museum, and children's museums are plentiful. Want an actual top-flight museum, this war memorial in Dayton just might be what you need.
Wright-Patt, as it's referred to by the cool people, is the largest military aviation museum in the world, covering 19 acres and featuring more than 350 aerospace vehicles, missiles and many other artifacts from the history of flight in the military and beyond.
Galleries in the museum include those dedicated to the Wright Brothers, World War I, World War II, the Korean conflict, the Cold War and more. The Presidential Gallery includes planes used by presidents as far back as Roosevelt and Truman, as well as modern leaders such as George H.W. Bush and Clinton.
Admission and parking are both free. Visit www.nationalmuseum.af.mil for more information.
• Hocking Hills State Park
Want something with more of an outdoorsy feel? Head a few miles southeast from Columbus to this nature's paradise, where you can enjoy nature while getting a bit of R and R. While most associate Hocking Hills with overnights and camping, there's plenty to see and do for the day traveler.
Billed as Ohio's Natural Playground, visitors can do it all, from camping and fishing to canoeing and hiking. With an abundance of trails, caves, nature preserves, lakes and forests, the 2,000-acre state park is an outdoor person's paradise, whether for a day, a weekend or much longer.
For more information visit www.hockinghills.com.