Thunder Buggy is not your typical sight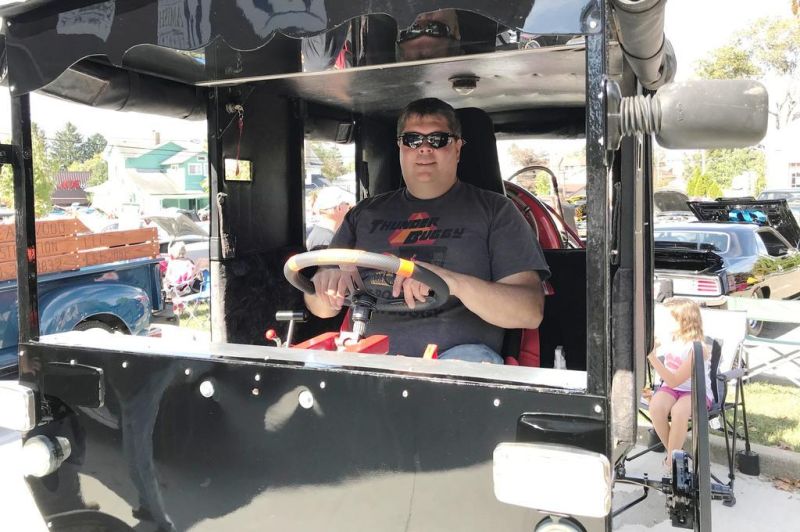 Chad Clark of Millersburg is the owner of Thunder Buggy, the world's fastest jet-powered buggy.
While Holmes County is filled with the sight of black Amish buggies, there is one Holmes County buggy that is not slowly going anywhere. The Thunder Buggy has a rate of speed of 60 mph.
According to Clark, originally he and Mike Monter were supposed to build a turbine-powered four-wheel-drive pulling truck. However, the person from whom Clark had purchased the engine had misrepresented exactly what it was he was selling, initially calling it a turbo shaft.
When Clark picked up the piece of equipment, he realized it was a turbo jet engine, so rather than putting it in a truck, he had to be creative and find a much lighter vehicle in which to place his newest purchase.
"We started looking around the internet to see what had been built already, and being from Holmes County, the idea came to mind. We needed something lightweight. Why not put it in an Amish buggy? It was just a crazy idea that became a reality, and it has been a hit so far," Clark said.
The two men began working on Thunder Buggy in September 2017. More than 11 months and nearly 800 man-hours later, Thunder Buggy was born.
"That time included a whole lot of head scratching," Clark said. "It's never been done before, so we had to be pretty inventive with our ideas."
Thunder Buggy has now made a number of appearances including fly-ins at air shows around Ohio, car shows and more.
Clark said it is loads of fun driving the buggy, especially with the attached afterburner working hard to create that extreme jet sound.
For those who haven't heard Thunder Buggy, it certainly has earned its name.
According to Clark, the buggy, which sounds exactly like a jet passing by, reaches around 125 decibels without the afterburner. Trains, an aircraft taking off, a chainsaw and a very loud rock concert would all fall in the 110- to 125-decibel range, which is considered to fall in the extremely loud range. Anything more than 125 decibels is considered to fall into the painful category.
Clark said with the afterburner attached, Thunder Buggy is well beyond the 125-decibel range, pushing up toward beyond 180 decibels, which is like listening to a rocket being launched into space.
"It's a lot of fun to see people's reactions when we hit the afterburner," Clark said. "It's already loud, but once you hit the afterburner, it gets really loud."
Clark said he had the buggy at the Holmes County Airport one night, and he said once they fired it up, someone told him they heard it in Killbuck.
Clark said the incredulous looks they get at times are hilarious, and he said common questions include people asking how loud it gets, how fast it goes and does it actually go.
"We were at Drag Way 42 a few weeks ago for a three-day show, and people really got a kick out of it," Clark said. "It definitely draws plenty of interest from spectators."
Thunder Buggy also has caught the attention of some bigger news media outlets. Cruisin' Times Magazine made it one of 50 vehicles chosen in the United States to go on center stage at the Cleveland Piston and Power Show next March.
"That was a pretty prestigious invitation," Clark said.
In addition A&E Network has gotten in touch with them about doing a show.
Clark said they haven't really advertised Thunder Buggy very much. He said word of mouth has spread quickly.
As for speed, Thunder Buggy has gotten up to 60 mph. Clark said going any faster would be detrimental to the buggy staying upright.
"That's more than fast enough in a buggy," Clark said. "It gets a little unstable at that point with a short wheel base."