Tour of Homes marks 25 years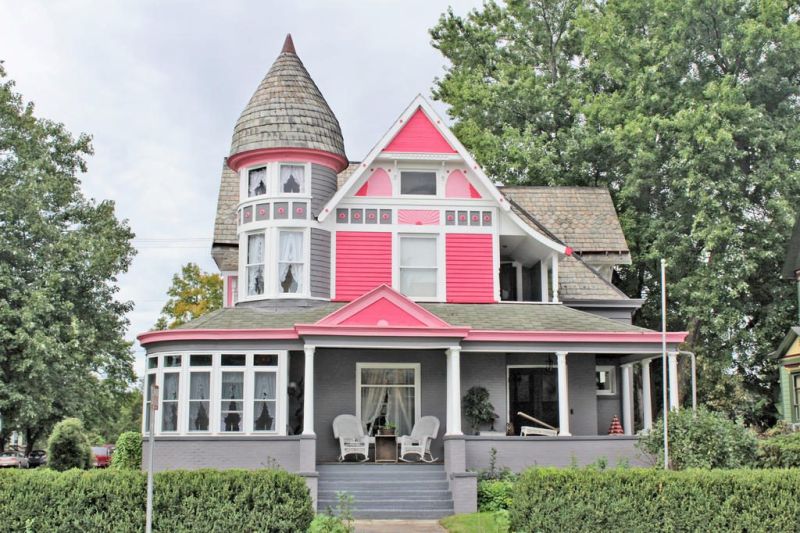 The Heritage Home Association of Tuscarawas County welcomes the season with its annual Christmas Tour of Homes on Sunday, Dec. 9 from noon to 5 p.m.
The event is now in its 25th year in the region and showcases historic and unique homes and the residents who love them.
The tour this year includes eight homes and one church and will take visitors to one of the area's oldest homes in Gnadenhutten as well as one of the newest, a condominium in Dennison.
The Marvin and Rebecca Page Home at 122 W. Main St. in Gnadenhutten was built in 1812 by Jacob Good. This post and beam construction home is the oldest standing home in Gnadenhutten and one of the oldest homes in the region.
"We were asked by several people after we moved in if we had seen or heard anything unusual because it was rumored that one of the past owners' spirit still inhabited the home," Rebecca Page said.
While the Pages have not encountered any spirits, they said if a spirit exists, "She is happy and content in the knowledge that we love her home and will be the best caretakers possible for the rest of the time that we are blessed to be here."
Blair and Jodi Hillyer reside at 1260 Deer Hill Road in Dennison.
Their 2,500-square-foot brick ranch was built in 1993 by Joe Martinelli of Dennison and features rose mist brick from the Bowerston Shale Company. It was previously featured in the 2005 Tour of Homes.
The holiday decorations include trees purchased at the Warther's Festival of Trees, lighted Dickens' Village Homes, and a train-themed room with old lanterns, train sets and an antique train decoration gift to the couple by Greg DiDonato. There also are may distinctive decorations throughout the house with all decorations being arranged by Nathan Paternoster of Dover.
The Rebecca Welch residence at 1005 N. First St. in Dennison is known as the Lanning House.
This Georgian Colonial home, with its beige brick and green tile roof, was built in 1928 by Roy and Edna Lanning.
This home is nearly in its original state with woodwork throughout and windows that include art deco curtain rods. Most of the original lighting fixtures remain as well as three working fireplaces. The downstairs bathroom still has the 1925 toilet. A baby grand piano, which once belonged to the Lannings, still graces the living room.
Immaculate Conception Catholic Church at 206 N. First St. in Dennison was built in 1871 after several Irish Catholic families came to Dennison a few years earlier when the Pennsylvania Pan Handle Car and Machine Shops moved to the area from Steubenville.
Clark Gable, who was born at Cadiz, was baptized in the church on July 31, 1901.
The colorful home at 606 N. Water St. in Uhrichsville is owned by Mike and Sue Winkler, who purchased the high style 1880 Queen Anne Victorian in 2003.
"The beautiful architectural features of our painted lady contain many original details including parquet flooring, light fixtures, woodwork, four sets of pocket doors, two balconies and a turret," the Winklers said.
The Eastport Landings Condominium at 5512 Innkeeper St. SE in Dennison is a newly built two-bedroom, two-bath, stone and vinyl ranch condo built by Lawver Construction and available for purchase.
Bud and Melanie Winn have called 717 E. High Ave. in New Philadelphia home since 1978.
Built in 1912 by the Meyers of the Meyers & Rousch Shoe Store, the address also was home to Goshen Dairy treasurer Herb Bichsel and wife Maxine.
The Heck home at 507 E. High Ave. in New Philadelphia is a Georgian Revival built in 1900 by William T. Alberson, the founder of The Daily Times, the first permanent daily newspaper of New Philadelphia.
"Our home has 12 unique leaded- and stained-glass windows, and it is easily identified by its hipped roof, dormers, dentil molding in the cornices, corner pilasters and fluted columns," Stacie Heck said.
Historical charm is abundant with the home's Georgian paneled wainscoting, six panel pocket doors and grand baluster staircase. Three chimneys allow ventilation for the four gas fireplaces and one wood-burning fireplace.
"We embarked on a journey to renovate and restore this home to its original glory," Heck said. "My husband built the kitchen cupboards in his father's woodshop and continued the raised-paneled look on the back of the eat-at bar and the cupboard doors. He completed the kitchen by replicating the extra wide woodwork trim. The ballroom is really the only room that has been left untouched as we do all the restoration work ourselves."
Jim and Heather Novosel are at home at 1457 Terrace Road NW in New Philadelphia.
Perched on a steep, rocky hillside with a cape cod-style window, this 4,600-square-foot home was built in 2004 and features an eclectic style designed with what the family loves. "Our home is a true reflection of our personalities, our travels and our draw to unique pieces," Jim Novosel said.
The Reeves Victorian Home and Carriage House Museum will be open for tours on the same Sunday with discounted admission for Christmas Tour of Homes visitors as well as free admission for U.S. armed services veterans.
Presale tickets for the 25th annual Christmas Tour of Homes are available for purchase and pickup during normal business hours at Geib Funeral Homes in New Philadelphia and Dover, First National Bank of Dennison (downtown Dennison location only), and Pam's Posies in Dover.
Advance purchase tickets also will be available online at www.tuschha.org for the presale price of $15 with ticket pickup on tour day. Tickets on tour day are available at any of the tour sites for $18 each. Each site will be clearly marked with a Christmas Tour sign.