Tractor knowledge pays off for WHHS FFA's Shumaker, Yates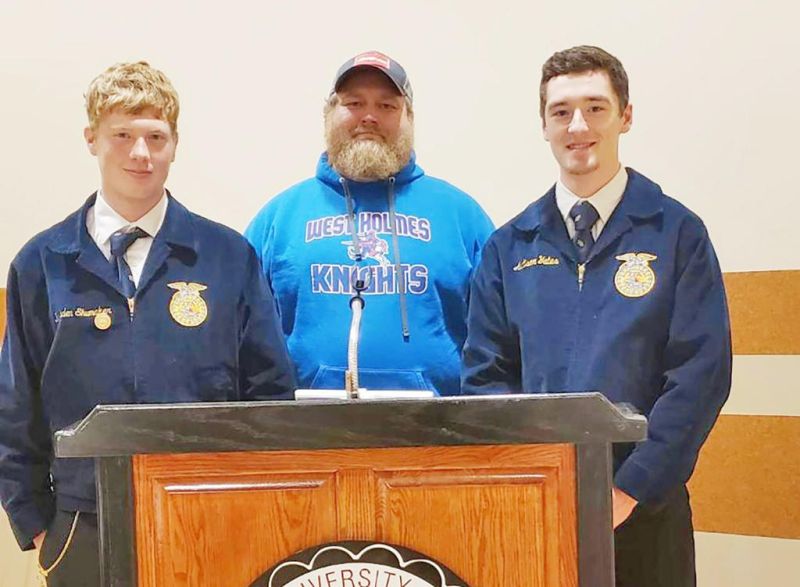 How well do you know your way around a tractor? Would you know the difference between a carburetor and a power take-off system?
For a pair of West Holmes High School students, finding their way around a tractor is almost second nature, and it resulted in a state title with perks.
West Holmes FFA members junior Addison Yates and senior Brayden Shumaker parlayed their knowledge of tractors and their ability to trouble-shoot tractor problems into the top spot at state in Ag Power Diagnostics.
Ag Power Diagnostics is an event that places high school students into tractor trouble-shooting situations where they must decipher what plan of attack to take to fix the problems at hand.
The pair of Knights got a quick walk-through around several tractors at the competition, then were handed a sheet with different issues on it that spelled out what they needed to do.
"We had 20 minutes to solve the problems," Shumaker said. "We never really felt a ton of pressure. We just took our time and did things the right way."
The job was to solve 10 total solutions, two on each of five different tractors.
"All tractors are basically the same," Yates said. "They all run the same basic way."
Shumaker said they studied at Ohio Cat Equipment under the tutelage of Chad Strouse, Chris Sprang and Kyle McCoy, who led them through all kinds of possible scenarios that could emerge in dealing with tractor issues. All three have had experience with this contest, and Sprang actually earned a sixth-place finish several years ago.
"They gave us the problems, and we had to go through and fix whatever problem they gave us," Shumaker said. "It's a lot about wiring. We had some great teachers, and we have been through enough that we were able to figure out what was needed pretty quickly."
The contest took place in front of two judges, and Yates said they really weren't on edge because of the way they had prepared.
"We've been practicing for about two months, and we were ready and anxious to get there and show what we could do," Yates said.
In 1995 West Holmes had a team place fifth in this event while garnering eighth-place honors in 2019. However, these two young men went way above and beyond anything the FFA program has ever produced.
Both have grown up on area farms and have been around tractors from a young age, which certainly didn't hurt their cause.
While victory is sweet, what makes their effort even more impressive is they faced many students at state who attend vocational schools where they dedicate themselves to tractor trouble-shooting diagnostics.
These two joined several other WHHS FFA students in delving into the task a couple hours two days a week.
"A lot of those kids at vocational schools are spending all of their time working on tractors because that is what they're dedicated to pursuing, but Brayden and Addison are putting in extra time a couple times a week to learn," said Jaime Chenevey, West Holmes FFA advisor. "It's a disadvantage because a lot of those kids are focusing just on that, and here we are going down twice a week to practice, but it really helped that our coaches have been through this before and know so much."
In order to get to state, each district takes only its champion, plus the next five test scores statewide. The West Holmes duo got in via the latter.
"They made it through the tough way, and then they went to work," Chenevey said of the state champions. "We got in on test scores, which makes it even more amazing."
While the championship banner is nice, the two WHHS students also each received a $10,000 scholarship to attend the University of Northwestern Ohio if they so choose. Both said they are unsure as of yet what they will do down the road, but having that as an option is fine with them.
Since their winning effort, the two students have been recognized by many people at school who have congratulated them on their accomplishment.
"I really didn't give it much thought right after it happened, but we hear a lot of people congratulating us here at school, and it starts to sink in that it is kind of a big deal and people are proud of us," Yates said.
As a senior Shumaker said it's nice to set the bar high for future generations to try to match their effort. Yates said he is already excited about the thought of coming back next year with a new partner to try to repeat their winning effort.
Both young men said while they aren't certain what the future holds, there is a good chance their futures will consist of working with tractors and farm equipment. Based on their results, that seems like a very wise decision.