Uhrichsville man to box professionally this fall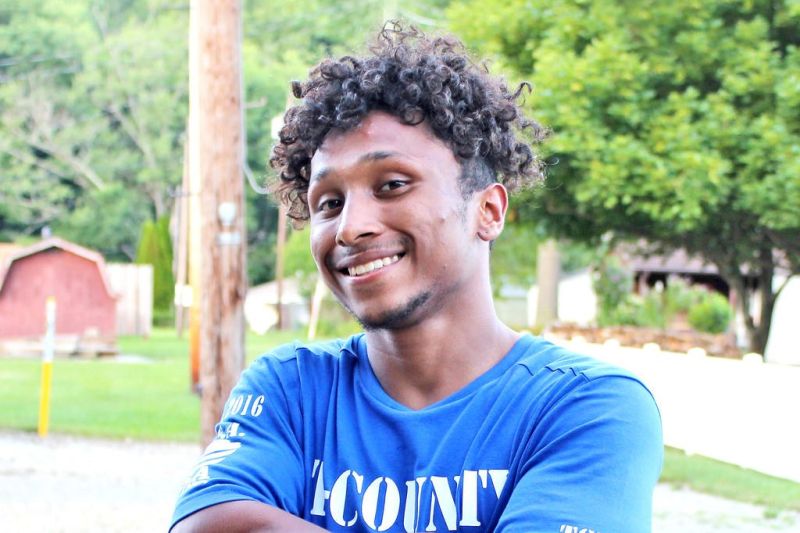 Andre Donovan of Uhrichsville will see one of his goals accomplished when he begins to box professionally this fall. He has been boxing for 11 years.
"It's been a long time coming," Donovan said of fulfilling his dream. "I always wanted to be a professional boxer ever since I was 12 years old, from the first time I went to a gym."
Currently, Donovan trains at T-County Boxing Academy in New Philadelphia, and Lee Kreisher, who owns the gym, is his coach.
At one point Donovan's future was unsure, but his desire to box helped him get back on track.
"I kind of fell out of it and went down a bad path," Donovan said. "But boxing actually saved my life. I don't know where I would be without boxing and without Lee and T-County Boxing. They are amazing people, Lee and MaryBeth and their children. They're all amazing people to be around."
The 24-year-old is a big fan of Cody Garbrandt of Uhrichsville, who started out as a boxer and as a professional MMA fighter won the World Bantamweight Champion title in 2016.
"I'd like to follow in Cody Garbrandt's footsteps and leave a mark of my own. He's definitely a big influence to all of us. We're very proud of him," Donovan said.
Donovan works out about six days each week.
"When I'm not here, I'm doing road work, and I have a home gym," Donovan said.
Donovan also works a full-time job at a foundry. To be successful in professional boxing might take a while, and he has no plans to quit his day job yet.
"I'm a family man. I have a 5-year-old, and I have another baby on the way. So boxing doesn't pay the bills yet, but hopefully it will one day," Donovan said. "My family is a big influence for me boxing. My family never gave up on me."
Donovan has lived in Uhrichsville all his life and is proud of his community. "It's that 922 attitude. We are a big family, and we all take care of each other," he said.
Anyone wishing to support Donovan and help defray the costs needed to enter the professional ring can go to 922 Kid, organized by Andre Donovan at GoFundMe.com.
The first match is set for October 2021 in Cleveland, and more details will be forthcoming. Follow T-County Boxing Academy — tcba on Facebook for more information.
Kreisher was a professional boxer for 12 years. He knew once he retired, he wanted to coach other boxers.
"He will be the next Cody Garbrandt," Kreisher said of Donovan. "He was already set to turn professional. Then COVID affected his turning pro. He lost a year, but he's about to make a big splash. He's got a different kind of style."
Kreisher has been a licensed coach since 2010. His facility is registered with USA Boxing with the Lake Erie Association. He also was inducted into the Hall of Fame of the Ohio Former Boxers Association.
The T-County Boxing Academy is a first-class facility that offers youth boxing, adult boxing, boxing cardio and muay thai.
Children are evaluated at the age of 6 and can start boxing at 8 years old. Safety is a top priority. Matches are scheduled with other boxing clubs in the Lake Erie Association.
"We document every time they fight, and all wear the USA Boxing safety gear," Kreisher said.
Boxing is for people of all ages, and everyone is treated the same at T-County Boxing Academy.
"When I walk in here, I don't feel like the old guy," said Ron Roys of Grand Rapids, Michigan, who trains at the T-County gym.
Roys commutes to New Philadelphia for his job and thought he might have to travel to Canton or Cleveland to find a boxing club while in town.
"I found this place, and I liked what they do," Roys said. "They train at all levels, and Lee works with all these folks to make them better. I like the philosophy here. He does a real nice job."
The students at the T-County club are all part of the same team.
"They treat everyone the same. We all work just as hard," Roys said. "This is one of the best clubs I've ever seen. Look at them — everyone's training. Nobody is goofing around."
Roys likes that the focus is always on training.
"It's always about the gym. If you want to work, he's going to work you," Roys said of Kreisher.
Although there are cardio boxing classes offered for those who don't want to take a hit, Roys is there to learn to box.
"I've got my head gear, and I've got my nose bloodied," he said. "It's great cardio, and you learn something. It helps me a lot."
Kreisher is proud of the facility he has put together and plans to expand it in the near future. His wife, MaryBeth, also will open a hair salon in the front of the building around October.
Even if you never plan on turning pro, boxing is an effective workout that will help reduce stress.
"It always helps to hit something," Kreisher said.
The gym is located in the rear of the building at 1203 E. High Ave. in New Philadelphia. To contact Kreisher or for more information about T-County Boxing Academy, call 330-432-2197.