United to honor and pay tribute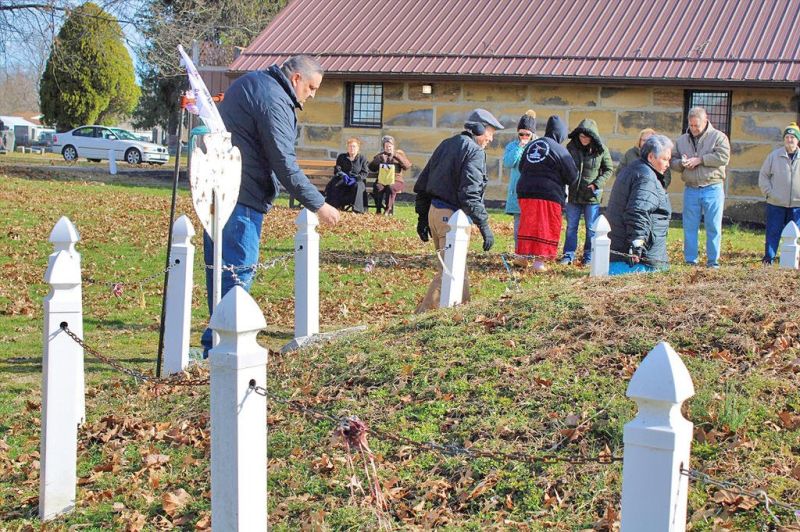 The annual Gnadenhutten Day of Remembrance has become an important event for the Lenape, also known as the Delaware, people. The massacre of 96 Delaware Christian men, women and children at Gnadenhutten by the Pennsylvania Militia on March 8, 1782, still affects their descendants.
Theresa Johnson of Moraviantown, Canada remembers the exact moment when she learned her ancestors were among those murdered.
"My four times great-grandparents are part of this mound," Johnson said. "It still gets to me today when I tell the story of the things that our ancestors had to go through, all the way going back to our homelands in the New Jersey, New York area. I make sure I go back to these places today."
Johnson now comes back to Gnadenhutten every year for the Day of Remembrance. She is thankful to those at Trumpet in the Land for keeping the story of the Gnadenhutten Massacre alive and attends performances, usually every two years.
Chief Denise Stonefish of Moraviantown, Canada stressed the importance of learning about history.
"I believe that history plays a big part in our lives. It's so enriching to find out where your people came from, and it does lead to who you are today," Stonefish said. "If you're young, do take an interest in history. Find out where you're from, find out how your community started and you'll be amazed because I'm amazed.
"I've had the opportunity to go to New Jersey, and my sole purpose of going there was to walk on the shores of the Atlantic Ocean and watch the sunrise the same way that my ancestors did, and what a feeling. You feel like you have come home, just the same as we do when we come here. It's like home because our ancestors were here."
Stonefish believes the mission at Gnadenhutten in the 1700s was once a lively, functioning community that opened their arms to everybody who passed through.
"It's awesome to come here to pay homage to our ancestors and to acknowledge their sacrifice because without them we wouldn't be who we are today," Stonefish said, adding the area was probably the last meeting place as a collective of all the Lenape people who are now scattered throughout the United States. "It's so nice to see us get together again after all these years."
Jeremy Johnson of Bartlesville, Oklahoma, cultural director of the Delaware Tribe and nephew of Theresa Johnson, got emotional speaking at the event.
"When I was young, my grandma told us about her relatives, what they went through, how they got separated from us and how they were forced to make choices that were extremely difficult," Jeremy Johnson said. "This is my second time back here to this place; it hasn't gotten any easier. It's still something that remains heavy in our hearts, but today is a good day. We're thankful to be together."
Trinity Guido of Anadarko, Oklahoma was in her first visit and said she felt the heaviness of being at the site her grandmother warned her about. Guido and her family traveled 17 hours by car to attend. She was thankful her children could see her participating in an event acknowledging and recognizing Lenape people.
"I think it's a step in the right direction toward healing for the ones that are here today from the Lenape people," Guido said, adding many Lenape people in her community do not have the opportunity to travel to see their former homelands.
Dover resident Debra Scherer, a descendant of the Munsee people, spoke at the event.
"We moved here 32 years ago not knowing the history of this place," Scherer said.
"And when we moved here, I always felt at home, but I never knew why. To learn the history of our ancestors here, I feel home now."
The Lenape guests attending the event promised to never forget the 96 Lenape individuals who were massacred on the site.
"We will continue to remember them. We will continue to pray for them," Chief Brad Killscrow of Bartlesville said. "They laid the groundwork for us Lenape people to continue, to continue into this generation, and we're still here. Regardless of what happened, the Lenape people are still here, we're still alive and thriving."
Before leaving the area, the Lenape guests made a stop at Newcomerstown to visit the recently installed statue of Chief Netawatwees, the namesake of the village, at the Delaware Diaspora Memorial that is in progress there. The memorial will contain statues of six Lenape historical figures when it is finished.
In addition to the Lenape guests and area residents, Chris Wilkinson, who is employed at the Cuyahoga Valley National Park, also attended the event.
"I just wanted to learn more about the Day of Remembrance," Wilkinson said. "At the Cuyahoga Valley, we're trying to reconnect with many of the native cultures. There was a settlement of Moravian Indians that were coming back after the massacre here several years later, and it was called Pilgerruh. They stayed in the park (area). They did not come all the way back, and I wanted to learn more about it."
Pilgerruh was in the northern portion of what is now the Cuyahoga Valley National Park. It is known as the first organized settlement in the Cleveland area. Rev. John Heckewelder and Rev. David Zeisberger and their Delaware congregation founded the village in 1786. Pilgerruh was only inhabited for about a year until the group left to begin the village of New Salem near Milan.