Surprise visit creates reunion well worth the wait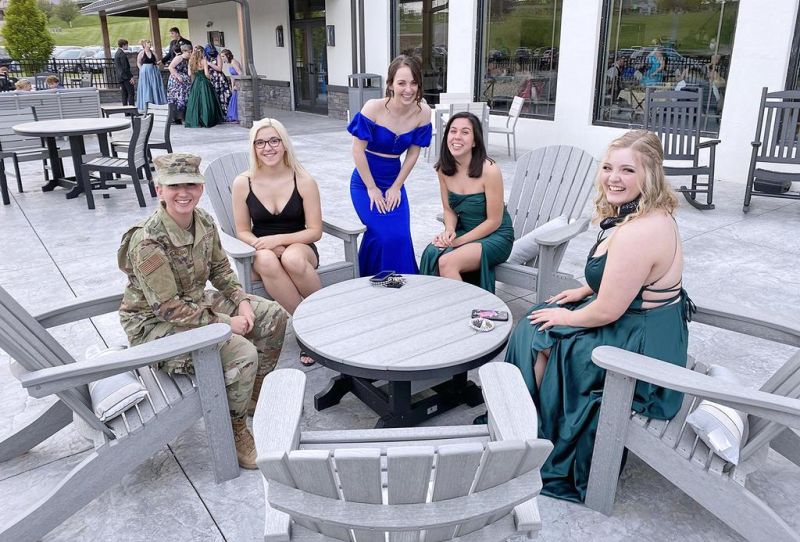 When West Holmes High School senior Megan McKenna graduated last year, she was looking at a clean slate, the possibilities in her life nearly endless as she said goodbye to close friends.
One year later McKenna returned to her roots, a year wiser and a whole lot more zeroed in on what she was going to do with her life.
When West Holmes High School celebrated its prom in May, McKenna was a surprise visitor, fresh off of her return from training camp with the United States Air Force. McKenna had joined the Air Force in November of last year, and she had only returned one night before prom took place on Saturday, May 8.
She was enjoying a 14-day leave following training in Texas, and while she has since been shipped out to serve in Japan for the next three years, where she will work in the field of doling out classified materials while not in the air, her surprise visit with her West Holmes friends was one that brought plenty of laughter and tears.
While the prom dinner party was inside Encore Hotel event center in Berlin, she and her friends sat outside, sharing past memories and enjoying a chance to catch up on each other's lives.
Tara Loomis, Callie Proper, Kathryn Morrello and Mackenna Suber-Emick were thrilled to welcome their friend home, if only for a short time. Most have been friends since childhood, and all have been dear friends as they made their way through high school. McKenna's surprise return was an event that brought all of them to tears when they reconnected.
"I think we've been friends since we were 2 months old," Loomis said as the quintet sat by a fireplace and reminisced.
For McKenna, being back with friends was exactly what she needed to lift her spirits after being away from home and working through the rigors of basic training in the USAF.
"These are my people, and I miss them a lot," McKenna said. "It just feels great to be home again and to be around friends whom I've known forever. We just want to hang out together as much as possible in the time I have to spend before I get deployed."
The plans for the evening and for the rest of her time were yet to be determined, but for the five friends, just being together, sharing with one another and reconnecting, was what was really important.
After all, these are the types of friendships that sink deep into a graduate's heart and soul, relationships that last the hurdles both time and distance can create.