UUF's Madrigal Feaste open to community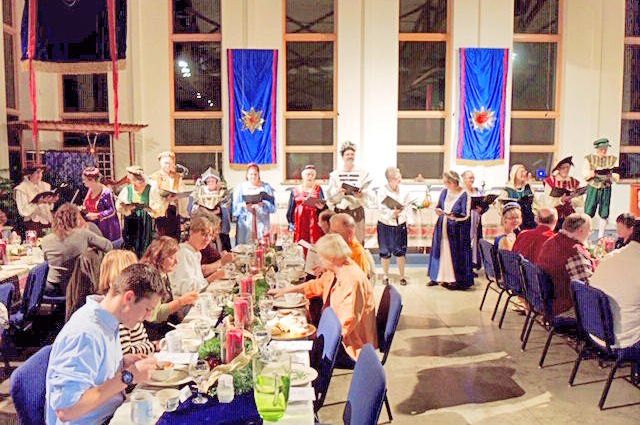 "An evening of fun, laughter and good food" is how Sharon Delgadillo described the Madrigal Feaste, to be hosted by the Unitarian Universalist Fellowship on Friday, Nov. 15 at 6:30 p.m. and Saturday, Nov. 16 at 5:30 p.m.
Delgadillo, the church's music director, was the creative force behind the church's first Madrigal Feaste in 2006. She said it was a way to pull members together for fellowship, but then it grew and grew. It is now a biennial event open to the community and held at the Unitarian Universalist Fellowship Great Hall, 3186 Burbank Road, Wooster.
A Madrigal Feaste is a dinner theater based in 16th-century England with constant entertainment provided throughout the evening.
For the Unitarian Universalist feaste, guest performers from the congregation and choir, dressed in period costumes, will provide music, dancing and entertainment. Guests will be served a meal at candle-lit banquet tables. On the menu are roasted meats and vegetables, soup, fruits, nuts and cheese, bread, and figgy pudding.
Playing queen and king for the evening will be Helen Myers and Curtis Meade. They will serve as hosts for the feaste, along with the Unitarian Universalist congregation choir and guest performers. Court musicians, singers, dancers, jesters, and lords and ladies will entertain, and an original Mummers' play — a folk play with a hero or heroine — titled "The Magic Axe" will be presented by multi-generational performers.
"It takes a village," Delgadillo said of the volunteers who make the feaste happen, which include cooks, servers, musicians, ticket sellers, dancers, performers and costume makers.
Delgadillo said the Great Hall has a capacity of about 70, and the event sells out each evening. No tickets are available at the door. They must be purchased in advance of the feaste at www.uufwc.org. Under the Events section, click on Madrigal Feaste and follow the prompts for online ticket purchases. The purchase includes the selection of dinner choices.
"It is lovely and magical," Delgadillo said of the Renaissance setting.
An invitation reads: "Fair ladies, merry gentlemen, we greet you one and all. We most cordially invite you to join our feaste within our castle's walls."