Volunteers build Barnes Preserve boardwalks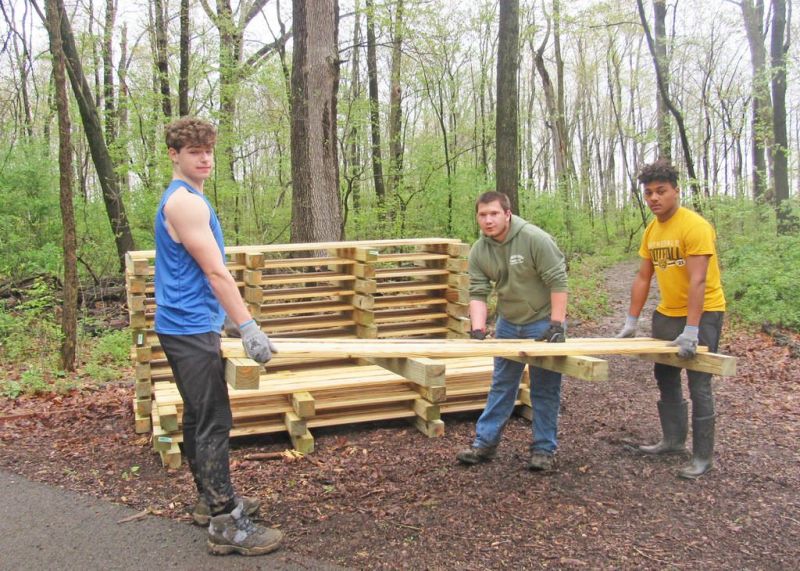 Over 22 volunteers including nine volunteers from Wooster Kiwanis led by Craig Sanders met at the Romich Pavilion to help construct 240 feet of boardwalks at Barnes Preserve. Located at 3396 Sylvan Road in Wooster, the 76-acre Barnes Preserve is Wayne County's only park.
Three Apple Creek Boy Scouts and several others carried the 30 heavy sections into the east woods, and despite the mud and rain, the project, with Robert Huff offering his expertise, was done in record time.
Both groups are no strangers to volunteering at the Barnes Preserve. The Wooster Kiwanis built the observation deck at Koehler's Pond in 2015. The Apple Creek Scout Troop 69 has provided labor for spring cleanup and projects over the years, guided by Scout leaders Dave Seymour and Belle Troyer.
The park district plans on building 60 more sections through the season to address the wet areas of the east woods and meadow to accommodate hikers choosing a more challenging nature hike. Volunteers are always welcome.
Funds for the project came from a donation to the park district by a local hiking couple.
To learn more about volunteer opportunities or about the park district and/or Barnes Preserve, visit the website at www.waynecountyparkdistrict.org.