Walnut Creek Amish Flea Market has officially risen from ashes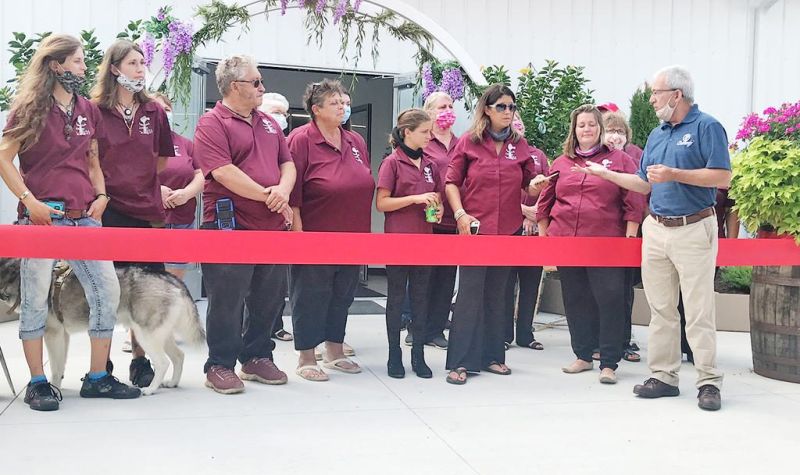 The Walnut Creek Amish Flea Market may have been destroyed by fire nearly one year ago, but much like the phoenix, it has risen from the ashes, even better than before.
On Monday, July 27 the flea market on state Route 39 between Walnut Creek and Sugarcreek celebrated its grand reopening with a ribbon-cutting ceremony that ushered in a new era for a shopping experience that has become part of the drawing card for Walnut Creek and Sugarcreek shoppers and Holmes County as a whole.
Owner Betty Zimmerman and manager January Tango were busy but excited as they navigated around the new facility during the ribbon-cutting ceremony.
"It's been a long road getting here today," Tango said of the ribbon cutting and grand opening several days later. "It is still kind of surreal trying to figure out all of the emotions. I have been seeing a lot of pictures lately of the video from when the fire happened: a lot of tears and a lot of emotions. But the emotions now are all joy. We feel the love and support of our family, of our staff, of our friends and of our community."
Zimmerman said this is a true community event because she isn't sure what would have happened had the community not rallied around them during the past year.
"I'm not too sure we would have made it without that support because we were so down and so devastated, we didn't know what to do," Zimmerman said.
Westfield Insurance began providing immediate financial aid. The rebuilding phase began almost immediately as family friend Joe Freewall of Rainbow Restoration provided insight on the process.
"The day of the fire I called Joe and said, 'We need you.' He showed up, sat with us for 12 hours, held our hands and was with us every step of the way," Tango said.
Vendors aided vendors, friends and neighbors joined in the clean-up process, and little by little hope began to present itself in the family business as they started to get excited about rising from the ashes.
Tango said one thing that was truly heartwarming is that a very large percentage of their former vendors opted to return, proving to them exactly what their business meant to the vendors.
"We are grateful and blessed," Tango said. "I know what this place means to a lot of our vendors and to a lot of people who shop here. They get to know one another, and this feels like home to them."
As the market worked on reopening, Jason Coblentz, owner of Coblentz Chocolate, created a special chocolate box fundraiser that saw several area businesses band together to raise $5,000 for the market. Tango and Zimmerman didn't hesitate in sending the funds the way of uninsured vendors who were hit hardest by the fire.
"Community plays a big role in helping each other," Coblentz said. "We raised money one box of chocolate at a time. I think when you talk community effort, it was also there in the sales. People recognized what it was for, and they bought and bought. That was inspirational, and it will be neat to see the flea market grow again because it is a big part of our community."
Coblentz presented the check to ownership during the ribbon-cutting ceremony.
Also in attendance was Holmes County Chamber of Commerce and Tourism Bureau executive director Tiffany Gerber. She helped officially cut the ribbon and was excited to participate in something she said is so valuable to the county.
"Shopping is such a major part of our economy in Holmes County, especially with the tourism industry, and to lose something of this magnitude with so many vendors for such a long length of time, it hurts," Gerber said. "Welcoming back this flea market and adding to our economic landscape is really exciting. To talk to January a year ago as compared to today makes my heart sing and does me good. We were all devastated for them, and to bounce back like this in less than one year is amazing because I know there were a huge number of people and businesses within our community that played a key role in making that happen."
Inside the facility, vendors were busy settling in, getting products and displays in place for the official grand opening three days later. Tango said the fire actually allowed them to improve on some things they felt were necessary including brighter lighting, expanded areas, entrance ways and many little things that go unnoticed.
For Zimmerman, Tango and the rest of the family of vendors and those employees instrumental in the flea market's success, this day was one that couldn't get here fast enough, and Tango said they won't ever take a single day of operating for granted.
"I don't want to say that we took for granted what we had here, but we didn't really realize how important this is to our family of vendors, our community and to the economy here," Tango said. "That makes reopening even more important to us. We are so overjoyed to be where we are today, and we truly thank our community for getting behind us and helping us through what was such a difficult time."
Walnut Creek Amish Flea Market is open Thursday through Saturday from 9 a.m. to 5 p.m. through Dec. 19.