Walnut Creek Amish Flea Market welcomes back 'the family'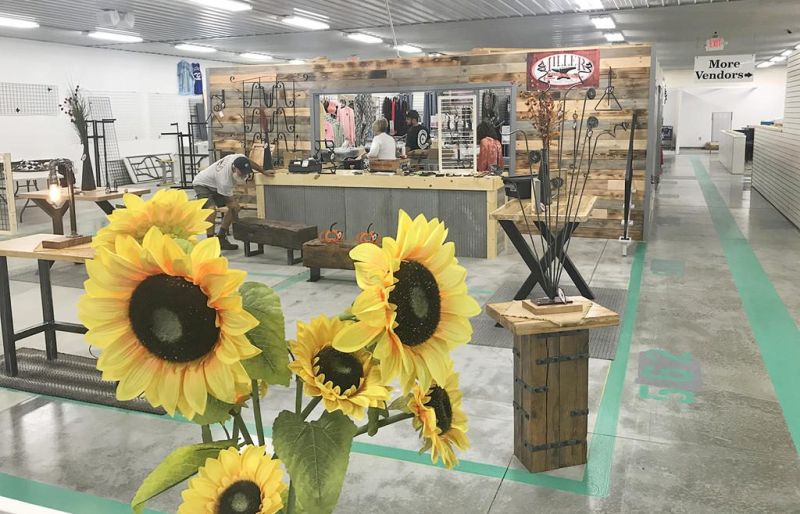 The morning of Aug. 21, 2019, is one that few of the vendors at the Walnut Creek Amish Flea Market will soon forget.
Nestled inside the enormous facility, the market was a second home for most of its vendors, many of whom had developed warm relationships with the other vendors surrounding their own portion of the facility.
Then in one quick lightning strike, their home away from home was destroyed, consumed by a giant fireball that turned all of their lives upside down.
Many of the vendors lost everything in the fire. Others had insurance, but all felt the pain of seeing something they cherished go up in the blaze.
Fast-forward nearly one year, and the family is returning. On Monday, July 27 many of those same vendors who suffered through the devastation of the fire, who helped rebuild and who call the market home celebrated in a ribbon-cutting ceremony.
Yes, the day marked a return to regenerating the growth in their businesses, but just as importantly, it marked the return of the friendships they had forged that were built over many years of working side by side.
"I think the sense of family and the joy we share here is one of the most important parts of this business," Walnut Creek Amish Flea Market owner Betty Zimmerman said. "I don't even know the stores; I know people by their names. That sense of family and togetherness has been such a big part of who we are, and it will be nice to get back to that feeling. We are just a close-knit family."
Many of the vendors had been awaiting this day, especially Friday, July 30 when the market opened its doors to the public.
They shared those same sentiments of being a close-knit group that feels like a family.
Dave Miller and his wife Linda, owners of Miller's Wood-N-Iron of Wooster, are in their third year at the market. They were excited about the new opportunity to return.
It is exciting to be back among friends, friends whom we consider family," Linda Miller said. "We have so been looking forward to the time when we could gather again with our friends and get back to normal."
Amish Country Essentials owners Shane and Tracy Cultice were more than ready to get back into action in the market. While they have other locations in which they sell their line-up of soaps, being back among friends was a big part of the reopening.
Store manager Mary Mullet said going through the fire was devastating, but reuniting was thrilling.
"We are like family with so many of the vendors," Mullet said. "Not only that, we knew so many visitors who had made this a frequent stop. I think we all missed those relationships. It's good for all of us to reconnect and get back on track."
Lori Dennison, owner of the clothing and jewelry store, The Silver Angel, said she has been in the market since it first opened. She lost much of her inventory in the fire and was uninsured with her insurance renewal contract for her contents filled out and in her booth the morning of the fire.
With neighbors willing to pitch in and help one another, she said the recuperation process was much more acceptable.
"We're a family, and a great deal of our family is coming back," Dennison said. "Plus, we are adding new members to our family, which is really exciting. I have been around and tried to welcome as many of the new vendors as possible. I love seeing my family here."
Missy Stroup and her father Lou Merkle own and operate Amish Country Gourmet, which sells gourmet sauces and cookie cutters. They too have been a mainstay since the market's inception, and like the other vendors, they said the loss was devastating.
"We were coming in to do our final inventory when we heard the news about the fire," Merkle said.
"Losing almost a full year on the calendar was a struggle for us, but coming back in and seeing everybody back and ready to go was so encouraging," Stroup said. "There was some hugging, and it was a good feeling knowing that we were back."
Galen Mast has been printing T-shirts at the market for years. He said he missed not connecting with his many friends over the past year, as they all struggled to move on without the market. He said reconnecting with many of the vendors and the sheer excitement of coming back together under one roof was worth the wait.
"Most of us came back, which is really neat," Mast said. "This is just a big family, and January and her family have been so good to us. That means a lot to all of us."
Everywhere one could look throughout the market during the ribbon-cutting ceremony, vendors were helping one another prepare for the July 30 opening. That help was something that came in bunches after the fire when vendors struggled to make sense of the devastation.
Zimmerman said during the immediate aftermath, it was comforting to see so many of the vendors put aside their own loss to help others in need.
It is that sense of community and sharing that may go unnoticed by visitors as the market reopens, but it is a feeling that none of the ownership nor the vendors will ever take for granted.