Safety 'a countywide effort' at Horse Progress Days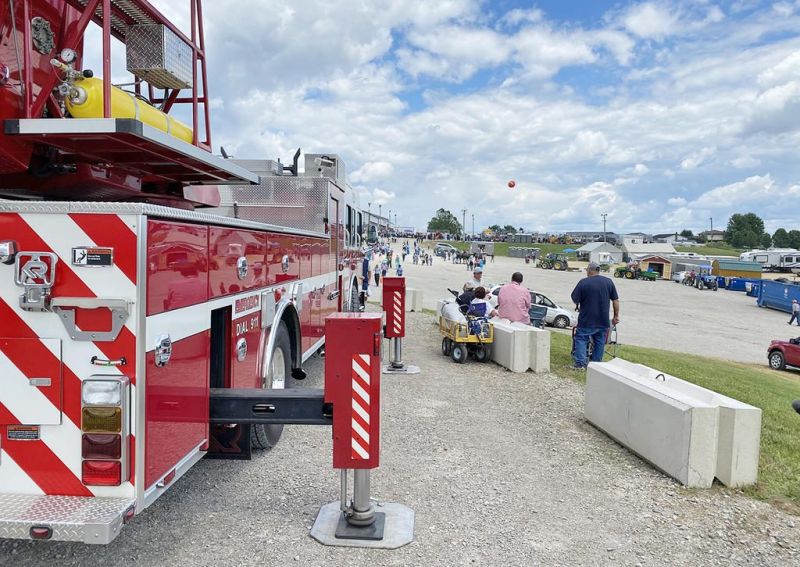 Horse Progress Days at the Mt. Hope Event Center July 2-3 saw approximately 40,000 visitors pack their way onto the premises, making it what is perhaps the largest single event to ever take place in Holmes County.
While there were plenty of equine- and farming-related activities, demonstrations, seminars and vendors to keep even the most ardent horse-lovers engaged, the one thing many people will always take for granted is the logistics and safety concerns surrounding such a monumental event.
That is where Holmes County emergency management director Gary Mellor and assistant director Luke Hall come into play. The duo has helped initiate an individual emergency plan that provided for what they believe will be any type of catastrophe, no matter how big or small.
From bigger issues like floods, fires and tornadoes to smaller individual circumstances such as heat stroke or broken bones that would acquire medical attention, no stone has been left unturned in preparing the Horse Progress Days staff, local fire and EMS, and law-enforcement teams for whatever might occur.
"This event is so huge that it forced us to bring all of our various safety and law-enforcement agencies into the same room to figure out how we could best draw up a game plan that would satisfy any possible issue that might arise," Hall said. "We basically table-topped all kinds of different situations to see what it would take for us to react, and it is basically what we should do for big events moving forward as Holmes County continues to grow."
Hall said the safety committee joined a committee from the event itself, and the national Horse Progress Days leaders also gave input and guidance as to what they wanted to see.
"The national board wanted us to put together a better safety plan in case of a storm or an accident, so we looked at it as a board and brought on a safety coordinator," said Daniel Wengerd, Horse Progress Days coordinator.
That safety coordinator was Hall, who began creating a safety plan that encompassed pretty much every possible scenario that would require safety teams to leap into action.
The safety group that met following that initial appointment included members of local fire and EMS, the Holmes County Sheriff's Office, the health department and many others who might factor into safety and health issues.
They met numerous times in preparing a safety plan, something nobody attending the show would ever give a second thought to but something this group made an absolute priority.
During the event the safety team had its own private coordination room in a small building that allowed them to check in and out as different teams came into the premises, provided the public with an easily accessible point to connect with the safety team, and also provided space for Hall and his team to monitor the grounds and watch weather patterns.
"This is our first canary in the coal mine for getting a formal IEP in place," Hall said of the massive event. "We had to plan for total event coverage onsite with an incident command post and a plan for every scenario. We had to have 100% accountability."
That meant developing an IEP that was full of details and scenarios, each step painstakingly planned out should anything occur like a lost child, a mishap at one of the events, auto accidents, weather issues and more.
"It's very choreographed," Mellor said of the effort. "We had direct link to the National Weather Service in Cleveland. We explored every possible scenario, no matter how remote."
At the event East Holmes Fire and EMS Chief John Schlabach said his team was on hand throughout both days from start to finish, at the ready to respond to any number of possible dangers and disasters, regardless of how big or small. EH Fire and EMS committed one squad and a fire truck throughout both days.
"We are here from 7 a.m. to 9 p.m.," Schlabach said. "This is a whole lot larger than anything we have been used to doing, but everyone went to great lengths to make sure all safety issues were covered, and my guys volunteered right away. I didn't have to twist any arms because they are used to volunteering and wanted to help in any way they could."
Mellor said with new ventures arriving every year, from hotels and theaters to miniature golf courses, larger markets and more, Holmes County is going to see an influx of people.
"Holmes County is going to become an even bigger destination than it is right now," Mellor said. "We have to figure out how to best handle bigger numbers of people safely."
Hall said as the county continues to grow and establish larger shows and events that usher in thousands of people, this type of undertaking will be an absolute necessity.
"We have to move safety into the next level, and planning strategies become the core of what needs to happen as our event centers bring in bigger and better shows," Hall said. "We finally have the hotels to accommodate a lot more people, so we are going to have these bigger venues coming along."
Hall said even as the hard infrastructure expands, public safety also must expand to accommodate the changes seen. Horse Progress Days provided a perfect opportunity for the EMA to unite the many facets of law and safety and begin to hash out the proper procedures. Hall said once they have these types of plans in place, much of the leg work will be done and moving forward should be much easier because the county has taken the proper steps now.
"We want our safety infrastructure to track the growth and demands our county is going through right now," Hall said. "This event was a perfect opportunity for us to learn and grow, and I think we put ourselves in a good place moving forward."
It was a great deal of work that took many hours to accumulate, with input coming from top safety officials throughout the county. Hall said thankfully all of that hard work paid off now and for future events.
When the final whistle blew on Horse Progress Days, the safety team didn't have to do a whole lot and went largely unnoticed. Hall said he couldn't think of a better way for the weekend to end than for his team to not have to leap into action.
However, it was nice knowing those people were at the ready should something have occurred.
"We fly under the radar, and that's just fine with us," Hall said.
Being prepared and not having to use that preparedness to respond is the ultimate goal, and that is exactly what took place in what is deemed as one of Holmes County's largest events.