Welsch honored as Friend of the Arts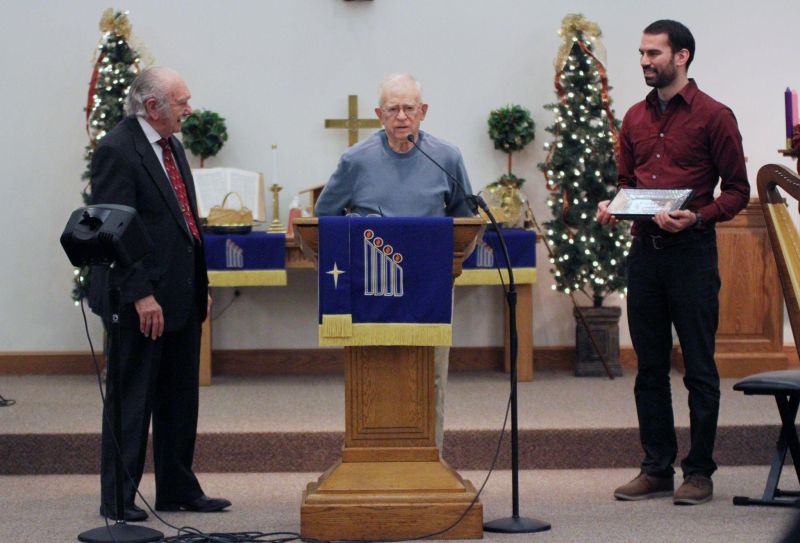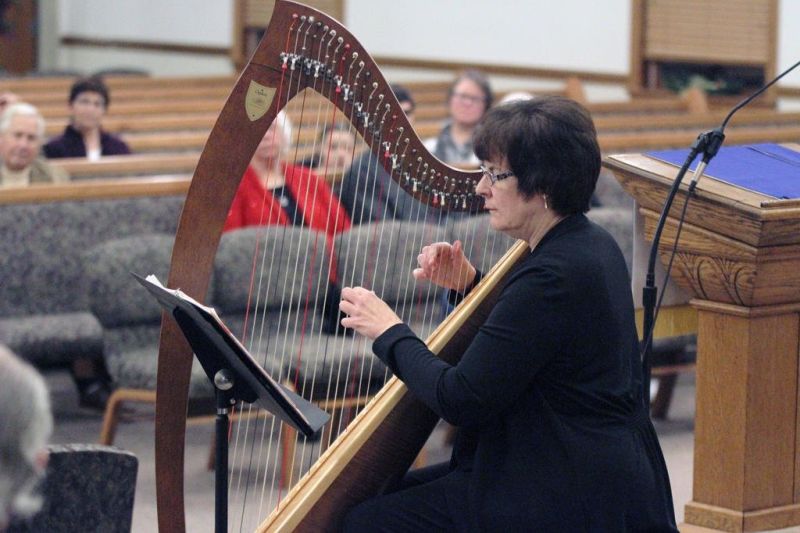 A life devoted to bringing music to the world around him led former music teacher Fred Welsch to being named the 2019 Friend of the Arts for the Sugarcreek Community Arts Council on Monday, Dec. 2 at the annual Celebrate the Arts Banquet at Union Hill United Methodist Church.
For more than a half-century, Welsch, a native of Port Washington, has brought the joy of music to students at Tuscarawas High School and then Garaway High School, where he served as both band and chorus director.
Welsch and music have gone hand-in-hand in ways that extend well beyond the classroom. After serving at Tuscarawas High School, Welsch moved to Garaway in 1966 and spent the next 23 years there.
Presenter David Lorah said Welsch's impact was immense.
"It is impossible to list all of the contributions that Fred has made to the arts community in Tuscarawas County," Lorah said. "He was a dedicated and trusted teacher. He always had time for his students, and he found instruments for everyone who wanted to play."
Welsch created the inaugural Garaway Band Preview in 1971, coordinated music for the Ohio Swiss Festival and learned to play the alphorn, an instrument that has become synonymous with the Swiss Festival.
Welsch has served as choir director for his church at First United Church of Christ, directed a brass choir, played with the Dominic Greco Band, directed musicals at the Tuscarawas County Little Theatre and been involved with the advancement of music in many other ways. Even in retirement he continues to be involved with music.
"As you can see, Fred Welsch contributed to the community, and his legacy of music is substantial," Lorah said. "He worked tirelessly to teach his students and his community that music is a vital part of life."
"I feel very blessed to hear the nice things that have been said about me," Welsch said. "I want to thank you all for the award you have bestowed on me."
In addition to the award bestowed upon Welsch, the banquet included a performance from harpist Brenda Ellcessor, who played a number of Christmas songs, many of them based on French songs, on her Celtic harp.
While the group celebrated the Christmas season, there was a somber event that took place recently. Because of the lack of manpower, the council decided to close the doors on the art gallery in downtown Sugarcreek.
"We have had five years of exciting work at the art gallery," council president Ryan Schultz said. "We will be closing our doors, but that was not without many years of promoting the local arts and being very successful financially. The main reason we are closing is because of the manpower."
The CAC will now turn its attention to providing travel opportunities for group members to take art-related field trips around Ohio.
Schultz said they will take trips close to home to enjoy musical opportunities at places like the PAC in New Philadelphia, as well as further away to Columbus' many experiences and the Cleveland Museum of Art.
"It will be good for us to be exposed to different types of performing art and art history," Schultz said. "It should be a lot of fun, and we expect a lot of stories to come from these trips."
2019 Garaway High School graduate Jaggar Stutzman, who is currently attending Cleveland Institute for the Arts, was honored with the 2019 Commissioned Art Work award for his portrait of actor Will Smith.
The piece will join the other former honored pieces of artwork in the Garaway High School library.
The 2019 CAC scholarship awards also were presented. The Mrs. J Scholarship went to Bianca Yoder, and the Suzanne Stauffer Scholarship was awarded to Shelley Schlabach.