West Holmes fifth-graders get dairy farm visit to remember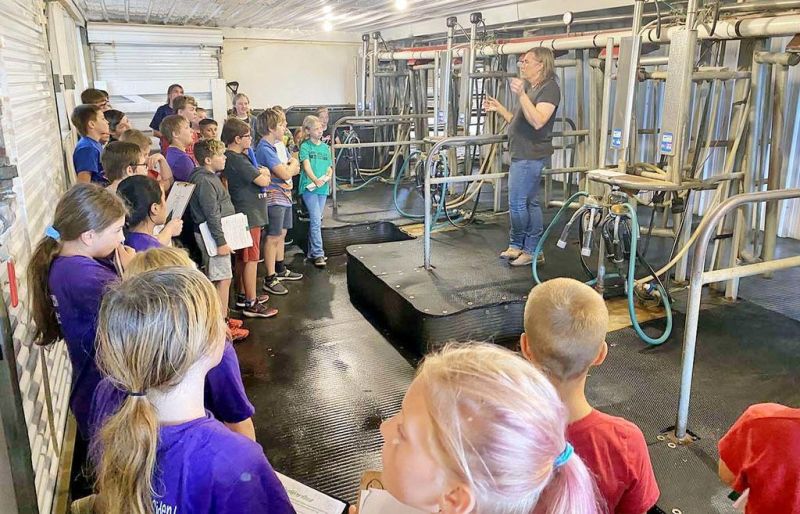 The West Holmes schools' version of the annual Tom Graham 5th Grade Conservation Farm Tour took place Thursday, Oct. 7 at Velvet View Farm, and it gave students a chance to see a working dairy farm firsthand, something the SWCD team feels is extremely important right now.
"We're seeing dairy farms disappearing right now, even in an agricultural county like Holmes County," said Michelle Wood, SWCD program coordinator. "We try to keep a common theme of conservation across all of the stations, and this farm is a great place to show a cross-section of many types of conservation practices."
Wood said fewer and fewer youth are experiencing any kind of life on the farm in even small ways and said it is valuable to ingrain in them the importance of agriculture to the county's well-being.
One unique new opportunity the students were able to experience was the rain erosion test performed by SWCD member John Lorson and Karen Gotter. The test shows how different soils respond to rainfall and gave the students an idea as to the importance of cover crop and proper care of a field to prevent run-off and erosion.
"It helps students gain some insight into what kind of effect rainfall has on the soil and how it effects wildlife and people," Lorson said of the test.
In addition, retired teacher Dave Woodring talked about forestry. Natural Resources Conservation Service members Josh Britton and Jacob Lotz were joined by West Holmes FFA members to talk about different soils, and Lorson presented wildlife.
But on a dairy farm, dairy takes precedence, and Aaron and Brandi Schlauch, owners of Velvet View Farm near Nashville, opened their farm to the tour, investing time and effort for a day of education.
Brandi Schlauch set up camp in the milk house, where she greeted group after group and talked about the dairy farming experience. She said while their dairy farm is small at 38 head, compared to several other Holmes County dairy farms that boast several hundred head of cattle, each farm is an integral part of Holmes County's successful dairy farming industry. Having taught 25 years at Killbuck Elementary, Brandi Schlauch said she relished the chance to reconnect with kids and return to her roots of teaching for the day.
"This was old-hat for me, and we would actually love to give more tours down the road because most of the kids who visited today had no idea how to milk a cow or what goes into dairy farming," Schlauch said. "It's a lifestyle, and it is a lot of work to run a dairy farm. When we first got married, there were many more dairy farms in the area, so it is something that if they don't see and experience the farm, they aren't going to understand it and recognize the valuable role it plays in our county."
Velvet View Farm has been in the Schlauch family, and currently, five generations have been involved in the dairy industry.
Schlauch talked to each group about how they care for and milk their cows, milking twice a day at 5 a.m. and 5 p.m. She also spoke about the various important people who play a role in making sure their milk is being produced the right way. Veterinarians, a hoof trimmer, a nutritionist, dairy supply drivers and an agronomist all play roles in helping the Schlauch family operate the farm. She said they have area farmers come in and do their planting and harvesting of the corn and hay that is planted in their fields and eventually becomes food for their cattle.
"We do whatever we need to do to have healthy, happy cows," Schlauch said of their herd that is predominantly Holstein.
Not only does Velvet View Farm provide milk that goes into the making of cheese at local cheese houses, the Schlauchs ventured into a whole new arena of dairy farming several years ago when they began making their own yogurt.
The yogurt branch of the farm started in 2010 and is unique to Holmes County. The Schlauchs invested a great deal of time and money into creating a portion of the barn that was dedicated just to the yogurt industry.
Schlauch said the dairy crash that occurred right before 2010 forced them to take a good look at how they could enhance their income, and in deciphering their options, yogurt rose to the top.
"We didn't want to do cheese because there are already great cheese places in Holmes County, so we decided on yogurt because it was new," Schlauch said. "Really, there weren't any farmstead businesses in Ohio processing yogurt right on the farm."
She said when they began, they knew nothing about the yogurt industry, so it was back to school to learn about the process and what they needed to build to move forward.
She walked students through the process of making their milk into yogurt, a process that includes making plain, vanilla, strawberry, blueberry and raspberry yogurt in 6-ounce cups, 32-ounce cartons and buckets that are sold to colleges.
The farm tour provided a perfect scenario for the students to learn and also created an avenue for the Schlauchs to offer their experience in the dairy farming community and to extend the message that dairy farming and agriculture play a big role in Holmes County.
"There's still room to grow and prosper in dairy farming if people are willing to put in the time and effort to be creative and work hard," Schlauch said.