WH FFA helps Holmes SWCD complete tree sale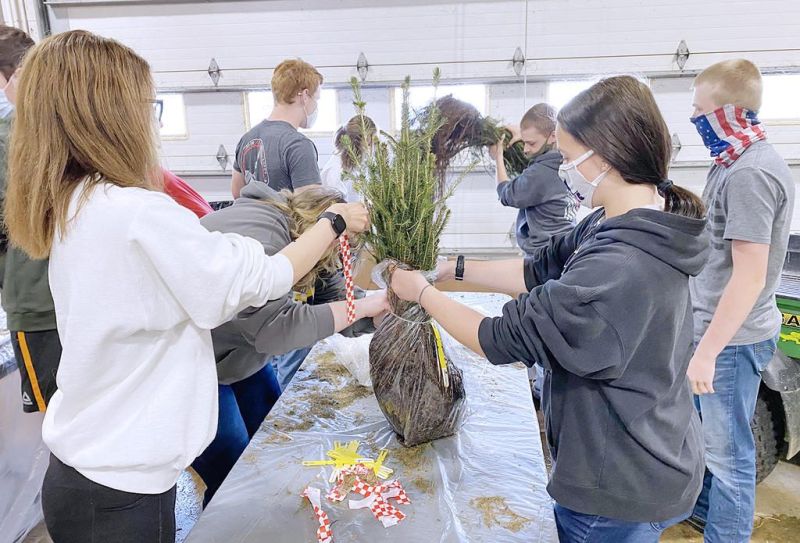 Replenishing the world's trees has been a priority for many organizations and people over the past many years, but 2020's pandemic gave people a better chance to dive into nature and really refocus on planting trees as a way to devote time to nature and ecology while also adhering to social distancing requirements.
For Holmes Soil & Water Conservation District, that meant a nice number of orders in the tree seedling sale the organization presents each year. On Wednesday and Thursday, April 7-8, the SWCD team connected with West Holmes FFA advisor Jamie Chenevey and her students to put together all of the orders. Having the students available to do the packing job was essential for the SWCD, and Michelle Wood, SWCD program administrator, said having the students on board was beneficial in packing each order and an opportunity to introduce the students to some forestry education.
"This year was a rousing success with more orders than ever," Wood said.
While in past years people came to the SWCD to pick up their orders, this year the SWCD decided to offer delivery, something Wood said could stick in the future. She said nearly 100 of the 180 total orders were delivery orders.
According to Wood, a trip around Holmes County would show people there is a widespread effort going on right now to replant trees, with the big demand for hardwoods being the driving force to do so. She said people are planting trees where there has been harvesting, as well as planting ornamental trees around homes and businesses for the beauty, ecological benefits and even as wildlife habitat.
In helping to meet those needs, the SWCD presented several different types of tree packages for the public to order this year, getting a large percentage of their tree seedlings from a landscaping company in Michigan.
That afforded a purchase opportunity for those seeking to plant acres of trees to a small lot or around the house.
"We wanted to offer a broad spectrum," Wood said. "We had several packages of hardwoods, evergreens, white pines, sugar maples, fir oaks, ornamentals, black walnuts, and the biggest seller this year was Norway spruce."
One downfall this year was the nursery that was supposed to deliver the white oaks was unable to do so, which Wood said was disappointing.
Wood said that setback aside, it was a good year for the sale, and she was excited so many people wanted to participate. She said when people receive their trees, they also receive information about the SWCD and its other programs.
"This is one tiny bit of what we do, so our hope is that we can connect with people and give them some ideas as to what other things we do at SWCD," Wood said.
As for the packing help they received from the students, Wood said their aid was instrumental in getting the job done on time.
"We are extremely grateful to these students. Because without their help, there is no way we could ever get this done in time," Wood said. "They have helped us many times, and their help is instrumental, and we were thrilled that the timing worked out."
According to Chenevey, the FFA has been involved with the tree-packing day many times. The only time they miss is when the event falls over spring break.
"We've probably done this 15 of the 20 years I've been here," Chenevey said. "The kids have a fun time, it's an opportunity to take a break from the normal rigors of a school day and it is a very hands-on experience for the kids. It's also a good chance for them to learn about the care and management of trees."
Chenevey said the school works closely with the SWCD in the annual 5th-Grade Farm Tour every fall, so they have developed a great working relationship with the SWCD members.
"It's an important connection. Because if the kids do go on to graduate and return to this community to work in ag, they know where and who they can turn to if they need help or advice," Chenevey said.
Wood said taking time to talk to the students about conservation and forestry during the two days is a fun part of their job, and it gives students a chance to ask questions and gain insight.
Wood said whenever the two connect, they try to make it an educational experience for the students as the SWCD members share how different types of trees need different light sources, shade, water and more.
If someone would like to order trees but missed this opportunity, they can work with a local nursery or wait until the SWCD tree sale comes around again next year. However, Wood said ordering smaller orders at nurseries will be more expensive because most people won't order enough trees to get the bulk sale discount the SWCD receives, adding the trees are expensive to ship.
"We have a lot of great nurseries out there to work with, but the quantities are limited right now because there seems to be a bigger interest in planting trees," Wood said.
To learn more about Holmes Soil & Water Conservation District and its programs and people, visit www.holmesswcd.com.