With Winterfest pared down, ice sculptures will be on display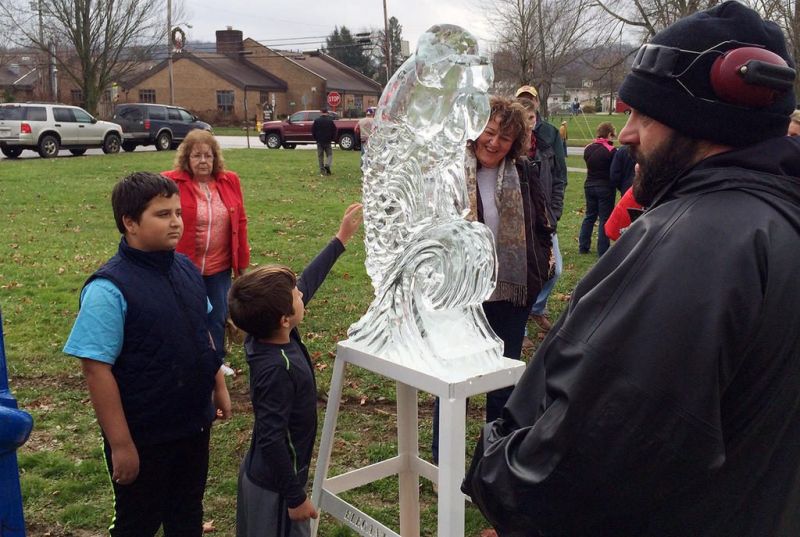 Thanks to COVID-19, the annual Mohican Winterfest on Jan. 9 will see a lot of changes. Gone are the live demonstrations, the model train show, the Snowball Dance, and the Mohican State Park's Winter Hike as part of the 5k or 10k hike along Clear Fork Gorge. Even the name of the event will take a back seat to the virus.
However, there will still be ice sculptures throughout the downtown area, providing an opportunity for families and individuals to stop by Loudonville beginning Saturday, Jan. 9 to see the dozens of ice sculptures fashioned by the members of Elegant Ice Creations.
With so many of the functions deleted from the agenda, this year's Mohican Winterfest was officially titled Loudonville Ice Sculptures & Shop Hop, with shopping and the ice sculptures taking center stage.
"This event has always been a big one for us, and we still wanted to try to have something because all of our summer events were canceled due to COVID-19," said Valerie Spreng, executive director of Loudonville Chamber of Commerce. "We knew it was going to be difficult to have everything as it normally would be, but we still will have the ice sculptures up throughout downtown for people to come in and see. They are beautiful works of art."
It will be an ideal time for families to venture outside to catch some mesmerizing ice sculptures being created by professionals who know how to put some serious pizzazz in a block of ice.
The crew from Elegant Ice Creations will venture into Loudonville from Broadview Heights in Cleveland on Jan. 9 to present their ice sculptures, inanimate blocks of ice turned into master ice carvings with a chainsaw, chisel, blow torch and several other tools of the trade.
The Elegant Ice crew will come in the morning to place the sculptures throughout the downtown area.
The crew will have placed the final sculpture on posts around 10:30 a.m., so that should be the ideal time to see the sculptures at their finest. How long the ice art remains up will be solely at the hands of Mother Nature. If it is warm, they can melt quickly. If it remains around freezing, the sculptures can remain up for many days, but to get the full grasp of their beauty, it is best to not wait too long.
"How long the sculptures last is totally up to the weather," Spreng said. "We've had them stay up for one day when it has been really warm, or they have lasted a number of days when it's cold. They will be on display on the pedestals for about three days until Elegant Ice comes and picks up their pedestals, at which time they will place them on the ground."
In other words, don't hesitate too long to visit Loudonville because one never knows how long the ice sculptures will last.
Each year Elegant Ice shows off many new designs and old favorites in its ice sculptures, and while they will line the downtown area with pieces, one element of the annual event will be missing this year.
Normally, the group has demonstrations that draw a nice crowd during each hour, as fans watch the blocks of ice spring to life with each cut of the chainsaw, and when the blowtorch puts the crowning moment into each piece, it draws the admiration of all who watched the process.
Because of COVID-19, there will be no demonstration to watch this year because they want to keep large crowds at a minimum.
"It was very disappointing, but we had to cut out most of our demos this year because of the virus and wanting to avoid bringing large crowds of people together," Elegant Ice carver Ali Hall said. "We know that is something that people love to see, but it has been an unavoidable issue this past year. Hopefully soon, we will be able to get back to doing demos so people can actually see our sculptures take shape in person."
While the demonstrations will be absent, the beauty of the ice sculptures will be on display and well worth a trip to Loudonville over the next several days.
One addition to the event will be a large ice carving located in Central Park. The giant sculpture is new to the festival, and it should be an ideal spot for family or couple photographs.
"While it isn't as big, there is still some really neat sculptures to see, and the photo opportunity should be fun for families," Spreng said.
The ice sculptures are incredible, but those who wait too long might find themselves looking at puddles of water, so don't delay in checking out these unique pieces of art.