Wooster Chamber named best in nation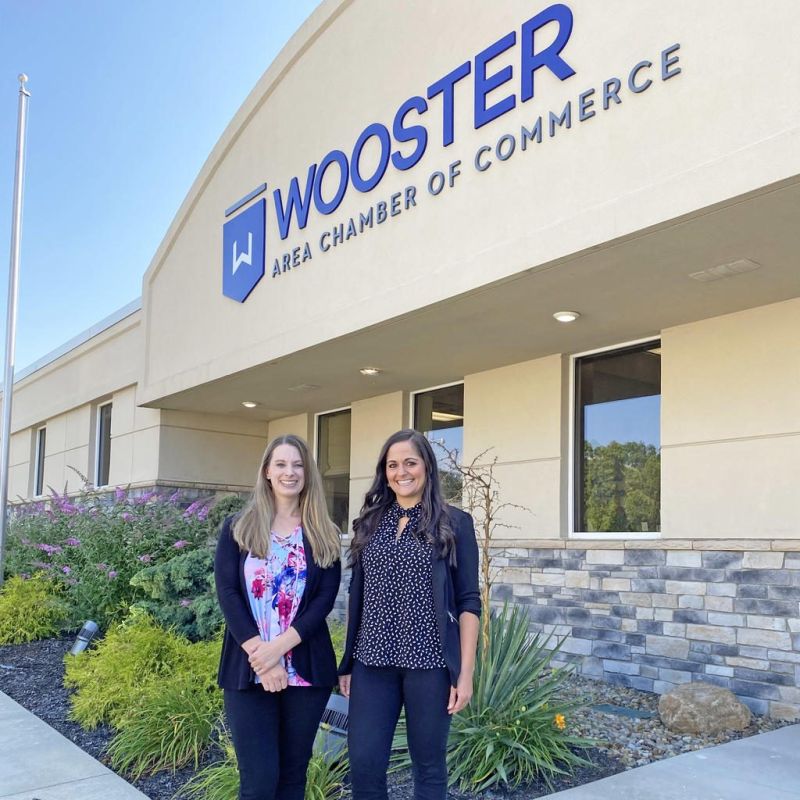 The Wooster Area Chamber of Commerce has been named National Chamber of the Year by the Association of Chamber of Commerce Executives.
This is the third year in a row the Wooster Chamber was a finalist, breaking through to win the award this year.
ACCE is an association based in Alexandria, Virginia, which has more than 1,600 chambers of commerce and related business and economic-development organizations as members, representing more than 9,000 professionals in the industry. Those honored with the Chamber of the Year designation have demonstrated organizational strength and made an impact on key community priorities such as education, transportation, business development and quality of life.
The award is all the more impressive considering Samira Zimmerly, chamber president, only took over the reins of the organization last year when previous President Justin Starlin moved on from the position.
"It is definitely rewarding to see how we measure up to the other chambers across the country," Zimmerly said.
While COVID-19 meant unprecedented challenges to the chamber and the community as a whole, Zimmerly was able to successfully steer the organization in a direction that provided immeasurable resources to its members, all of whom were desperately trying to navigate the unknowns of the pandemic.
"We have a great staff, a small but mighty creative group and a very engaged board of directors," she said. "The only way we could have done this was working together. Sometimes we have more ideas than we could ever put in place."
The chamber staff includes Katie Foster, membership services manager; Michelle Rothgery, communications and office coordinator; and Grace Howell, events and marketing coordinator.
"This national recognition for our chamber is an incredible honor," 2021 board chair Susan Marlar said. "On behalf of the board of directors, a huge thank you to Samira and her team for their tremendous efforts, the loyal support of the chamber members, and the community for their involvement. It is an award that is well deserved as evidenced by the programs, projects and visionary ideas the chamber team puts forth for its members and the community."
ACCE recognized the Wooster Chamber's community leadership through the crisis.
"Through the challenges of the past year, the value and relevance of chambers of commerce have never been more apparent," ACCE President and CEO Sheree Anne Kelly said. "This achievement reflects how hard chambers work to ensure their impact and success well beyond these difficult times. Congratulations on the Wooster Chamber's remarkable leadership, commitment to its community and dedication to the chamber profession."
Due to the pandemic, several of the usual chamber and community events couldn't be held last year. There would be no Manufacturing Day, no traditional Woosterfest.
"One of the things we did was to develop a Wooster Is Hiring program," Zimmerly said.
The program helped chamber members advertise their open positions online, which were shared locally and across Northeast Ohio. Job openings were delivered to local high schools and colleges across the state.
"We also shared them on social media, which was viewed by more than 50,000 people," Zimmerly said.
Cleveland television station Channel 5 even picked it up and posted it on its website, she said.
Another successful project was the designated outdoor refreshment area, which for the first time allowed local business patrons to have alcoholic beverages while strolling downtown and shopping.
"We're all about increasing any opportunities for our local businesses," Zimmerly said. "Our restaurant owners were hurting, and we saw the DORA as a way we could increase foot traffic downtown."
In an effort to support the local small business community the entire holiday season, the chamber created a #LoyaltoLocal Holiday Passport Program. More than 70 businesses participated, and more than 75 passports were returned for a grand-prize drawing.
"We were able to track $187,500 spent locally through this program alone," Zimmerly said.
In addition to these major projects, Zimmerly said she and her staff contributed with several webinars on topics such as PPE, hiring, grant availability for local businesses, and thousands of specific phone and email interactions with members.
Looking toward the future, Zimmerly said, "There were things we added during COVID, and now we have to think about how well they went and how do we continue those while always looking forward. One thing is for sure: I think we all rediscovered what a great place Wooster is to live, work and play."
Zimmerly is poised to continue the success of the chamber as she has been selected by the ACCE to participate in a leadership-development opportunity with nine other chamber of commerce professionals from communities throughout the United States.