Wooster youth shine during annual Fine Arts Festival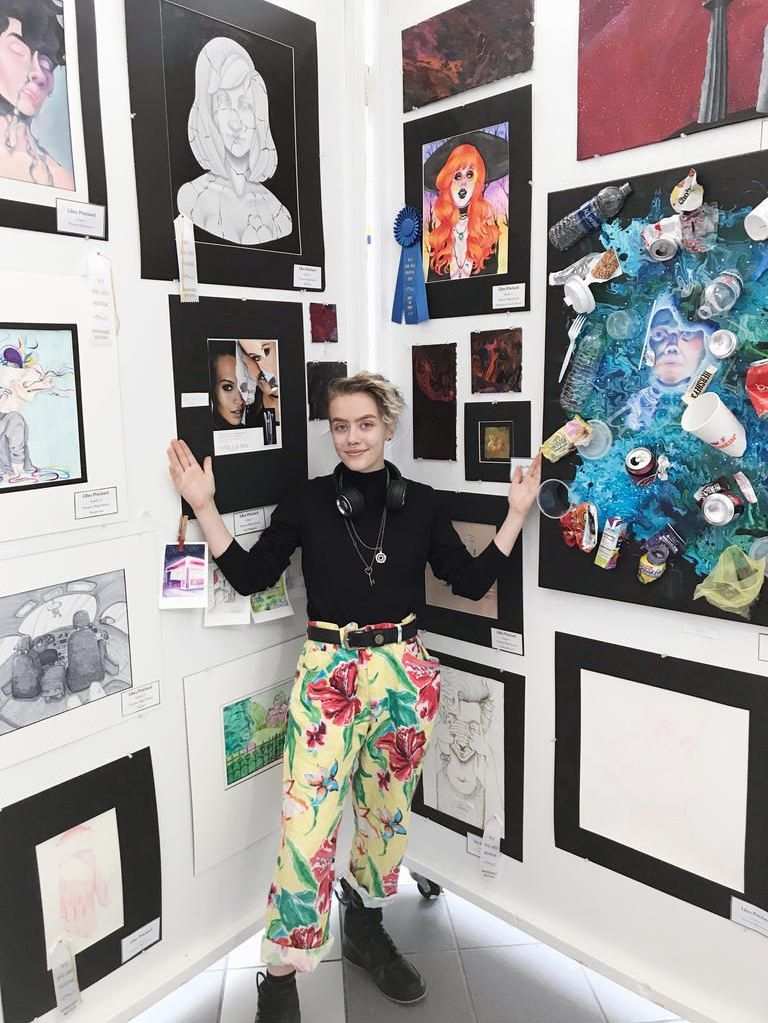 A prism of colors, introspection, performances and creativity greeted visitors to the Commons at Wooster High School on Saturday, April 6, where Wooster City Schools students had their day to shine as part of an annual event that showcases the gifts of students.
The Wooster City Schools 21st annual Fine Arts Festival featured the best artists, musicians, actors and dancers in the district.
The show took place in the Wooster High School Commons, where hundreds of art projects from students from kindergarten through 12th grade are displayed and where musical performances from both instrumentalists and vocalists as well as a group of improvisational actors and performances from the WHS drama club and music department, who presented "Yearbook: The High School Musical," take place.
The show continues to be an avenue for Wooster students to showcase their talents and gifts in the arts.
"This is a celebration of our incredibly talented students," said Kristin Broda, drama teacher at Wooster High School who helped coordinate the program. "Our staff cultivates the standout pieces from throughout the year and sends letters home with each of the kids to let them know they have had a piece selected for the show."
A pair of art judges are invited to the show to pick the best of the best, and there also are people's choice awards given that allows visiting patrons to cast their votes on their favorite 2-D and 3-D pieces.
"This is exciting for the students to have their work selected, and when they see their selected piece presented alongside these other fantastic pieces of art, it is inspiring," Broda said. "It's also neat to see the progression from the young grades, to middle school, to high school. You get to see the potential of how kids start to who they can become as artists."
The commons area was peppered with art that showed the range and versatility of some of Wooster's young artists. From colorful creations to clay projects, the art also offered a chance for the students to share their opinions on society today. That is something Best of Show winner Libra Pritchard explored as part of his art.
"To me, being able to look at some of the issues that are taking place in the world today and making that part of my art is challenging and very satisfying," Pritchard said. "I like the idea of having my art say something, and it can be different for everyone."
Pritchard had a large display of artwork at the show with many of the pieces drawing the admiration of visitors. While his painting of a redheaded witch won Best of Show and the collage creation speaking on the issue of littering oceans was perhaps the piece that most people stopped to look at, Pritchard's favorite was one that many might have overlooked among the collage of work.
"That's the thing about art: Everyone has their own opinions about what they like and don't like," Pritchard said. "I like to create art that speaks to people on different levels. I love the idea of being able to use my creativity to say something about the world today."
WHS sophomore Tristan Pittman's black-and-white grid-enlargement piece won second place in the 2-D category, her drawing of her cat Dean staring out at people who paused to view the drawing.
"This is the first year I have had something in the show since elementary school, so it does mean a lot to not only get to show a piece here, but to have it selected for an award," Pittman said.
The artwork in the commons is not only for patrons to look at. The event also serves as a catalyst to entice young artists to continue to develop their creative ways and to encourage and recognize them for their talents.
In the WCS Performing Arts Center, "Yearbook: The High School Musical" offered students a chance to showcase their acting chops with a series of little vignettes designed to challenge the students, but more importantly it gave them an avenue to pursue their passion for acting and singing.
Stage manager and actor Grace Buchholz said that for the entire cast, getting to perfect and present the musical was a challenge they were more than ready to tackle with eight weeks of rehearsals leading up to the big day.
"We had some great direction from our directors, but they did allow us to come up with our own take on our characters," Buchholz said. "We got to create our own costumes, and we took on a huge amount of responsibility."
Like many of the actors and singers, Buchholz said there is nothing quite like the thrill of standing on stage under the spotlights and performing.
"It's the best; there's nothing else like it," Buchholz said of performing. "We are passionate about this, and I am active in a lot of different ways at school, but there is nothing like becoming a new person on stage and performing and having people watch. We all were so excited to have this opportunity to do something we love doing."
Back outside in the commons, the public was invited to add their own flair to the community art piece, an enormous canvas that allowed what was mostly young people to add to the piece of art. Last year's artwork is currently being displayed in the lobby of Wayne Savings Community Bank in Wooster.
"It's a fun way for people to contribute to the event, and Wayne Savings is one of our major sponsors, and we are grateful that they allow us to show the piece there," Broda said.
Whether it was doing stand-up improvisation, sharing one's view on the world through art or taking on a persona on stage, the Wooster City Schools 21st annual Fine Arts Festival created a chance for students to shine.