Woosterfest coming to downtown Wooster for 40th year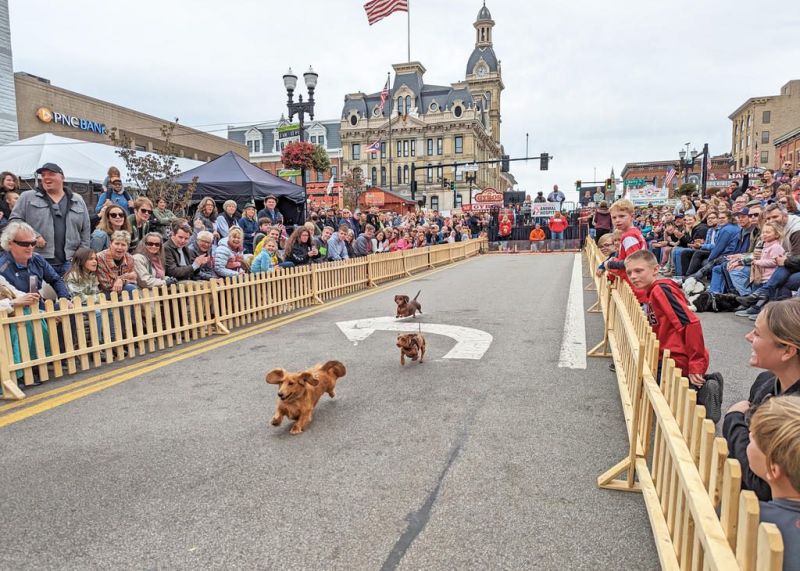 The countdown is on to one of downtown Wooster's most popular events, when Woosterfest 2023 kicks off Friday, Sept. 29 and continues through Saturday, Sept. 30. The always-popular Oktoberfest-style festival seems to get bigger and better year after year, and with this year's event marking its 40th year, the family-friendly celebration is sure to be its biggest and best yet.
"This free, Oktoberfest-style festival offers live music, unique food vendors, an ever-expanding Bier and Weingarten, and activities for the young and the young at heart," said Grace Howell, events and programming coordinator for the Wooster Area Chamber of Commerce, which organizes the occasion. "We are thrilled to celebrate 40 years of Woosterfest with an event that will be bigger and better than ever.
"The weekend is filled with fun from start to finish."
Since its inception in 1983, Woosterfest has grown from a small downtown festival to now include a wide variety of ongoing competitions throughout the two-day celebration, including Friday night's cornhole tournament, stein holding competition, and BG's Pig Mac Eating Competition, and then continuing all day Saturday with the wiener dog race and costume contest, sausage toss and beer stein race contests.
"Saturday brings everyone's favorite event, the Wiener Dog Race and Costume Contest," Howell said. "Attendees can watch it in person when it kicks off at noon on S. Market St., or they can stream it on Facebook or watch it in the Biergarten to see which wiener will be the winner."
In addition to the friendly competitions Woosterfest offers, there will be more than 40 arts and crafts vendors with unique gifts, décor, products and more, available for purchase, Howell said. Each afternoon and evening also feature different artists and bands, she added.
"We will have a variety of craft and domestic beers available in the Biergarten, as well as various wines from local wineries in the Weingarten," Howell said. "The Guardians games will be on the big screens on both Friday and Saturday so attendees can still watch the games while enjoying the festival. There will be plenty of activities for kids on Saturday. Kinderplatz will be open from 11 a.m. to 4 p.m., with inflatables, crafts, pumpkins, and more. Also that day, there will be the Free Throw Shootout for both youth and adults and the Cruise-In."
Attendees should be sure to visit Woosterfest on an empty stomach, as a wide variety of food vendors will be onsite. In addition to traditional German fare offered by Schmidt's of Columbus, there will also be a wide selection of fair food trucks sure to satisfy anybody's craving.
"This event allows people to come into the community from all over to enjoy our beautiful shops, restaurants, activities and downtown area," Howell said. "It is a versatile event with contests for those with a competitive spirit, activities for kids, great live entertainment in a variety of genres, and an extensive beer and wine selection. … It's a fun weekend that kicks off the fall season, and with so many activities to choose from, it's easy to want to come back year after year."
So many people mark their calendars for Woosterfest because it has become a tradition to attend such a well-put together event done locally, where Wayne County residents don't have to travel far to enjoy an Oktoberfest-style celebration. Although most of the contests offered during the event have now become traditions at this point, the Chamber is excited to offer something new to mark the 40th anniversary.
"Most of the contests give a nod to the event's Oktoberfest roots, such as the Stein Holding Competition and the Beer Stein Race," Howell explained. "We've put our own spinon some traditional Oktoberfest activities with the Pig Mac Eating Competition and Sausage Toss, and the cornhole tournament is always popular.
"The Wiener Dog Race is definitely the largest competition and brings in people from all over," she added. "New this year, we are excited to offer a photo contest, with bonus points given to anyone in festive attire. Participants can share their photos at #Woosterfest2023. Winners will receive a gift card and a prize package."
Woosterfest will offer its Cruise-In on Saturday from 11 a.m. to 7 p.m. New or classic cars can park on E. Liberty St.to enjoy all the event has to offer, Howell said.The more than 40 arts and crafts vendors will be set up along North Market Street, showcasing a wide variety of items for attendees to peruse.
For additional information on the event, including a full schedule of events, visit www.woosterfest.com or search Woosterfest on Facebook.