Zoar and Fort Laurens offer volunteer opportunities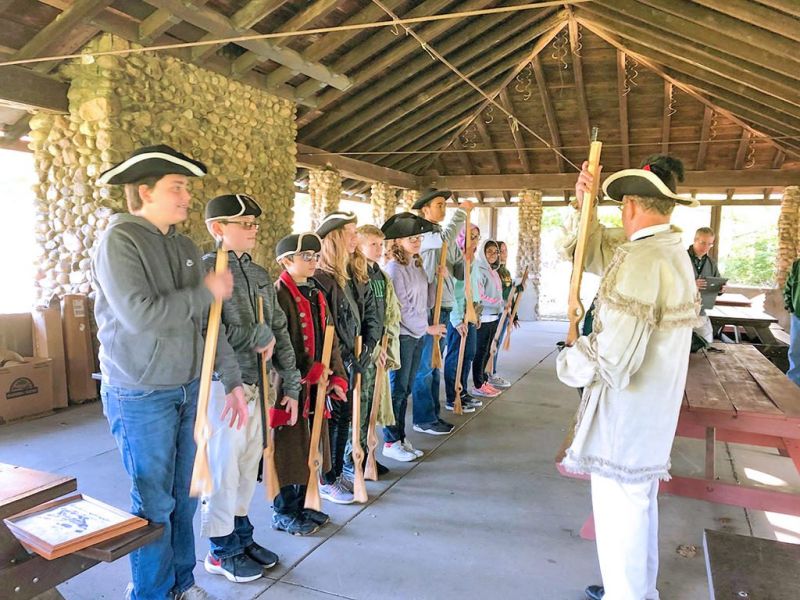 In the dead of winter, it's sometimes hard to believe warmer weather is just a few months away. But it is. And when it gets here, Historic Zoar Village and Fort Laurens will be open for tours.
One thing both historic sites need in order to keep the welcome mat out is volunteers. Historic Zoar Village and Fort Laurens are nonprofit historical sites that operate on shoestring budgets, and those shoestrings get shorter each year.
"Volunteers are the backbone of any nonprofit organization," said Tammi Shrum, site director for Historic Zoar Village. "In order for us to continue bringing high-quality programming to the public, we need volunteers."
Volunteers are able to set their own schedules, select their preferred work days and work as much or as little as they desire. "If they can only give us two hours for ticket sales during a festival or work only on Wednesdays during tourist season, it will still help tremendously. It all adds up," Shrum said.
Go back in time
Volunteer opportunities at Historic Zoar Village will take you back to the 19th century when the village was founded by German immigrants called Separatists.
Volunteer tasks vary widely, from being a costumed tour guide to answering phones, cleaning, retail sales, archiving documents, helping with field trips, and setting up tables and tents for events.
Bev Crank is a paid tour guide who started as a volunteer at Zoar about nine years ago. "My first day I prayed no one would come in," Crank said. "By the end of my first summer, I was guiding tours through three buildings on my own. Now I wouldn't want to be anywhere else."
Crank said people who love history will find themselves at home and at ease volunteering in Zoar. The village's historic district has been designated a National Landmark Historic District by the Department of the Interior.
"I love to talk about Zoar and put its history in the context of what was happening elsewhere in the world at the time," Crank said. "For instance, when the Civil War was happening, it affected the people of Zoar as well."
Crank said people can start out just doing a little and add to their volunteer time as they get more comfortable. "I was told, 'Come and get a taste of what Zoar has to offer, and hopefully after that taste, you will want the whole meal.' That's what happened with me," she said.
Crank started by cleaning and doing office work in Zoar. She then started shadowing tour guides and reading the books about Zoar until she felt comfortable leading tours.
Internships available
Historic Zoar Village also offers internships to high school and college students from public school, private school, home school, undergraduate or graduate school. Interns assist with special events, educational programs, exhibits, archives, social-media marketing, program development and more.
Michael Tovissi is an intern at Historic Zoar Village who got a taste of the village and came to truly appreciate its history. He was a student at Kent State Stark when he applied for an internship.
"I was not at all aware of Zoar or its history," Tovissi said. "After learning how the German Separatists came to America escaping persecution for their religious beliefs, I came to admire them."
As an intern Tovissi is performing archival cataloguing by identifying documents and artifacts, writing descriptions of them, assigning catalog numbers, and entering the information in a database.
"There are tons of articles, photographs and newspapers to be catalogued," Tovissi said. "It's amazing that the people of Zoar helped create the Ohio & Erie Canal by hand-digging seven miles of it."
Volunteer at the site of Ohio's only Revolutionary War fort
The Zoar Community Association manages both Historic Zoar Village and Fort Laurens in Bolivar, so volunteers for both locations are fielded by the same organization.
Volunteers at Fort Laurens may find opportunities working in the gift shop, giving tours, helping with special events and even cleaning up the grounds.
Bob Eddy frequently volunteers at the site, leading tours and field trips. He has always been interested in the American Revolution and loves teaching the history of the fort to kids.
"I don't know why, but I've always been drawn to the fort ever since I came to the area," Eddy said.
Recently Eddy's son, Patrick, was working on the family's genealogy and learned they have ancestors among the soldiers who died at Fort Laurens.
"Maybe that's the reason the fort feels so special to me," Eddy said, adding he also enjoys the Revolutionary War Re-enactment put on by the Brigade of the American Revolution each year and helping with Archaeology School Day.
Eddy and his wife, Melanie, work a combination of paid hours and volunteer hours. Melanie Eddy has worked as a tour guide but also has helped in the office answering phones, doing paperwork, sending out mailings and record-keeping. She said, "It's amazing how much goes on here."
Melanie Eddy talked about the "aha" moment when a child or adult is taking a tour and something registers with them. Perhaps they make a connection between the lives of the Zoar Separatists or the Fort Laurens soldiers and their own lives. "When that happens, it is so satisfying," she said.
"It takes time to make costumes, if you want to be a tour guide, and just to learn what you'll be doing," Shrum said, noting there are plenty of volunteer positions that do not require wearing a costume.
Any volunteer who gives more than 35 hours in a year will be given a free membership to the Ohio History Connection. Membership in the OHC gives free admission to more than 50 historic sites and museums throughout Ohio and many other special benefits.
Call Shrum at 330-874-3011 or email zoarinfo@historiczoarvillage.com to learn more.