Birdseed sale gets underway in Wilmot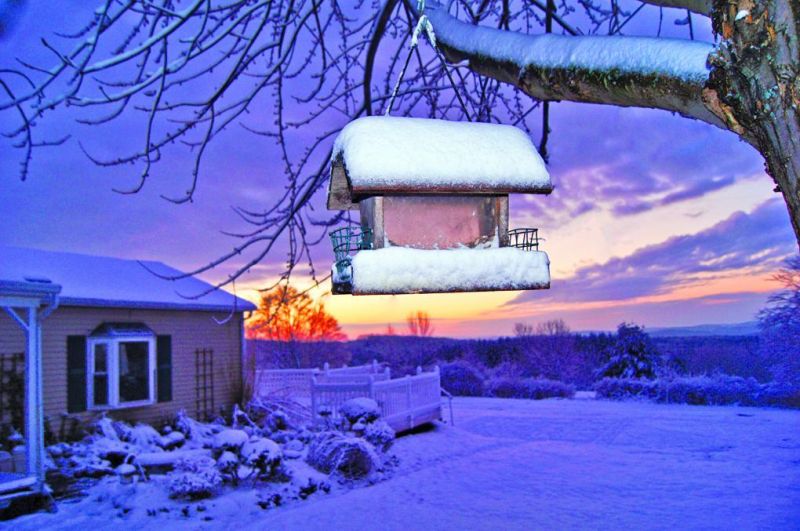 The Wilderness Center in Wilmot will once again offer a wide selection of bird seed, chosen especially for the local winged population, at the center's annual bird seed sale the first three days of November.
This year the seed sale pickup coincides with the Nature Fest Craft Show. Sale hours are Friday and Saturday, Nov. 1 and 2 from 10 a.m. to 4 p.m. and Sunday, Nov. 3 from 1-4 p.m.
Debra Casto, The Wilderness Center operations manager, said the center has been offering bird seed for sale for as long as anyone can remember. "You can get bird seed at the center throughout the year," she said. "But the annual seed sale is when people really stock up. Many order their seed for the full year at that time."
One reason for the popularity of the seed offered at The Wilderness Center is its generally superior quality and freshness.
"We use a local source to procure the bird seed," Casto said. "When the vendor has seed left over, they either donate it or destroy it, but that's not often the case. Most vendors will sell off excess seed to grocery stores or big box retailers, and that seed can be 5 years old. Over time bird seed dries out and can become rancid. The bird seed we have at The Wilderness Center is a year or less old. You're offering the birds the best and freshest option. And of course bird keeping supplies in general are also available at the center."
Casto said one of the bird-seed formulations available at The Wilderness Center was created by one of the naturalists at the center several years ago.
The seed sale helps to support The Wilderness Center financially. "We do it every year, of course, and it is an important part of our budget," Casto said. "At the same time as the sale, we offer 20 percent off bird supplies, and the Nature Fest Craft Show is scheduled for Saturday, Nov. 2. It's a nature-themed craft show and sale featuring many local artisans."
Casto said it is a good idea to order bird seed ahead, but she said the center also orders extra seed for those who don't. Order forms are available at The Wilderness Center website at www.wildernesscenter.org, by calling 330-359-5235 or by stopping by the center. Preorder seed through Oct. 19.
"The seed is excellent for just about any species of bird one may find in the area," Casto said. "It's a wide variety of bird seed for sure, covering a lot of different species. There are specific mixes for finches and woodpeckers for instance. We also have a good supply of suet and seed corn for squirrels. And one of our most popular mixes is a no-mess variety that birds tend to eat every bit of. Some birds can be kind of picky and throw what they don't like on the ground."
Nine different seed mixes are available.
Though Casto suggests putting out seed for birds year round, doing so in winter is especially helpful. "During the winter months, birds may have a harder time finding food. But they are wonderful to watch year round of course," she said.
Volunteers are needed for the Nov. 1, 2 and 3 run of the bird seed sale. Buyers who have preordered their seed simply pull up to the center, and people are available to load the seed into their cars. Volunteers may offer to help by contacting The Wilderness Center at the methods above.
The Wilderness Center is at 9877 Alabama Ave. SW in Wilmot.