Car show to benefit Shriners Hospitals for Children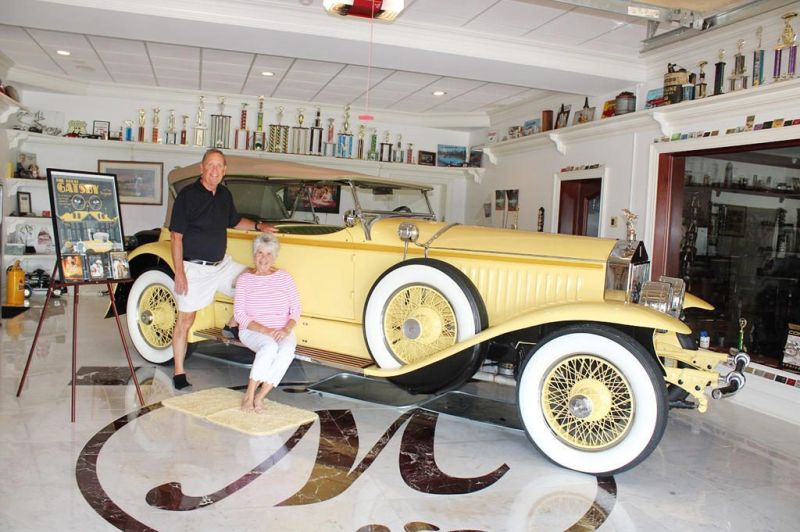 A 1928 Rolls-Royce 40/50hp Phantom I Ascot Dual Cowl Sport Phaeton used in the 1974 film "The Great Gatsby" will be featured at a car show held by Jon and Bonnie Mason of Dover to benefit Shriners Hospitals for Children.
In the film actor Robert Redford played Jay Gatsby and Mia Farrow played Daisy Buchanan, and the two shot scenes in the car. According to the Masons, the vehicle also was used in three other adaptations of "The Great Gatsby."
The car show will be held Saturday, Sept. 16 from noon to 4:30 p.m. at 4836 Mt. Pleasant Road outside Dover. There is a $10 entry fee to enter a vehicle in the show. Motorcycles are welcome.
Awards include Best of Show, Best Antique, Best Wheels, Best Interior, Best Paint, Best Chrome Wheels, Best Mopar, Best Truck, Best Ford, Best Rat Rod, Best Street Rod, Best GM, Cleanest and Best Bike.
Organizers are expecting around 400 vehicles to participate in this year's event.
Food during the event will include lemonade, French waffles, Miller's Creamery, DiRusso's Sausage and Three Little Piggies BBQ. Music will be provided by DJ Spikeman. No alcohol will be permitted, and organizers are not responsible for any loss or injury.
For an additional donation of $10 to Shriners Hospitals for Children, car show attendees and visitors will be able to tour the Mason family's collection of 90 vehicles including a 2018 Rolls-Royce, a 2016 Aston Martin, a 1936 Maharaja Duesenberg, a 1967 Chevy Super Sport, a 1953 Studebaker Avanti, a 1939 Lincoln Zephyr and more. Many of the cars are from the 1920s, 1930s and 1940s.
Jon Mason said one of the most recent additions to his collection is the first Corvette to have a V-8 engine; it is from 1955. Corvettes had six-cylinder engines before that time. Also in the collection is a 1963 Corvette with a split window, which was only made in that year.
Another new addition to the collection is a 1950 Delahaye 135M Cabriolett by Barou, which is a French car. Visitors to the carriage houses also will see a 1939 Lincoln four-door convertible, which is one of only four left in the country, and a 1957 Chevrolet Bel Air convertible that has a record player in the car.
Jon Mason is always looking to add to his collection. He keeps up on cars that are coming up for sale, and if he's interested, he'll study the car, learning all about its history before deciding to make the purchase. He enjoys attending car shows and talking to others about cars.
"I can't ever remember not liking cars," Mason said.
He said he's pleased with the number of people who travel from out of the area to attend the benefit car show.
"We had one man come from Alabama. He drove his car here for the car show," Mason said.
The Masons will host the benefit to provide funds and raise awareness for Shriners Hospitals for Children. A representative from Shriners Hospitals for Children will be available at the show to provide information on the nonprofit organization.
In its first two years, the car show raised $22,000 in 2021 for the Timken Family Cancer Center, which is part of Aultman Hospital in Canton, and $17,000 was donated in 2022 to St. Jude Children's Research Hospitals, which help children battling cancer.
Shriners Hospitals for Children is committed to reaching as many children as possible. It opened its first hospital in 1922 and provides high-quality specialty medical care to the children and families, regardless of their ability to pay or insurance status.
Its goal is to change and improve lives by caring for patients, conducting research to gain knowledge and develop new treatments, and providing educational opportunities for physicians and other healthcare professionals.
What began as a single hospital is now a world-renowned healthcare system with locations in three countries. In addition, outreach programs help Shriners Hospitals for Children provide hope and healing to more children in more places.
Shriners Hospitals for Children staff members provide all aspects of care for children with orthopedic conditions, spinal cord injuries, burns, colorectal and gastrointestinal conditions, and cleft lip and palate. Many of the common techniques and treatments that are used in most hospitals today were pioneered by Shriners Hospitals for Children. The organization's staff works to help each patient meet their goals and reach their full potential.
Through donations Shriners Hospitals for Children has been able to serve more than 1.5 million children. It provides services from 1,252 specialized physicians and surgeons through more than 320,000 orthopedic visits each year.