Christmas Tree Festival helps fund theater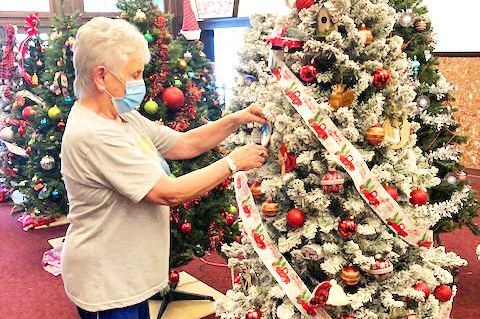 The Lions Lincoln Theatre will hold a Christmas Tree Festival at the theater, 156 Lincoln Way E., Massillon, through Nov. 22. Over 20 Christmas trees decorated with a special theme are on display in the theater. The theater will accept bids on the trees, and all proceeds will go directly to help the nonprofit Lincoln Theatre with operating expenses.
There will be an open house on Saturday, Nov. 14 from 6:30-8:30 p.m. and Sunday, Nov. 15 from 2-4 p.m. The public can view the trees, donate to vote on their favorites, place a bid on a tree, and enjoy live Christmas music and refreshments.
"Each tree has been sponsored by a local business or individual," executive director Susan Stuck said. "We are very grateful that they have stepped up to help so that we could purchase the trees and decorations for this fundraiser. Because of the mandates of the governor, we have not been able to have any events at the Lincoln since March. Although we are now allowed to hold events with very limited seating, it is crucial that we raise much-needed funds to ensure that the theater survives this critical time. The Christmas Tree Festival is a fun way to do that and give something back to the community at the same time. We are having a blast decorating the trees and hope that a lot of people will come and enjoy the festival. We are planning to make this an annual event."
Bids can be placed until Nov. 22 by calling 330-481-9105, sending a Facebook message to www.facebook.com/lionslincolntheatre, sending an email to lionslincolntheatre@gmail.com, in person at the open house or by appointment.
Photos and videos of the trees will be posted on the theater's Facebook page and website at www.lionslincolntheatre.org. The theater will follow the guidelines of the CDC and the local health department, which will include social distancing and sanitizing doors, seats, armrests and other commonly used surfaces. Face coverings will be required.