Colorful fundraiser is a big one for New Phila Schools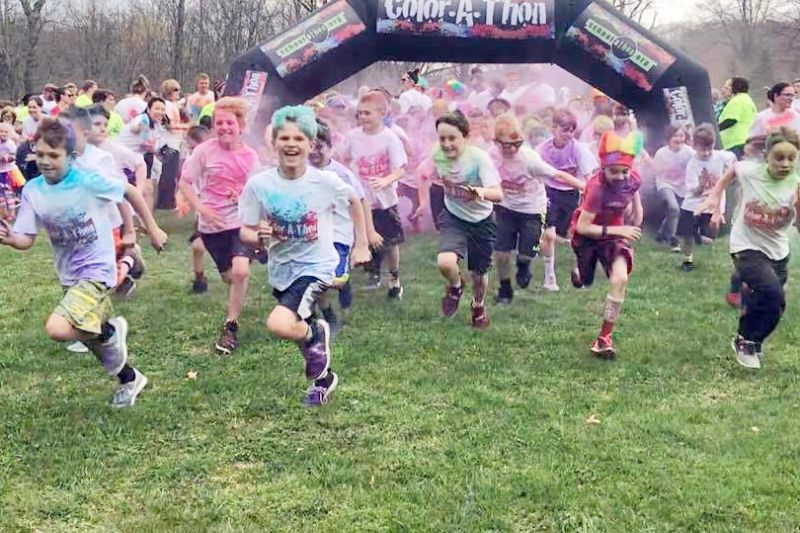 New Philadelphia Schools Parent Teacher Organizations will join to raise funds at the third annual Color Run, scheduled for Friday, May 17 at Buckeye Career Center.
Students from inside and outside the school district are welcome to participate in the 1-mile fun run around the perimeter of Buckeye Career Center, but they should be prepared to end the run wearing a few shades more than when the race began.
"It's always a lot of fun," said Lindsey Tidrick, a coordinator of this year's Color Run. "And it brings together the entire district and PTO parents and kids. For the fifth-graders it's the last chance to get together as a district before middle school starts next year."
Participants can register for the Color Run on the day of the event, beginning at 5 p.m. The run will begin at 6 p.m. Registrations are for groups of up to seven runners with the first at $20, second at $15 and three through seven at $10.
"We have about 300 kids signed up in preregistrations so far," Tidrick said. "It's a very popular thing every year."
Funds raised via the Color Run will benefit activities of elementary PTOs in the district. "It will help cover things like our end-of-the-year fun carnival, teacher appreciation day, field trips and other projects," Tidrick said. "And we're grateful for the sponsors we have this year."
Sponsors include Fundays; Pointe Dining; Bair, Goodie and Associates; The Commercial and Savings Bank; Dunning Ford; the UPS Store; Republic State Mortgage; Alban Title; Smith Ambulance; Papa John's Pizza; Atwood Lake Boats; Lauren International; Adventure Harley Davidson; Century National Bank; Staley Technologies; Carpenter Heating and Cooling; McFeeders & Olympic Tae Kwon Do; Simpson Heating and Cooling; HRN Construction and Restoration; First National Bank of Dennison; and Gale's Recycle It.
Runners will each get a plain white T-shirt to wear as they jog around the school, but it won't stay that way for long. "There are color stations all along the route," Tidrick said. "And at each color station, they'll be doused with cornstarch-based color powder, so that by the end of the run, those new white Ts will look more like tie-dye."
Though the day focuses on New Philadelphia students from k-5, Tidrick said any area k-12 student is welcome to participate. "That's the whole idea behind this," she said. "We think it's a great way to bring a big part of the community together to have a great time. The area community is always very supportive of what we do, and to see all that support and fun in one place is amazing."
And the Color Run is the biggest event of the PTO organizations, inviting everyone to "get ready to get blasted with color at the event of the year."
Food trucks with pizza, barbecue and ice cream will be on hand, and music will help continue the fun after the run is finished. A raffle also will be featured.
"We're able to raise much of the funding we need for the projects we're doing through the school year," Tidrick said. "This is the big one for us."
More information is available from any PTO member or from New Philadelphia Elementary School offices.
Buckeye Career Center is at 545 University Drive in New Philadelphia.