Dinner to benefit daughters of late K9 deputy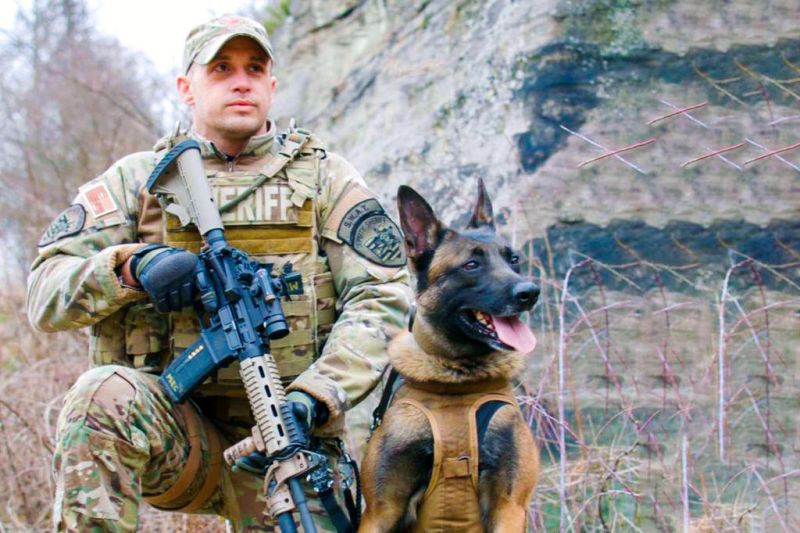 Tuscarawas County Sheriff's Deputy Michael Creager was well known in the community, especially among officers in various law enforcement agencies in the region. Creager passed away from cancer on Sept. 25, leaving behind two daughters, who were by all accounts the center of his life. He was just 45 years old.
A benefit lasagna dinner for his children, Michaela and Italia, ages 5 and 12, is set for Saturday, Oct. 24 from 4-6 p.m. at Dover First Christian Church, 3029 N. Wooster Ave., Dover. The dinner is the joint effort of the church and the county sheriff's office.
Benefit organizer Deputy Bob Anders said the dinner was actually in planning before it was apparent that Creager's journey with cancer would end sooner than expected. "We started planning this in late August," said Anders. "He had been struggling for some time and was running out of sick time from work. He was very concerned about his two daughters, that's pretty much all he talked about. He knew we were planning to put together a benefit to see that they'd be taken care of. And then his health got worse very quickly."
Anders said the last two to three of years of Creager's life were filled with some of the worst that fate can bring. He was working with his canine when he fell through a ceiling, breaking a shoulder. He underwent surgery and was doing better and unfortunately it was about that time his marriage ended in divorce.
"It was soon after that that the cancer diagnosis came," Anders said. "He was a very private man and not easy to get close to, but everyone at the department liked and respected him very much. You could see that in his funeral service, which had to be moved to the county fairgrounds to accommodate everyone who came to pay respects."
Anders, an active member at First Christian Church, said he approached the church leadership about doing the benefit and planning began right away. Church Lead Minister Josh Robinson said organizers were hoping to have Creager in attendance, but were sad to learn it was not to be. "We've already had a lot of response from the community," said Robinson. "He was clearly very well loved by people in the area."
Creager was active with the Canton K9 training unit, and went with his dog, a Belgian Malinois named Fygo on narcotics searches and on tracking operations. He was a board member of the Police K9 Association, and traveled the country teaching officers to work with their dogs. He was also a part of the county SWAT team K9 unit.
"We don't have a goal in mind for fundraising," Anders said. "We would like to raise as much as possible, and all of the money will go to Michaela and Italia. It can be used for any kind of expenses they might have or for a college fund, anything they need."
Creager loved to build custom furniture for his daughters, which they in turn enjoyed painting and finishing. "They were very close," said Anders.
Tickets are $10 each and available at Buehler's Fresh Foods in Dover and New Philadelphia, or at the church. "We will have a loop in place at the church parking lot for people to pick up their meals." Anders said.
Plenty of volunteers from the church and the sheriff's office would be on hand to keep things moving. Tickets must be purchased by Oct. 18. Dinner includes lasagna, salad, roll and dessert. No dining in will be available due to social distancing requirements. Call Dover First Christian Church for more information at 330-364-3520.