Dogs invited to take their humans to the vineyard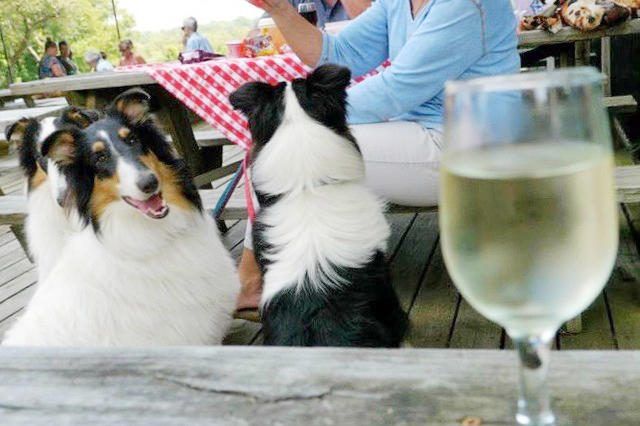 Give Pets A Chance and Troutman Vineyards invite dogs and their favorite people to Yappy Hour, a monthly event held this summer dedicated to having fun and raising funds to help provide veterinary care for companion animals for those in need.
Dogs are invited to take their humans out to the vineyard on May 10 for the first Yappy Hour of the summer from 5-8 p.m. Humans without dogs are welcome to attend as well.
According to Connie Storck, this is the first year the event will be held at Troutman. She is the community relations coordinator for Give Pets A Chance.
"Bring your canine companion, enjoy a cool beverage and take a guided tour through the vineyard," Connie Storck said.
Those attending are welcome to bring a picnic basket. Limited hors d'oeuvres are available for purchase at the winery.
Carrie Mineweaser is one of several co-chairs of the Yappy Hour event. "There will be a raffle basket to sign up for, complimentary dog treats, and we will have dog pools set up throughout the yard," she said. "There is a nice, spacious backyard area with picnic tables. And if it rains, there is an indoor area we can use where dogs are welcome."
Funds raised at Yappy Hour through admission and the evening's raffle are used to support the locally based nonprofit.
Founded in 2006, the mission of Give Pets A Chance is to provide medical care for companion and service animals whose owners cannot otherwise afford veterinary services.
"In the past year we have helped over 300 pets receive veterinary care," said the organization's president, Richard Storck.
In addition to assisting with companion and service animals, the organization also offers Good Samaritan assistance to qualified individuals who find a stray or abandoned animal.
Give Pets A Chance is a volunteer-run nonprofit organization relying solely on donations.
Give Pets A Chance Yappy Hour takes place the second Friday of every month, May through October. The event costs $10 per person and includes a beverage ticket. Dogs who bring a human are free. Yappy Hour is held rain or shine.
Give Pets A Chance has additional summer and fall events later in the season including Dog Daze at the Wayne County Fairgrounds on Sunday, Aug. 18 and the Clam Bake and Steak at The Pines on Saturday, Sept. 21.
"Troutman Winery is a wonderful venue with great wine where you can mingle with friends as well as your furry babies while supporting a great organization," said Amy Welty, Yappy Hour chairperson.
"Don't have a dog? Come anyway and enjoy the company of others' pups while basking in the beauty of the vineyard," Connie Storck said.
Find more information at www.givepetsachanceus.org or call 330-201-1757.
Troutman Vineyards and Winery is located at 4243 Columbus Road in Wooster.