Dover Rotary is ready for another 12 Days of Christmas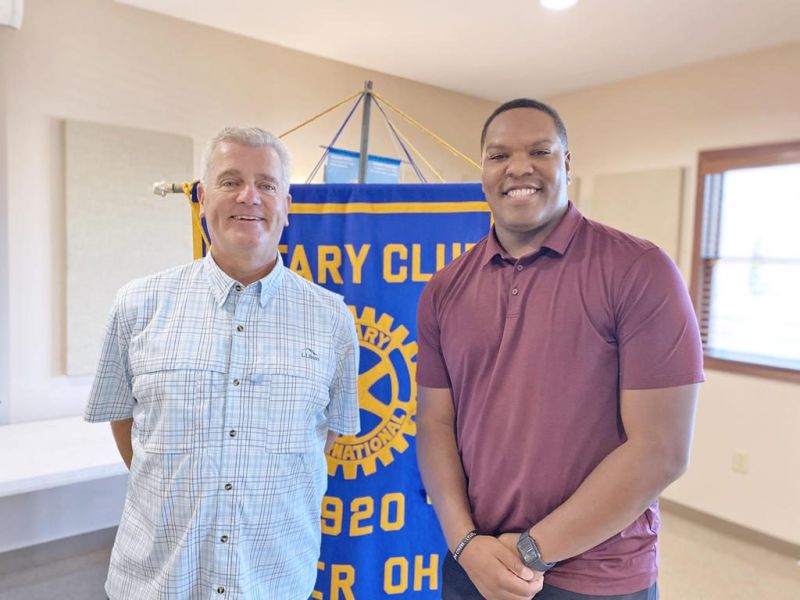 The Dover Rotary Club is ready for another 12 Days of Christmas fundraiser, something that promises a dozen days of prizes for ticket holders. Tickets are on sale through Dec. 5, with an increasingly valuable list of Christmas gifts for winners. The promotion, in its 13th year, had success in 2021, something the club hopes to repeat this year.
"We were able to raise about $11,000 last year," event chair Jack Dooling said. "We saw just this tremendous response. I think people were coming out of being indoors so much through the first year of the COVID pandemic and were glad to participate in something normal for the community again. And the money we raise goes right back into the community."
Tickets are $5 each, three for $10 or eight for $20. Buy them from any Dover Rotary Club member, at Buehler's in Dover, at Pam's Posies or at the Tuscarawas County Senior Center in Dover. Drawings will begin Dec. 8 and continue each weekday through Dec. 23. Each day's winners will be announced on WJER Radio.
On Dec. 8, twelve winners of the drawing will receive a $25 gift card from Jill Lane's Hair Unlimited. Dec. 9 will bring a $25 gift card from Buehler's in Dover for 11 winners, which also is sponsored by Miller & Miller Insurance. On Dec. 12, ten winners will get a $30 gift card from Pointe Dining.
A $30 Uncle Primo's gift card will go to each of nine winners on Dec. 13, sponsored by Waltz Appraisal Services, Dover ChiroCare, Dover Self Storage and Jason Bambeck Auctions. Domino's Pizza of Dover will provide a free pizza every month for eight months to eight winners on Dec. 14. On Dec. 15, seven winners will get an 8-pound ham from Metal Masters Inc. On Dec. 16, six winners will get $50 gift baskets from Breitenbach Winery, also sponsored by Valley View Animal Hospital and Hanhart Insurance Agency.
On Dec. 19, five winners will receive $100 cash from sponsors Abbot Electric, Edward Jones, Dr. Nathan Springer and Toland-Herzig Funeral Homes. On Dec. 20, four winners will get $125 prepaid VISA cards from Dover Phila Federal Credit Union, Kent Beal and attorney Jim Contini.
On Dec. 21 pairs of Cleveland Cavaliers basketball game tickets will be given to three winners, sponsored by WJER AM1450 and FM100.9. Dec. 22 will have two winners of $250 cash from First Federal Community Bank and First National Bank of Dennison.
Finally, on Dec. 23, one winner will get $1,000 in cash from Novogradac & Company.
"As soon as ticket sales end on the fifth," Dooling said, "we write a check to the Share-A-Christmas toy drive, another for the Salvation Army. The remainder goes to the Rotary Scholarship Fund and other club projects."
The club has an active membership, which meets at the Tuscarawas County Senior Center each week. Dover Rotary Club President Perci Garner III said since he came on board with the club in 2019, he has been surprised by the broad reach of the organization, having attended a recent gathering of many Rotarians in support of Ukraine.
"My main goal is to bring younger people into the club so they can learn from the people who were once in their place and have much to share. Internationally, Rotary has done a lot of great things. We focused on eradicating polio, and now there are fewer than 30 children in our country who are affected by this disease. So it's not just Dover. Rotary has a huge reach," Garner said.
Garner feels strongly about getting involved in the community. "You don't have to become a member of the Rotary, but I like to say that you should look for the nonprofit that connects with you and attach yourself, whether through time or monetary contributions. There are a lot of ways to get involved," he said.