Fundraiser furthers the Maurer Habitat home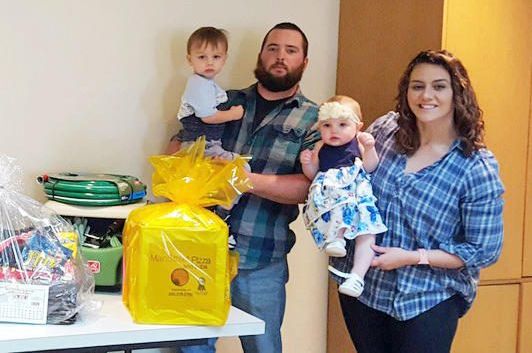 Holmes County Habitat for Humanity's current project home, built for Kyle and Breanna Maurer and their children Remington and Riverlynn, will benefit from a pancake and sausage breakfast fundraiser on Saturday, May 18 from 8-11 a.m. at American Legion Post 192 in Millersburg.
Funds raised from the event, which are by freewill donation, will eventually help lower the overall mortgage amount the Maurers will undertake on completion of their new home. Numerous partners are assisting with the fundraiser, and several gift baskets will be raffled off that morning.
"This is something new we've not tried before," Holmes County Habitat for Humanity executive director Mary Neutzling said, speaking about the fundraiser. "We're really not sure what to expect."
Nate Troyer, board of directors president, said any funds raised will be a help to the Maurer family. "Anything we can put together from a fundraiser like this or through grants or donations helps lower the overall mortgage, which is a great benefit for the family," he said.
A collection of items will be raffled at the May 18 event, and the winner need not be present. Among the items are four tickets to the June 23 Cleveland Indians game against Detroit. Kno-Ho-Co-Ashland has thrown in several additional goodies for the ticket package, which includes parking for the game.
Also offered are two all-day lift tickets for Snow Trails Ski Resort in Richland County including equipment rental and a group lesson. Numerous businesses have donated items for the raffle with treats from area wineries, restaurants and other popular stops making up more than 20 baskets available to win.
Neutzling said she hopes the initial event raises $5,000 or more.
"We have such tremendous community support," Troyer said. "The board works really well together, as do the contractors and our volunteers. It's a great group of people, and we're very fortunate."
Neutzling was careful to explain the concept behind Habitat for Humanity. "It's a hand up, not a hand out. The family must be able to commit to paying a mortgage for 25 years."
Neutzling said the process of qualifying for a Habitat home can be lengthy. "There is no waiting list of applicants. We take applications and make a decision at the same time. We will next be taking applications in the fall of this year, and that will be through a public informational meeting.The process can take time, and the next home will be built in 2021 or 2022."
The home for the Maurers represents the 35th such home built by Holmes County Habitat for Humanity since 1995.
Habitat for Humanity is a Christian housing ministry and nonprofit organization. The three main qualifications for a Habitat home are need, the ability to make monthly payments and a willingness by the applicant family to become partners in the construction of their new home. Qualifying participants commit to many hours of sweat equity in the construction of homes for other qualifying families.
Those who would like to become volunteers for Holmes County Habitat for Humanity may call the organization at 330-674-HOME.
The American Legion Post 192 is at 264 W. Jackson St. in Millersburg. Holmes County Habitat for Humanity's website is at www.holmescountyhabitat.org.