June 20 NAMI Walk for Wellness goes virtual for 2020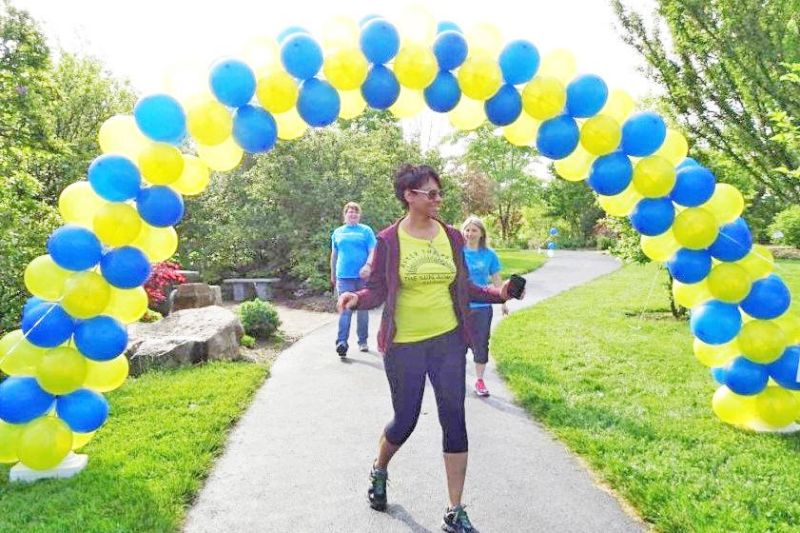 Long before the coronavirus pandemic dislodged normalcy, something different was afoot at the NAMI Wayne and Holmes Counties headquarters on Back Orrville Road in Wooster.
The 13th annual Walk for Wellness, one of the organization's most important fundraisers, was adding a brand-new 5k (3.1-mile) run to supplement the traditional 1-mile and 2-mile walks along the Secrest Arboretum pathways.
Originally, the three-pronged event was to take place in early May. But due to the COVID-19 threat, the green light was switched to Saturday, June 20 from 8-11 a.m. Entries, handled by new-to-the-event Vertical Runner Race Management of Wooster, closed on May 29.
Because this year's charity special will be done virtually for the first time ever, participants don't even need to leave home to enjoy the festivities. Rather than use the Secrest grounds, walkers and runners will choose their own courses and distances, then post pictures, videos and even times to a website set up especially for the June 20 occasion.
All posts will be made to #Nami5kwalk, and every 30 minutes, updates will be provided at www.facebook.com/NAMIWayneHolmes for the three-hour duration. As in the past, all registered participants will be included in the drawings for a variety of door prizes.
As for corporate sponsorships and "team" entries in 2020, NAMI executive director Helen Walkerly said the overall support is similar to past years. Proceeds benefit the many free mental-health support services offered by NAMI Wayne and Holmes Counties including MOCA House.
This year's Presenting Sponsor is United Titanium Inc. Michael, Stephanie, Amy and Robin Reardon are the honorary chairmen of what is now called the Walk and 5k for Wellness 2020.
The Platinum Sponsor is The Donald and Alice Noble Foundation, and Gold Sponsors are Adam and Vicki Briggs Charitable Fund, Ohio Hospital of Psychiatry, Morton Salt, Peg's Foundation, Ralph R. & Grace B. Jones Foundation, Romich Foundation, Wayne County Community Foundation, and Wooster Glass Company Inc.
Silver Sponsors are BCI Buckeye Corrugated Inc., Briggs Financial Group, Seaman Corporation, the University of Akron - Wayne College and Wooster Community Hospital Health Systems-Behavioral Health Services.
The Bronze Sponsors for 2020 are Aultman Orrville Hospital's Growing Healthy Habits, Bala Venkataraman, Cleveland Clinic Wooster, D+S Distribution, Gerber's Amish Farm Chicken, Himes, Slater & Hershberger LLC, NetOps Consulting, RBB, SpringHaven Counseling Center, Stutzman Lumber LTD, The Apple Creek Banking Co., The Wooster Brush Company, Western Reserve Group and West View Healthy Living.
NAMI Wayne and Holmes Counties is the local National Alliance on Mental Illness affiliate and conducts free educational programs and support groups for individuals with mental illness, their families and caregivers.
The MOCA House Recovery Center is a consumer-driven program of NAMI Wayne and Holmes Counties, offering support, social benefits, activities, projects and programs for anyone recovering from a mental illness. The facility provides special activities that encourage social interaction with peers and also offers supportive and educational opportunities that can strengthen coping and life skills. The MOCA House is a drop-in center, and all programs are free and open to the public.
The MOCA House (Motivating Optimistic Caring Accepting House)serves as a friendly, safe place where people with mental-health concerns can visit to relax and make new friends. The program is staffed with recovery aides and volunteers who are available to assist and educate participants in their recovery.
While the coronavirus cautionary measures forced the MOCA House to be closed during April and May, staffers remained on the job and used varying forms of technology to stay in touch with their associates on a regular basis.