Local clinic to host third benefit for Harbor House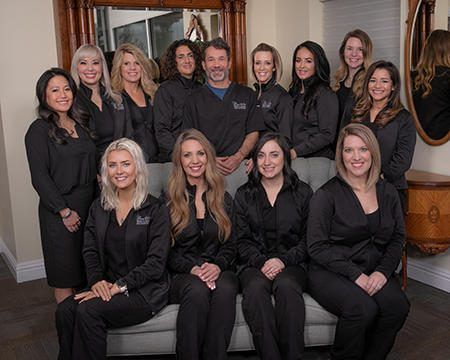 Building on the previous two years' pampering-focused charity events, Dr. David Hartman and his team at Fine Arts Skin & Laser are welcoming guests to "Girls' Night for Good 3.0," scheduled Thursday, March 19 from 4-8 p.m. at Fine Arts Skin & Laser in Dover.
Hartman will open the doors of his practice to locals and visitors. Attendees are invited to explore local signature services and goods such as spa care, beauty treatments, hors d'oeuvres, wine tasting and live music while benefiting Harbor House, a shelter for those fleeing domestic violence.
Fine Arts Skin & Laser is working with The Head Shop beauty salon, Shy Cellars, Breitenbach Winery, Andreas Furniture, Photography by Sarah, Mukha Cosmetics, Environ, Route 250 Health & Performance, Bahler Street Pizza, Elegance of Brièlle, ColorScience, Galderma, Tyler Moving Company, Chuck Nicholson GMC, Damsel and Defence, BTL, Venue, and musician H for Hannah to create this evening of self-care and fun.
The event is free for guests to attend as long as they bring a donation for Harbor House. While monetary gifts are always appreciated, attendees also are encouraged to donate anything from new household goods to personal-care items.
Suggested items include paper towels, toilet paper and other paper goods; tampons, pads and other feminine products; batteries, light bulbs and such; diapers, baby shampoo and other infant-care items; pain relievers, antibiotic creams and such; pillows, blankets and sheets; towels, washcloths and more; pencils, pens, papers and school supplies; cleaning supplies; lamps and lampshades; slow cookers, toasters and other kitchen appliances; and food staples.
Hartman has suggested assembling a "Basket of Hope," filling it with Mainstays brand items that total around $150 or more. For example, consider getting an extra-large laundry basket and adding two bath towels, two washcloths, two dishtowels, a floor lamp, flatware, a plastic dish rack, a queen-sized sheet set, a kitchen gadget set and a 16-piece dinnerware set.
Remember gift cards for gas, phone or groceries can be helpful.
Donors can drop off larger items directly at Harbor House, like dressers, tables, chairs, couches, TVs, vacuum cleaners and more. Arrange such donations ahead of time.
As for the event, last year saw a "curl bar" from The Head Shop, wine tasting, live music and specials on cosmetic services. This year's event promises more of the same, plus new surprises and new community vendors.
Guests also will be able to take part in raffles and a silent auction. Raffle items include gift cards from Shy Cellars, Andreas Furniture, Park Street Pizza, Venue and a $250 car detail courtesy of Chuck Nicholson GMC.
Silent auction items include vouchers for one year of Dysport treatments, a full EMsculpt treatment package and a full Emsella treatment package. Some exclusions and limitations may apply.
Attendees must RSVP via the Fine Arts Skin Facebook page.
Fine Arts Skin & Laser is located at 335 Oxford St. in Dover.