Millersburg Food Run will benefit Love Center Pantry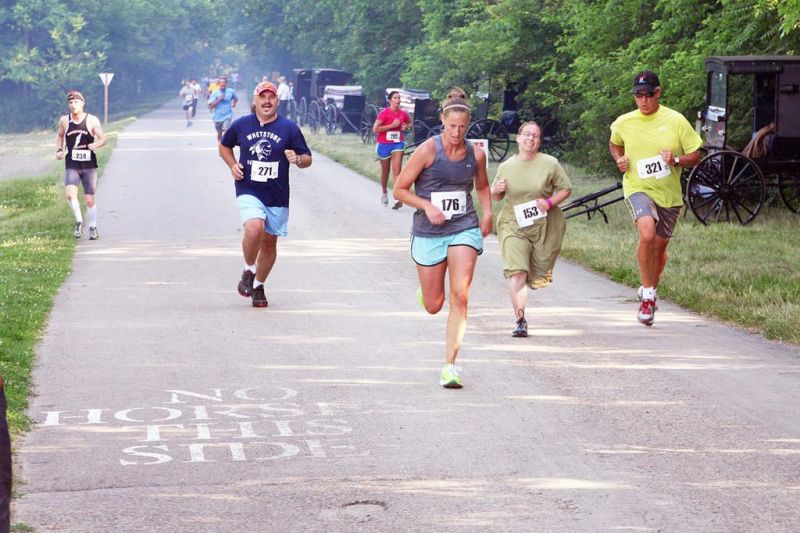 The annual Millersburg Food Run will take place Sunday, Aug. 4, beginning at 8 a.m., with a goal to alleviate hunger in the community.
The event is Millersburg Seventh-day Adventist Church's contribution to help meet the needs of some Holmes County families who are facing difficult times.
All of the proceeds from the race will be donated to the Love Center Food Pantry in Millersburg. The Love Center Food Pantry has been serving the needs of Holmes County since 1986. Today nearly 1,000 families utilize the food pantry, and it has processed over 660,000 pounds of food a year. This Christian ministry is supported by businesses and congregations throughout Holmes County.
According to Edgar Raber, Love Center director, these types of events are critical to the ongoing success of the Love Center's goal of eliminating hunger in Holmes County.
"These types of fundraisers are extremely important," Raber said. "Our community has been such a blessing over the years, not just to us, but to the families we serve. This kind of outside help allows us to continue to stock our shelves and provide for our families."
Raber said they recently gave a tour of the facility to a group from Akron. During the tour they talked about the support they receive from all over Holmes County and how the contributions of many help them find success at every turn.
Raber said the visitors from Akron were in awe of the notion that a county could provide that kind of support on a regular basis.
As for those visiting the Love Center and taking advantage of all that is offered there, Raber said they receive thanks on a regular basis from families who are grateful to use the center.
"Many of them tell us they don't know what they would do without us," Raber said. "In the same sense, we wouldn't be where we are without the people of this county supporting us."
This is a particularly good time to support the Love Center because they are currently in their summer slam when they provide extra supplies to clients because children are out of school and oftentimes families need more food than they normally would, which is why this particular race is of great importance.
The races will be competitive and take place on professionally timed 5k and 10k courses. There also will be a noncompetitive 1-mile run/walk. The race is on a flat, paved Rails-to-Trails path starting at Hipp Station Depot in Historic Downtown Millersburg. The race course runs through wooded areas and farm fields, creating a beautiful experience, whether runners are competitive or simply want to support the Love Center by walking. Competitors will sometimes see deer and wildlife along the way that they won't find in other races, and Amish buggies and cyclists regularly use the trail.
Every race participant will receive a goodie bag and a ticket for prize drawings included in their entry fee. There also will be prize drawings donated by local businesses including Amish Country Theater, AutoZone, E&H Ace Hardware, Killbuck Sweet Shoppe, Pizza Parlor II, Rozuk Radiology, SmartStyle Salon and University of Akron, and snacks and drinks will be available after the race.
The race is sponsored by many local businesses including Boyd & Wurthmann Restaurant, Chuck Nicholson Inc., Dr. Brad Welsh Dentistry, Grace Mennonite Church, Guggisberg Cheese, Killbuck Savings Bank, Mast Farm Services, Melway Paving, Rozuk Radiology, Village Motors Inc. and Wooster Orthopaedic & Sports Medicine Center.
Race categories by gender include 13 and under, 14-16, 17-19, 20-29, 30-39, 40-49, 50-65, and 65 and over.
Those wishing to participate can complete the online registration form by visiting https://registration.verticalrunnerrm.com and scrolling down to the Millersburg Food Run event. The cost of the event is $35 for the 10k, $25 for the 5k, and $15 for adults and $6 for anyone 18 and under for the 1-mile walk/run. Fees for anyone signing up on the day of the race are an additional $5 for adults and an additional $1 for children.
Day-of registration will start at 7 a.m. with the race at 8 a.m.
There will be an advanced race packet pick-up day on Friday, Aug. 2 from 5-7 p.m. at Hipp Station Depot, 62 N. Grant St., Millersburg.