Rainbow Connection prepares for their 47th telethon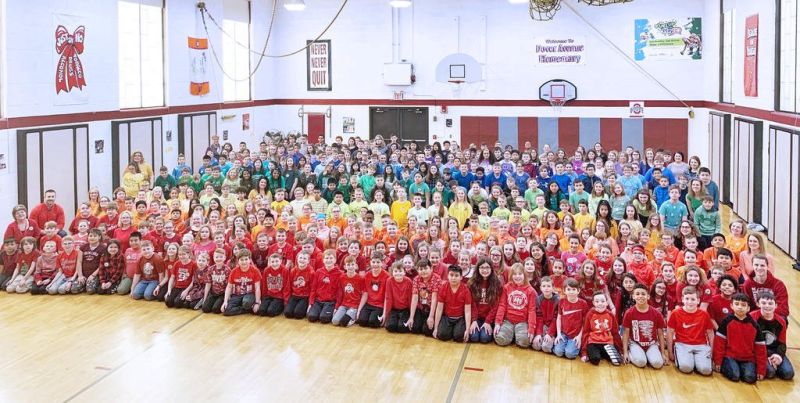 A local organization will hold a telethon to aid county residents in need of their programs and services.
The 47th annual Rainbow Connection telethon will be March 8 from 11 a.m. to 7 p.m. It will be broadcast live on the organization's website at www.tuscrainbow.org, as well as on Spectrum's channel 15. The telethon will be broadcast from the Tuscarawas Central Catholic High School, and pledges can call to make donations at the telethon-only number at 330-343-1600.
"It is our only fundraiser for the year," director Carmel Haueter said. "We never do goal [amounts]. all I ask from the community is one more dollar."
Haueter said last year's event raised $260,000. "We use the funds to buy equipment and pay for medications and medical bills to those in need," she said.
Haueter said because of the generosity of the community, the amount of direct assistance to individuals has equaled $481,000.
The 2020 President Circle sponsors for the telethon include Adventure Harley Davidson, Allied Machine & Engineering Corp., Dover Eagles #515, Ember Complete Home Care, New Philadelphia AMVETS Post 1338, New Philadelphia Elks #510, Jenifer Luikart-Clemens and Keith Clemens, Subway, Wendy's, and Vasco Sports Contractors.
The 2020 Chairman Circle sponsors include Dover-Phila Credit Union, River Valley Hardwoods and Toland Herzig Funeral Homes.
The 2020 Corporate sponsors are:
A New Angle Wellness Spa & Salon, Alfred and Maryann Fearon, Berner Trucking, Be Yoga Studio, Buckeye Career Centers Leadership Council, Brad and Zoe Zimmerman family, Breitenbach Wine Cellars, Classic Glass Corvette Club, Century National Bank, ComDoc Xerox Company, Community Mental Healthcare Inc., Dennison Rotary, Dover Exchange Club, Dover Hydraulics, Dover Rotary Club #3585, Faith Christian Church, Ferris Chevrolet Buick Cadillac Toyota, First Federal Community Bank, The First National Bank of Dennison, Fraternal Order of Police, Gradall, Haueter Landscaping,
Howard Hanna-Jeff Mathias, Investment Partners, Kurt C. Garren (MD), McIntosh Oil Company Inc., McInturf Realty, Miceli Glass, Miller & Miller Insurance, Moore & Neidenthal Inc., Myers and Miller Podiatry, New Philadelphia Rotary Club, Ohio Billing, Pace-Sankar Landscaping, Park Village Health Care, Piedmont Gas Company, Pipes Insurance Service, Pioneer 360 Programming, Times Reporter, Triple SSS Energy Management, Troyer & Associates LTD, Tusco Display, USA Label Express Inc., VFW New Phila #1445, Wal-Mart, What's Cooking Cafe, and WTUZ 99.9 FM.
There also are several items that will be auctioned off as part of the telethon including:
A handmade rocking motorcycle and handmade child's rocking chair made by Scott Edwards, an 18-by-24 engrain butcher block tricolor and a 7-inch french chef knife with silver bolsters from Warther Cutlery, a rotary phone accent table from Genevieve's on Second LLC, a console table from Williams Furniture, a two-drawer console table by Coast to Coast Imports from Andreas Furniture Company, a Yeti backpack cooler filled with $20 gift cards from Bolivar and surrounding areas, a basket filled with dog items and gift cards,
A feather painting by Patty Foster, an owl painting done by a Starlight artist, a basket of essential oils and diffuser, a framed wolf watercolor, a Ring doorbell, Prada sunglasses from Vision Trends, a sterling silver and yellow gold cuff bracelet with prong set white sapphires from Rodriguez's House of Stones, and a wine basket from School House Winery.
Founded in 1950 under the name Tuscarawas Society for Crippled Children & Adults, the volunteer organization tried to fill gaps in community services for those in need through the help of the Easter Seals organization.
In 1981 they changed their name to reflect that as the Tuscarawas Easter Seal Society. In 1992 they left the Easter Seal umbrella and became the Tuscarawas Society for Children & Adults. They continue to aid disadvantaged and disabled children and adults in Tuscarawas County.
Visit their website for more information and a donation button at www.tuscrainbow.org.