Rocking the mission to find a cure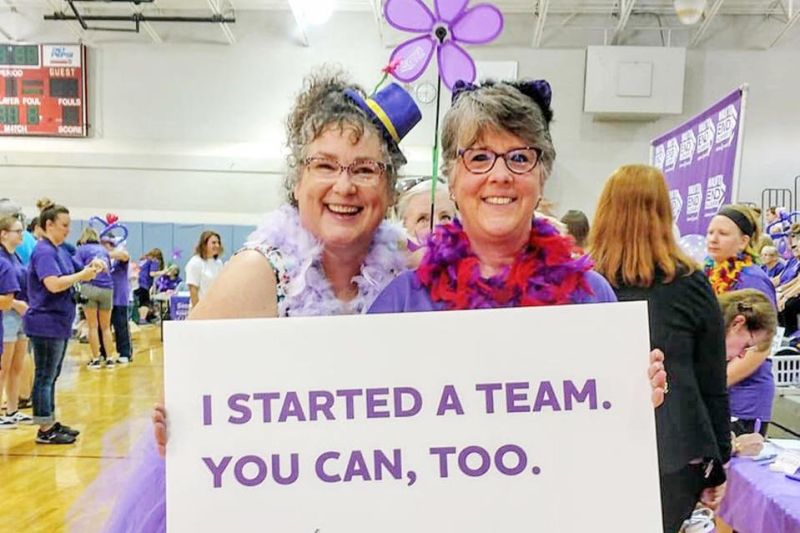 Tuscarawas County's Wacky Walkers will host their fourth Rock the Walk fundraiser on Sunday, April 7 from noon to 5 p.m. at the New Philadelphia VFW, 441 Park Ave. NW.
The group raises money for the Alzheimer's Association Greater East Ohio Chapter. The association funds research for a cure and treatment as well as support groups.
The event will feature a rigatoni dinner, live music, a silent auction, and a raffle and bake sale. Admission is $10 per person and can be paid by cash or checks made payable to the Alzheimer's Association. Children age 8 and under are free. Carryout for the dinner also will be available.
Live music will be provided by Scott "Smalls" Smalley, Ed Kilpatrick, and Wing It and The Moonlyters. Organizer Cindy Springer Hisrich and Wacky Walker teammate, Madison, will make a special appearance as singers during the day.
"My mother had a beautiful voice," Hisrich said. "I think it skipped a generation."
Hisrich's mother's diagnosis led her to become involved with the Alzheimer's Association. She began by taking her dad to support groups at Cleveland Clinic Union Hospital and later became a facilitator for the group. Her personal experience as well as the connection she felt with those she worked with led her to stay involved.
The silent auction will feature items donated by Cibo's, Lembo's Italian Restaurant, Cleveland Cavaliers, Cleveland Browns, Uhrichsville Water Park, Specht Enterprises, Lee's Famous Recipe Chicken, Nancy Rees handmade glass art, Cincinnati Reds, Breitenbach Wine Cellars, Be Yoga, Joe Herick and My Museum Tattoo Studio.
The Pittsburgh Steelers have donated a lithographed, signed picture of Antonio Brown. The Cleveland Monsters have donated game tickets, and Ross Mountain BBQ has donated a 10-pound smoked brisket.
One of the top items for auction is a football autographed by former Ohio State Buckeyes head coach Urban Meyer. Hisrich said there will be a separate auction for that item.
There also will be a separate raffle for a cooler made out of a Jack Daniel's whiskey barrel filled with adult beverages, along with a patio set donated by Williams Furniture. Tickets are already available by contacting the Wacky Walkers via their Facebook page.
The group is still accepting items and expects many more donations.
The event has grown every year. Hisrich said they started with three 8-foot tables and took in $3,000 after expenses. This year they have enough items to cover seven tables and last year donated $17,600.
"Wacky Walkers were the highest donors they ever had," Hisrich said. "We were pretty proud of that."
Hisrich said she receives a lot of help from area businesses that are supportive of their efforts. She said their host deserves a special thanks.
"The VFW has been so good to us," she said. "They donate the room. And they vote every year to give us a cash donation."
Going into last year, they had donated $43,000 to the organization and had the goal of hitting $50,000. They blew away that number with their great showing and have now donated about $61,000 to the Alzheimer's Association.
Wacky Walkers have been the top fundraisers in the area for seven of the nine years they have participated. While Hisrich admits bragging rights are nice, she also said she would like someone to come along and beat them. She knows every dollar raised, no matter which team it comes from, goes to help find a cure and treatment for Alzheimer's.
"We've put a lot of heart and soul into this, and I really want to see this be the biggest one ever," Hisrich said. "Everyone on our team has been touched by this disease."
The Walk to End Alzheimer's is held nationally each year at different dates in different cities. The Tuscarawas County event will be Sept. 21 at Dover Middle School.
While Hisrich said she does have enough hands to get through the day, extra volunteers are always appreciated, and she expects to need some extra help tearing down.
To donate online, visit act.alz.org, click on the Walk to End Alzheimer's tab and search for Wacky Walkers. They also can be found on Facebook by searching "Team Wacky Walkers" and "Rock the Walk."
Hisrich can be reached on Facebook or at 330-340-3213.