Troop #358 hosting hog roast and online auction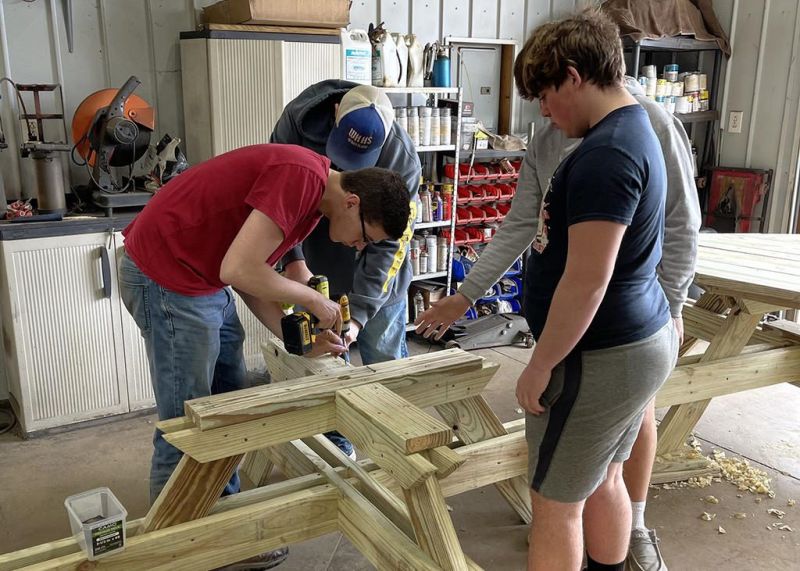 Scouts BSA Troop #358 is combining the taste of a hog roast with the chance to purchase some items via silent auction in its currently ongoing auction.
The troop will host a hog roast in the old Burger King restaurant parking lot in Millersburg on May 1 from 11 a.m. to 4 p.m. The menu will include the roast with buns for sandwiches if people want them, potatoes, baked beans, drink and desserts.
This annual roast has been a staple for the Scouting troop for years, although last year forced the troop to take it from a sit-down roast to a drive-thru roast. It worked so well the troop will now continue that tradition of the drive-thru method.
"We did some brainstorming when COVID hit last year, and we decided to do it as a drive-thru, and it went really well, so we are continuing to do that this year," said Jeff Miller, Scoutmaster.
In addition to the roast, the troop also is presenting an online silent auction where the highlight is an octagonal picnic table built by the Scouts.
Actually, the Scouts built five of the tables, with four of them specifically built at the request of Whitmer's Store in Winesburg. The fifth one is in the auction, along with other items like a Holmes County pottery bowl, an 18-volt lithium-ion vacuum kit, Whitmer's pizzas, a complete recon at Scotties Auto and more.
"The guys did a really great job building these tables, and they are quality tables," Miller said.
Miller said they found an online auction company that creates silent auctions for free, and that makes it easy for patrons to log on and bid. To sign up for the auction, log on to the troop's website at www.troop358mbg.org, click on the "silent auction enter here" icon and sign up. Miller said another nice feature is bidders can signify their top bid and the bid will inch up incrementally as others bid until it either stops or reaches the maximum, at which point they will be out of the bidding unless they rebid.
The auction is currently under way and will operate until Sunday, May 9 at 2 p.m. when all bidding will cease and the winners will have purchased their items.
"It's kind of nice this way because we gave people some extra time so they wouldn't feel rushed and they would have time to think and bid," Miller said.
The funds raised at the roast and auction will go toward sending the Scouts on camping trips and special trips, which in the past have included a weekend in Gettysburg, zip-lining at Old Man's Cave in Southern Ohio or weekend camping treks in Kentucky.
Miller said this year the troop members are itching to get back to Old Man's Cave to do some more zip-lining.
"These kinds of trips are really good bonding experiences for the kids, and they really get to know each other better while they are having a lot of fun," Miller said. "They are nice alternatives to a regular camping-out trip."
If interested in becoming a Troop #358 member, visit the website, call or email Miller at 330-231-1501 or www.troop358.info, or visit the troop's Facebook page to see what other things the troop is doing.
Old Burger King is located at 1095 S. Washington St. in Millersburg.